Welcome to your RaceRaves guide to top upcoming races! Here we highlight a sampling of November "best bets" as well as some personal favorites we think you'll enjoy.
NOTE: Scheduling remains fluid, and many November races (some of which moved from early 2021) have yet to open registration. Unless otherwise noted, the following list includes only events that are now taking registrations for an in-person race and which, based on current information, are likely to take place. As with life, however, there are no guarantees.
---
November Marathons
Indianapolis Monumental Marathon
Nov 6; Indianapolis, IN
Marathon, half marathon, 5K
#BeMonumental at this BQ-friendly tour of the Hoosier capital
Rim Rock Run
Nov 6; Grand Junction, CO
Marathon, half marathon
Breathtaking route winds thru Colorado National Monument
Marshall University Marathon
Nov 7; Huntington, WV
Marathon, half marathon, 5K
Run with the Herd, take the handoff & finish on the field
Raleigh City of Oaks Marathon
Nov 7; Raleigh, NC
Marathon, marathon relay, half marathon, 10K, 5K
Rolling showcase of NC's capital with "amazing" after party
Chickamauga Battlefield Marathon
Nov 13; Fort Oglethorpe, GA
Marathon, half marathon, 5K
Run through history on a Civil War battlefield
VCU Health Richmond Marathon (above)
Nov 13; Richmond, VA
Marathon, half marathon, 8K
"America's Friendliest Marathon" earns its stripes
Magnolia Marathon
Nov 20; Meridian, MS
Marathon, marathon relay, half marathon
Small-town gem 💎 hits all the right notes
Philadelphia Marathon
Nov 20–21; Philadelphia, PA
Marathon, half marathon, 8K
The City of Brotherly Love welcomes back PA's top marathon
White River Marathon for Kenya
Nov 20; Cotter, AR
Marathon, half marathon, 5K
Flat, riverfront out-and-back benefits moms & kids in Kenya
Williams Route 66 Marathon
Nov 20–21; Tulsa, OK
Marathon, marathon relay, half marathon, 5K, 1 miler
Get your kicks & swizzle sticks at Tulsa's 26.2-mile block party
Space Coast Marathon
Nov 28; Cocoa, FL
Marathon, half marathon
Florida's oldest marathon celebrates its 50th launch
---
November Half Marathons
Hillbilly Hike Half
Nov 6; Carlisle, IA
Half marathon, 10K, 5K
PR-friendly point-to-point embraces its rustic theme
Shipyard Old Port Half
Nov 6; Portland, ME
Half marathon, 5K
Scenic seaside celebration courtesy of Maine's best half
Snow Canyon Half
Nov 6; St. George, UT
Half marathon, 5K
Fast downhill through volcanic Snow Canyon State Park
Cambridge Half
Nov 7; Cambridge, MA
Half marathon
13.1 miles o' smahts highlighted by Hahvahd Square & MIT
Golden Gate Half
Nov 7; San Francisco, CA
Half marathon, 5K
Run across the world's most iconic bridge… twice!
Phoenix 10K & Half
Nov 7; Phoenix, AZ
Half marathon, 10K, 5K
Flat & festive urban loop in the Valley of the Sun
Catalina Island Half
Nov 13; Avalon, CA
Half marathon, 10K
360° ocean views & free-roaming bison—what's not to love?
Spa Running Festival / Summit2Summit Half
Nov 13; Hot Springs, AR
Half marathon, 10K, 5K
Twin peaks challenge in Hot Springs National Park
St. Pete Run Fest
Nov 13–14; St. Petersburg, FL
Half marathon, 10K, 5K
Family-friendly weekend starring the Sunshine City
Shiner Beer Run
Nov 20; Shiner, TX
Marathon, half marathon, 10K, 5K
Hilly, brew-centric favorite adds a marathon in 2021
Palmetto Peach Half
Nov 27; North Augusta, SC
Half marathon, 10K, 5K
Charming route spans two states & the Savannah River
---
November Ultra Marathons
Tunnel Hill 100 & 50
Nov 13; Vienna, IL
100 miler, 50 miler
Rail-trail course great for first-timers & personal bests
Dead Horse Ultra
Nov 20; Grand County, UT
50 miler, 50K, 30K
Sandstone & slickrock next door to Arches Natl Park
JFK 50 Mile
Nov 20; Boonsboro, MD
50 miler
The nation's oldest & largest 50-miler attracts top talent
Regal Beagle Ultra
Nov 21; Akron, OH
50K, 25K, 5 miler
Multi-loop road/trail hybrid thru Bath Nature Preserve
Quad Dipsea
Nov 27; Mill Valley, CA
28.4 miler
Quad-crushing four-peat of the iconic Dipsea Trail
(Registration opens Aug 1)
November Other Distances
Vermont 10 Miler
Nov 7; Stowe, VT
10 miler
Hilly, chilly loop through the New England countryside
Rocky Run
Nov 13; Philadelphia, PA
10 miler, 5K
Run in the footsteps of the Italian Stallion & earn a medallion
Battleship 12K
Nov 14; Mobile, AL
12K
Patriotic run to the USS Alabama honors those who served
YMCA Buffalo Niagara Turkey Trot
Nov 25; Buffalo, NY
8K
World's oldest annual foot race marks its 126th edition
More November other distances…
Looking for more in-person races that may actually happen? Check out our Featured Races for:
---
Looking for more running events? Search for races by state/city or month, and try our handy Find a Race tool to search for events by name, date range, distance, location, terrain & more. Then sign up for a free account to build your wish list and start coloring in your 50 States Map!
Author: Mike Sohaskey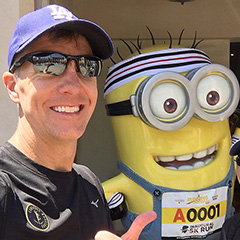 Mike Sohaskey is the co-founder of RaceRaves, the premier online reviews community for runners to share their race experiences and find their next challenge. Mike honed his creative and critical thinking skills as a research scientist, earning a Ph.D. in Cancer Biology from Stanford. He's also completed over 100 races — including 50+ marathons and ultras — in locations ranging from Antarctica to Zimbabwe.

Other RaceRaves articles you'll enjoy (trust us!)
World Marathon Majors Challenge Quiz
Toughest Road Marathons in North America
Races Inspired by Hollywood
Best Racing Cities in the U.S.
Running on all seven continents
Unconventional Races that dare to be different
And for more helpful articles, check out our blog!
Subscribe & Stay Connected
Find this article informative? Please share it, and let others know RaceRaves is the premier online resource to DISCOVER, REVIEW & TRACK all their races and to CONNECT with other runners! Plus, sign up for our newsletter to receive the best racing-related content and special offers every month!