Welcome to our new monthly guide to top upcoming races! Here we highlight a sampling of "best bets" as well as some of our team's personal favorites.
For a more comprehensive list of June road & trail races of all distances—and to exclude canceled events from your search—check out our Find a Race page!
Please note: Scheduling remains highly fluid, and many June races have yet to open registration. Unless otherwise noted, the following list includes only events that are now taking registrations for an in-person race and which, based on current information, are likely to take place. There are, however, no guarantees.
Looking for more in-person races that may actually happen? Check out our Featured Races for April/May.
(* indicates race was held in 2020)
---
June Marathons
Utah Valley Marathon (above)
Jun 4-5; Provo, UT
Marathon, half marathon, 10K, 5K
Scenery galore and a top Boston Qualifier to boot
Deadwood Mickelson Trail Marathon
Jun 6; Deadwood, SD
Marathon, marathon relay, half marathon, 5K
Low-key trail marathon in the pristine Black Hills
North Olympic Discovery Marathon
Jun 6; Port Angeles, WA
Marathon, marathon relay, half marathon, 10K, 5K
Pacific Northwest nature with a waterfront finish
Steamboat Marathon
Jun 6; Steamboat Springs, CO
Marathon, half marathon, 10K
Downhill destination race in the heart of the Rockies
Bear Lake Trifecta*
Jun 10; St Charles, ID
Jun 11; Cokeville, WY
Jun 12; Laketown, UT
Marathon, half marathon
Got what it takes to notch three states in three days?
Governor's Cup
Jun 12; Helena, MT
Marathon, marathon relay, half marathon, 10K, 5K
Expect a "capital" time at Montana's oldest marathon
Hatfield McCoy Marathon
Jun 12; South Williamson, KY (start); Williamson, WV (finish)
Marathon, double half marathon, 5K
First-timers & 50 Staters alike laud this two-state favorite
Charlevoix Marathon
Jun 19; Charlevoix, MI
Marathon, half marathon, 10K, 5K
Small-town gem on the shores of Lake Michigan
Run Super Series – The Super Marathon & Super Fast Half
Jun 26–27; Snoqualmie Pass, WA
Marathon, half marathon
Downhill Boston Qualifier on the popular Iron Horse Trail
---
June Half Marathons
Grand Teton Half
June 4–5; Wilson, WY
Half marathon, 5K
"Breathtaking course" with "magical views" of the Teton Range
Shipyard Old Port Half
Jun 5; Portland, ME
Half marathon, 5K
Maine's best half marathon offers a full refund if canceled
Yellowstone Half
Jun 11–12; West Yellowstone, MT
Half marathon, 5K
Scenic trail run next door to America's first National Park
The Great Ferry Race
Jun 13; Bainbridge Island, WA
Half marathon
A blast from the ferry horn starts your run on Bainbridge Island
NH-VT Covered Bridge Half
Jun 19; Colebrook, NH
16.2 miles, half marathon, half marathon relay, 5K
Rural New England with a covered bridge between states
Bristol Independence Rhode Race
Jun 26; Bristol, RI
Half marathon
Start your summer in the "most patriotic town in America"
Slacker Half
Jun 26; Dillon, CO
Half marathon, half marathon relay, 4 miles
Tackle the highest downhill half marathon in the country
---
June Ultra Marathons
24 Hour Eagle Up Ultra
Jun 5–6; Canal Fulton, OH
24 hours, 100 mile relay
Flat 5-mile loop course, great for first-time ultramarathoners
Bighorn Trail Run
Jun 18–19; Dayton, WY
100 miles, 52 miles, 32 miles, 18 miles
Rugged backcountry challenge in the Bighorn Mountains
Denali 135 & Denali 100K
Jun 20; Cantwell, AK
135 miles, 100K
Inaugural ultra in the shadow of North America's tallest peak
Bears Ears Ultra*
Jun 26; Monticello, UT
50 miles, 50K, 30K
High-elevation elation overlooking Canyonlands Nat'l Park
---
Looking for more running events? Search for races by state/city or month, and try our handy Find a Race tool to search for events by name, date range, distance, location, terrain & more. Then sign up for a free account to build your wish list and start coloring in your 50 States Map!
Author: Mike Sohaskey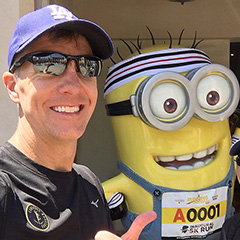 Mike Sohaskey is the co-founder of RaceRaves, the premier online reviews community for runners to share their race experiences and find their next challenge. Mike honed his creative and critical thinking skills as a research scientist, earning a Ph.D. in Cancer Biology from Stanford. He's also completed over 100 races — including 50+ marathons and ultras — in locations ranging from Antarctica to Zimbabwe.

Other RaceRaves articles you'll enjoy (trust us!)
Why do you run?
April & May races that may actually happen
Best Racing Cities in the U.S.
Running on all seven continents
Unconventional Races that dare to be different
Must-See Running Documentary Movies
Toughest Road Marathons in North America
And for more helpful articles, check out our blog!
Subscribe & Stay Connected
Find this article informative? Please share it, and let others know RaceRaves is the premier online resource to DISCOVER, REVIEW & TRACK all their races and to CONNECT with other runners! Plus, sign up for our newsletter to receive the best racing-related content and special offers every month!