Looking for an easy first-time marathon or speedy Boston Qualifier? You're in the wrong place! As if running 26.2 miles weren't challenging enough, here we spotlight the toughest road (paved or unpaved) marathons in North America. With high altitude, brutal hills and extreme weather, these 13 races take perverse pleasure in extracting as much blood, sweat & tears as possible from their runners. Because for better or worse, on race day miserable is memorable.
---
Foot Levelers Blue Ridge Marathon – Roanoke, VA
(Apr; Double marathon, marathon, marathon relay, half marathon, 10K, family mile)
What's the challenge? Significant hills, including four climbs & descents of 450+ feet each
Talk about putting your money where your mouth is: Blue Ridge race organizers are so confident in their claim to "America's Toughest Road Marathon", they trademarked the slogan. And with 7,430 feet of elevation change, they ain't just whistlin' Dixie. Starting in downtown Roanoke, the race winds through several local parks and culminates in a climb to the top of Roanoke Mountain (2,145 feet) in mile 7. Significant climbs at miles 13 and 19 follow, with plenty of rolling hills sprinkled in to keep the legs motivated.
Once atop Roanoke Mountain, sweeping vistas are the payoff for a jog well run. Likewise, Blue Ridge Mountain scenery and flatter stretches along the Roanoke River help to offset mounting fatigue. And just before the midway point of the race stands the 88-foot-tall Roanoke Star, which at night watches over the city in a blaze of neon from its vantage point in Mill Mountain Park.
Whiskey Row Marathon – Prescott, AZ
(May, but moved to Oct for 2021; Marathon, half marathon, 10K, 5K)
What's the challenge? High altitude + steep hills = tough love
"Are You Tough Enough?" the WRM logo asks prospective runners. It's a fair question, since any course with an elevation profile that resembles a capital "M" clearly means business. And when that entire course is run above a mile in elevation, you know you've got your work cut out for you. Named for the historic stretch of saloons that recall Prescott's Gold Rush roots, Whiskey Row wastes no time in bringing the pain.
Starting on an immediate uphill trajectory, the out-and-back course covers five miles on asphalt before transitioning to a well-maintained dirt road for the next eight. Reaching its zenith (~7,000 feet) in mile 9, the course drops to 5,600 feet at the midway turnaround point before retracing its steps up and back down to Whiskey Row. By the time you cross the finish line in Courthouse Square, you may need a good stiff drink to take the edge off and help you savor the achievement of a hard-earned Personal Worst.
Wyoming Marathon Races – Laramie, WY
(May; 50K, marathon, half marathon, 5K)
What's the challenge? High altitude and long, challenging climbs
Few events deliver a natural runner's high like the Wyoming Marathon Races, featuring the oldest continuously held marathon in the Equality State. With a course that runs between 8,000 and 8,800 feet in elevation, Wyoming has an attitude for altitude. The good news is that the start line sits at just over 8,700 feet, the high point of the course. The bad news is, so does the finish line.
The out-and-back course drops nearly 700 feet in the first five miles, though with an asterisk since you'll be climbing those same hills on your way home. The course giveth and the course taketh away, as the dirt and gravel roads—77% of the course is unpaved—help to offset some of the pounding on your legs, if not your lungs. And for those hardy souls who fancy belt buckle bling, the race offers a 50K distance as well. Don't say you weren't warned, though—after all, WMR's slogan is "Where the race director promises you nothing, and he delivers."
Skagway Marathon – Skagway, AK
(Jun; Marathon, half marathon)
What's the challenge? Frequent hills with extended climbs, including the "Hill of Endurance"
"ALASKA'S TOUGHEST MARATHON" screams the home page on the Skagway Marathon website. Two-time champ Quinn Webber agrees, calling the course "absolutely brutal" and "the 7th circle of Hell." Skagway owes much of this hard-earned reputation as "5% Tough, 95% Brutal" to its frequent elevation changes, but what sets it apart from other difficult road marathons is the Hill of Endurance, a cruel 2-mile/470-foot climb up to (and back down from) the turnaround at the halfway point.
The largely paved course mixes in gravel and dirt stretches featuring—if it's any consolation to your uncooperative legs—some of the most pristine natural beauty found anywhere in the world. And the Hill of Endurance notwithstanding, the toughest part of the marathon may be getting to the start line, as the town's geographic isolation means most of its one million annual tourists arrive by cruise ship.
Running with the Devil – Las Vegas, NV
(Jun; 100K, 50 miler, 50K, marathon, half marathon, 10K, 5K)
What's the challenge? Extreme heat, with temperatures exceeding 100°F
Now's your chance to break out the reflective, all-white running gear! As the name suggests, Running with the Devil is a celebration of insolation. Resurrected in 2016 after a three-year hiatus (including its 2013 cancellation due to concerns over excessive heat), RWTD returned with a paved course that promises "pure Mojave Desert running at its finest!" And with distance options that range from 5K to 100 miles, Calico Racing's sun-drenched event feels like a training ground for Badwater wannabes.
Frequent hydration breaks let runners stop and smell the Mountain Roses, plus other high desert vegetation including Joshua trees and Pinyon-Juniper woodlands. And for anyone looking for a silver lining in the cloudless Nevada skies: at a start line elevation of 4,500 feet, you and your overworked cooling systems can take comfort in the fact it's a very dry heat.
Mad Marathon – Waitsfield, VT
(Jul; Marathon, marathon relay, half marathon, half marathon relay)
What's the challenge?  Steep & unrelenting hills, with a near-continuous ascent from miles 8–16
"Endless and steep" is the name of the game in the aptly named Green Mountains, a "sylvan wonderland" where even the hills have hills. In fact, a Mad Marathon review without the word "hills" is like a Tom Brady fan who doesn't talk football. On the bright side, the pride of Central Vermont bills itself "The World's Most Beautiful Marathon," and though "Brutal-ful" may be more apropos, Mad exudes ample New England charm with its 26.2 miles of rustic farmland and curious cattle punctuated by four covered bridge crossings. What's more, the region's July heat is typically offset by low humidity.
Scenic surroundings and mild climate aside, "Do not expect a PR [personal record], but do expect a feeling of accomplishment like none other!" advises 2019 finisher @samantha.r.legere. And once you get over the hill(s), expect also to be greeted (in non-COVID years) with a finisher's hug courtesy of Race Director Dori Ingalls.
Madison Marathon ­– Madison, MT
(Jul; Marathon, marathon relay, half marathon)
What's the challenge? Highest altitude on this list (8,300ft low, 9,500ft high), significant hills
The review headline from first-time marathoner @treyhorbins says it all: "Holy shit…." Madison's claim to being the "highest road marathon on planet Earth" may be outdated (Khunjerab Pass in Pakistan and Ladakh in India are higher), but make no mistake: it's high enough. At a starting elevation of 9,250 feet and two brutal climbs in the first 5 miles, you may wonder how Big Sky Country can be so stingy on oxygen.
This is no big-city race, as reinforced by the long shuttle rides that transport runners to the remote start (like riding in a "big, orange maraca," notes finisher @dansolera). But the end justifies the means, with 26.2 miles of open-air freedom on dirt & gravel roads, featuring (literally) breathtaking views and potential wildlife encounters with bears, moose and antelope. Like the website says, "Long distance running just doesn't get any better than this."
Not enough punishment? The following day's Big Sky Marathon provides a "double" opportunity for Marathon Maniacs, Half Fanatics and any masochist whose oxygen-deprived brain may be experiencing short-term Madison memory loss.
Crater Lake Rim Runs – Crater Lake, OR
(Aug; Marathon, 13 miler, 6.7 miler)
What's the challenge? High altitude, long climbs & descents
Formed thousands of years ago from the caldera of a collapsed volcano, Crater Lake is the deepest lake in the U.S. and a remarkable centerpiece for one of the nation's toughest road marathons. The course wastes no time in setting expectations, with an immediate half-mile ascent starting at 7,500 feet of elevation. From there the pristine blues and greens of southern Oregon will take your breath away, assuming you have any left once the undulating course has its way with you.
But the organizers save arguably the worst for last: at mile 22, runners pass by the finish line and continue on a steep two-mile climb up a road composed of dirt & pumice cinders, before retracing their steps back to the finish. By this final downhill, the unforgiving combination of altitude and hills will leave most runners' legs ready to crater.
For Crater Lake fans, the Lake Tahoe Marathon features a similarly strenuous combination of altitude, hills & brilliant blues all centered around the country's second-deepest lake.
Heart of America Marathon – Columbia, MO
(Sep; Marathon, marathon relay)
What's the challenge? Unrelenting hills & warmer temps suck the life from your legs
It may or may not be coincidence that Heart of America takes place every year on Labor Day, but it's certainly appropriate. HOA has been punishing novice and seasoned legs alike since 1960 with "sloping hills nearly the entire way" and race-day weather on the hot & humid side. So exhausted finishers will be thrilled to receive their own lightweight, ice-soaked cooling towel once they cross the line.
HOA's appreciative runners rave about the event's value, citing the no-frills, hometown ambiance and post-race pizza party. For masochists who like to do things the hard way, the course is a USATF-certified Boston Qualifier, though more leisurely marathoners will want to note the strict six-hour time limit. Whether it's the scenic countryside route, the energetic support from top-notch volunteers or simply the aerobic challenge, Heart of America will keep your own ticker working overtime.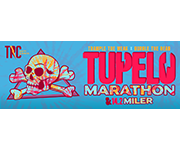 Tupelo Marathon – Tupelo, MS
(Sep; Marathon, 14.2 Miler)
What's the challenge?  Sweltering heat & humidity exacerbate the rolling hills
"Trample the weak and hurdle the dead." Tongue-in-cheek though (we think) it may be, Tupelo's take-no-prisoners tagline hints at the struggle that awaits in the birthplace of Elvis. Held each year on Labor Day weekend, the race starts in darkness at 5:00am, ensuring plentiful shade in the early miles before cool(er) morning conditions give way to oppressive heat & humidity that will make your legs feel as if someone cranked up the gravity.
Tupelo describes itself as "a throwback to the way marathons used to be," thanks in part to low-frills production and aid stations spaced farther apart than you may like along its rural, rolling course. That said, runners emphasize "the race staff is first rate." And even Tupelo's favorite son would likely agree you can't help falling in love with the tie-dye race tee and distinctive skull & crossbones finisher medallion… assuming you were neither trampled nor hurdled along the way.
Rim Rock Run – Grand Junction, CO
(Nov; Marathon, marathon relay, half marathon)
What's the challenge? A gradual 9-mile ascent to the course's high point at 6,600ft
In a state that boasts 53 peaks of at least 14,000 feet plus a bevy of high-altitude trail races, the Rim Rock Run may at first blush seem like "Colorado Lite". But don't let its meager max elevation of 6,600 feet fool you; in order to reach the top, you'll have to climb nearly one-third of those 6,600 feet in the race's first nine miles. And since what goes up must come down, the second half of the winding course takes back all 2,000 feet of elevation gain and more, with a quad-pounding descent to the finish line in Fruita.
Luckily all this pain doesn't come without gain, as rewarding your efforts are spectacular, panoramic views of soaring red rock canyons and the towering sandstone formations of Colorado National Monument. You'll even traverse three tunnels along the way. And while other Colorado races may literally take your breath away, none succeeds in the figurative sense more than Rim Rock.
Polar Bear Marathon – Churchill, Manitoba, Canada
(Nov; 50K, marathon, half marathon)
What's the challenge? Extreme cold & wind chill; potential polar bear sightings on the course
Known as the "Polar Bear Capital of the World," the remote town of Churchill sits on the banks of the Hudson Bay at the northern tip of Manitoba. Factoring in wind chill, temperatures in late November routinely fall below -30°C (-22°F) with an average monthly snowfall of 40 cm (16 inches). Frostbite happens quickly in those conditions, demanding that runners dress in multiple protective layers with all exposed areas covered. If you think running 26.2 miles in a singlet and shorts is a struggle, try doing it in a parka and ski pants.
Unlike other races that include "Polar Bear" in their name to signify a cold-weather activity, Churchill's bucket-list marathon is the real deal. And the race's selling point is its namesake, i.e. the town's autumn residents who migrate toward the bay in search of food. To guarantee runner safety and discourage curious polar bears and wolves, participants run in pairs accompanied by a support vehicle that doubles as a mobile aid station. Registration limited to 25 runners.
Harpeth Hills Flying Monkey Marathon – Nashville, TN
(Nov; Marathon, half marathon)
What's the challenge? Steep hills that just keep coming
It's worth noting that Tennessee hosts not only the most grueling race in the nation (The Barkley Marathons) but also one of the most difficult road marathons. Staged entirely within Nashville's densely wooded Percy Warner Park, the Flying Monkey is "meant to be an antidote" to fast and flat marathons. And while the organizers may take themselves lightly, they clearly take their responsibilities seriously with over 7,200 feet of total elevation change, grades of up to 12% and a cadre of dedicated volunteers providing encouragement and guidance along the way.
With lung-burning ascents and quad-punishing descents on a backdrop of fiery fall foliage, HHFM isn't monkeying around. Or maybe it is? In any case, your legs will doubtless be ready to See no hills, hear no hills, speak no hills long before reaching the finish.
Registration is a weighted lottery and opens for one week only (Aug 1–8) each year. And Monkey masochists may want to check out its sister summer race at the Blister in the Sun Marathon, aka "A Stupid Hot Hilly Little Run in the Park."
Got a favorite grueling road marathon we missed? Don't be shy—review it on RaceRaves and enlighten us in the Comments below!
(Updated Feb 16, 2021; originally published Aug 24, 2017)
---
Looking for more running events? Search for races by state/city or month, and try our handy Find a Race tool to search for events by name, date range, distance, location, terrain & more. Then sign up for a free account to build your wish list and start coloring in your 50 States Map!
Author: Mike Sohaskey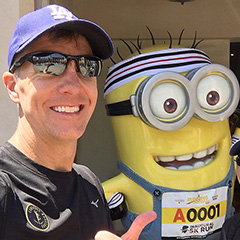 Mike Sohaskey is the co-founder of RaceRaves, the premier online reviews community for runners to share their race experiences and find their next challenge. Mike honed his creative and critical thinking skills as a research scientist, earning a Ph.D. in Cancer Biology from Stanford. He's also completed over 100 races — including 50+ marathons and ultras — in locations ranging from Antarctica to Zimbabwe.

Other RaceRaves articles you'll enjoy (trust us!):
June races that may actually happen
Why do you run?
April & May races that may actually happen
Best Racing Cities in the U.S.
Running on all seven continents
Unconventional Races that dare to be different
And for more helpful articles, check out our blog!
Subscribe & Stay Connected
Find this article informative? Please share it, and let others know RaceRaves is the premier online resource to DISCOVER, REVIEW & TRACK all their races and to CONNECT with other runners! Plus, sign up for our newsletter to receive the best racing-related content and special offers every month!