Welcome to our new monthly guide to top upcoming races! Here we highlight a sampling of "best bets" as well as some of our team's personal favorites.
For a more comprehensive list of April/May road & trail races—and to exclude canceled races from your search—check out our Find a Race page!
Please note: Scheduling remains highly fluid, and many popular April/May races have yet to open registration. The following list includes only events that are now taking registrations for an in-person race and which, based on current information, are likely to take place. There are, however, no guarantees.
(* indicates race was held in 2020)
---
April & May Marathons
Carmel Marathon Weekend*
Apr 3; Carmel, IN
Marathon, marathon relay, half marathon, 10K, 5K
Flat and friendly with Midwestern hospitality to spare
Foot Levelers Blue Ridge Marathon
Apr 17; Roanoke, VA
Double marathon, marathon, marathon relay, half marathon, 10K
"America's Toughest Road Marathon" brings the charm
Garmin Marathon in the Land of Oz
Apr 17; Olathe, KS
Marathon, half marathon, 10K
Voted our best marathon in Kansas, and we're not "lion"
Gettysburg Festival of Races*
Apr 25; Gettysburg, PA
Marathon, half marathon, 5K
Run thru history alongside a hallowed Civil War battlefield
Pro Football Hall of Fame Marathon
May 2; Canton, OH
Marathon, marathon relay, half marathon, 5K
Kick off your 2021 marathon season in Northeast Ohio
Windermere Marathon*
May 16; Spokane, WA
Marathon, half marathon, 5K
Flat & scenic WA choice for 50 Staters & traveling runners
Thelma & Louise Marathon
May 22; Moab, UT
Marathon, marathon relay, half marathon, 15K
Women's-only trail race showcases Moab's stunning red rocks
Coeur d'Alene Marathon*
May 30; Coeur d'Alene, ID
Marathon, half marathon, 10K, 5K
Pristine pleasure voted best marathon & best half marathon in Idaho
---
April & May Half Marathons
The Split*
Apr 18; Spokane, WA
Half marathon, 10K, 5K
Pacific Northwest scenery along the Spokane River
The Cowtown*
May 8; Fort Worth, TX
Half marathon, half marathon relay, 10K, 5K
North TX favorite voted America's Rave Race for 2020
Yosemite Half
May 8; Oakhurst CA
Half marathon
Speedy downhill course thru the Sierra National Forest
---
April & May Ultra Marathons
Brazos Bend 50
Apr 3; Needville, TX
100K, 50 miles, 50K, 25K, 10K, 5K
Flat, forgiving course great for first-time ultramarathoners
Canyons Endurance Runs
Apr 24; Foresthill, CA
100K, 25K
Run the iconic Western States trail (full refund policy for cancellation)
Strolling Jim*
May 1; Wartrace, TN
40 miles, marathon, half marathon, 10K
Picturesque route in the heart of Tennessee horse country
KEYS 100
May 15; Key West, FL—registration opens Jan 6
100 miles, 100-mile relay, 50 miles, 50-mile relay, 50K
Atlantic Ocean to the left of me, Gulf of Mexico to the right
Bryce Canyon Ultras*
May 29; Hatch, UT
100 miles, 50 miles, 60K, 50K, 30K
Hoodoos + high elevation = an unforgettable challenge
---
Looking for more running events? Search for races by state/city or month, and try our handy Find a Race tool to search for events by name, date range, distance, location, terrain & more. Then sign up for a free account to build your wish list and start coloring in your 50 States Map!
Author: Mike Sohaskey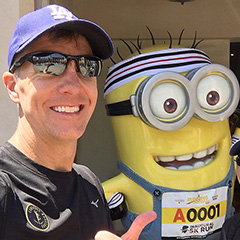 Mike Sohaskey is the co-founder of RaceRaves, the premier online reviews community for runners to share their race experiences and find their next challenge. Mike honed his creative and critical thinking skills as a research scientist, earning a Ph.D. in Cancer Biology from Stanford. He's also completed over 100 races — including 50+ marathons and ultras — in locations ranging from Antarctica to Zimbabwe.

Other RaceRaves articles you'll enjoy (trust us!)
Best Racing Cities in the U.S.
Running on all seven continents
Unconventional Races that dare to be different
Must-See Running Documentary Movies
Races Inspired by Hollywood
Toughest Road Marathons in North America
And for more helpful articles, check out our blog!
Subscribe & Stay Connected
Find this article informative? Please share it, and let others know RaceRaves is the premier online resource to DISCOVER, REVIEW & TRACK all their races and to CONNECT with other runners! Plus, sign up for our newsletter to receive the best racing-related content and special offers every month!