Awards season is in full swing — with the Golden Globes behind us and the Oscars still to come, what better time to recognize running events that pay tribute to the big and small screens? Grab your popcorn and join us as we say "Hooray for Hollywood" with our rundown of movie- and TV-themed races. Lights, camera, ACTION!
(And if you've run any of these events, we hope you'll post your review on RaceRaves!)
---
Screenland 5K – Culver City, CA
(Feb, but moved to Apr for 2021; 5K)
"And the Oscar goes to…." Before you hear those five magic words that captivate a nation, take your own stroll down the red carpet in running shoes at the Screenland 5K. Now in its fifth year, Screenland has fast become the morning warmup for that evening's Academy Awards ceremony, with costume-clad runners paying homage to their favorite film characters. The race starts under a rainbow balloon arch at the corner of "the world's shortest Main Street" and runs past the historic Culver Hotel and the Sony Pictures Studio (formerly MGM Studios) where The Wizard of Oz was filmed, before finishing on the red carpet at tiny Media Park. With Tinseltown-inspired finisher medals and entertainment along with a Munchkin Dash for the kids, there's no better way to get the Oscars adrenaline flowing and put yourself in an award-winning frame of mind.
Wicked Marathon – Wamego, KS
(Mar; marathon, half marathon, Flying Monkey 5K)
Ruby red Nikes are optional at this small-town tribute to L. Frank Baum's children's classic, The Wonderful Wizard of Oz. Race day starts and finishes in front of the OZ Museum, home to one of the largest private collections of Oz memorabilia in the world. Rolling hills along the marathon and half marathon courses give the feeling you're not in Kansas anymore, as does a sighting in mile one of the Old Dutch Mill, a photogenic Dutch windmill built in 1879 that now stands in Wamego City Park. Age-group winners score impressive Emerald Castle trophies, while a separate prize awaits the runner with the most Oz-some costume. And photo ops with favorite Oz characters round out a weekend of wicked running fun. A word of warning, though: springtime weather in Kansas can be unpredictable, so you may want to keep an eye out for flying houses.
Other Oz-themed races of note include the Garmin Marathon in the Land of Oz in Olathe, KS and the Oz Run Half Marathon and 5K in Chippewa Falls, WI.
Star Wars Rival Run – Lake Buena Vista, FL
(Apr; half marathon, 10K, 5K)
Originally two separate events held at Disneyland ("Light Side") and Walt Disney World ("Dark Side"), the Star Wars Rival Run was born after runDisney's cancellation of its California events for 2018 and beyond. And while all of the company's races support its movie properties, the Force is particularly strong with its Star Wars offering. Like other RunDisney events the Star Wars Rival Run is notoriously pricey, but where else can you run in full Jedi regalia while rubbing elbows with intergalactic celebrities like Darth Vader, Boba Fett and Chewbacca on their home turf? Not only that, but runners who conquer the Star Wars Rival Run Challenge (10K on Saturday, half marathon on Sunday) earn each individual finisher medal plus the exclusive Rival Run Challenge Medal. Because going home from any runDisney event without maximum bling is a Wookie mistake.
Thelma and Louise Marathon & Half – Moab, UT
(May; marathon, marathon relay, half marathon, 15K)
Grab your BFF and your running shoes and hit the open road! This women-only event — newly reimagined as a trail race with generous cutoff times — takes place in stunning Southern Utah, where much of its namesake tale of female empowerment was filmed. Moab is one of the top racing cities in the U.S. and a trail-running mecca, and much like Brad Pitt's sweet-talkin' hustler, the town will charm and seduce you with its red sandstone arches, soaring spires and (of course) towering, rocky cliffs. The high-desert course is itself pure Moab with a rugged, challenging mix of dirt, slickrock and sand. Along the way, participants can channel their inner protagonist by choosing to have either "Thelma" or "Louise" printed on their bib number. And if you're gunning to take home a raffle prize, do come armed — with a strong knowledge of T&L movie trivia, that is.
Shawshank Hustle 7K – Mansfield, OH
(Aug; 7K)
Run in the footsteps of Andy, Red and their fellow Shawshank inmates at this summer tribute to the 1994 classic. Much of The Shawshank Redemption was filmed in Mansfield, and the 4.6-mile Hustle course passes several of the 15 local filming sites including Brooks' Bench. The race starts and ends at the now-defunct Ohio State Reformatory, better known to moviegoers as Shawshank State Penitentiary. And bragging rights are on the line in the Guards v. Inmates Challenge, which pits two teams of runners against a fleet-footed "warden." Race weekend features tours of the Reformatory (free for race participants) along with appearances by Shawshank actors, and forget the Dolby Surround Sound and plush recliner seating of your local cinema — what could be better than a Shawshank viewing in the Reformatory Central Guard Room? Get busy running, or get busy dying.
Forrest Gump Challenge – Branson, MO
(Aug; marathon, half marathon, 5K)
Ready to go for a little run? Lace up your magic shoes for a nostalgic visit to Downtown Branson, the "Live Entertainment Capital of the World." With a distance for everyone, the Forrest Gump Challenge benefits the Cross Country Missions to fund kids summer camp scholarships. Scenic is as scenic does, and the half marathon course (which marathoners complete twice) makes the most of its waterfront venue, starting and finishing at the Branson Landing Fountain while winding along Lake Taneycomo. Gump-inspired costumes are encouraged, and each finisher receives an exclusive Gump-themed medal, with age-group winners scoring custom themed awards. There's even a Forrest Gump bench from which to tell your story. And after the race, what better way to toast your accomplishment and the man himself than with an ice-cold Dr. Pepper? Served in glass bottles, of course.
SPACEROCK Trail Race – Agua Dulce, CA
(Oct; half marathon, 10K, 5K)
Billing itself as "the final trail running frontier," SPACEROCK takes place on the dirt, sand and gravel trails of Vasquez Rocks Natural Area Park in Southern California. With its diverse terrain and otherworldly rock formations, Vasquez Rocks provides the backdrop for popular movies and TV shows including Star Trek, Battlestar Galactica and Planet of the Apes, as well as classic westerns such as Bonanza and Gunsmoke. The race gets stellar reviews on RaceRaves with high marks for its scenery, production and "awesome and outer space-themed" swag. And though its shorter distances may dissuade runners who favor the marathon distance and beyond, the half marathon course with over 3,200 feet of elevation gain is an ultramarathon-like challenge for any earthling. For seasoned trail runners and first-timers alike, SPACEROCK is an "out-of-this-world experience."
Rocky Run – Philadelphia, PA
(Nov; 10 miler, 5K)
Relive the spirit of '76 — 1976, that is — at this salute to Philadelphia's fictional fighting son. Runners answer the bell at the start line in front of the Philadelphia Museum of Art, within punching distance of the famous Rocky Statue. The 10-mile and 5K courses follow scenic out-and-back routes along the Schuylkill River before finishing back at the Museum. (Smile for those free race photos!) Once you've gone the distance, celebrate with a heavy-legged dash up the Museum's 72 "Rocky Steps" and strike your own Balboa-inspired victory pose. Runners with the heart of a champion can complete the 5K and 10 miler to earn both finisher medals as well as the exclusive Italian Stallion 13.1 Challenge medal, all without chasing a single chicken. So if you've got the eye of the tiger, grab a ringside seat for this Philly fall favorite.
A Christmas Story Run – Cleveland, OH
(Dec; 10K, 5K)
If you're a fan of Red Ryder and pink bunny suits (above), we triple dog dare you to resist this festive homage to the 1983 holiday classic. Though set in Northern Indiana, A Christmas Story was in fact filmed in Cleveland, and it turns out the distance from the former Higbee's department store (the start line) to Ralphie's house (the 5K finish line/10K turnaround point) happens to be 3 miles, or very close to 5K. Every finisher earns a major award, i.e. a finisher medal inspired by the movie, while all participants gain free admission to A Christmas Story House & Museum. Runners know the importance of recovery, so be sure to drink your rich, chocolatey Ovaltine at the post-race party, or visit the Old Man's Beer Garden to toast your finish among like-minded adults. Questions? Feel free to direct those to the organizers at 877-LEG-LAMP. Seriously.
Paramount Ranch Trail Runs – Agoura Hills, CA
(Dec; 50K, marathon, 30K, half marathon, 10K)
Travel back to the Golden Age of Hollywood at this hiking and trail-running destination just north of Malibu. Paramount Pictures purchased the 2,700 acres in 1927 for use as a "movie ranch," and since then the diverse landscape has stolen the show from talented actors like Gary Cooper, Bob Hope and Jane Seymour. Though largely destroyed by wildfires in 2018 (the church constructed for HBO's Westworld is one of two buildings still standing), efforts are underway to restore the ranch's iconic Western Town. The race itself welcomes trail running newbies and diehard dirt devils alike with distances ranging from 10K to 50K on well-maintained trails. And while the setting feels like an oasis in the urban jungle, the 10K loop course ensures you're never too far from civilization. Plus, all participants earn cool swag including a handmade ornament just in time for the holidays.
(Updated Mar 16, 2021; originally published Oct 17, 2018)
---
Looking for more running events? Search for races by state/city or month, and try our handy Find a Race tool to search for events by name, date range, distance, location, terrain & more. Then sign up for a free account to build your wish list and start coloring in your 50 States Map!
Author: Mike Sohaskey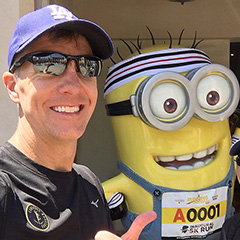 Mike Sohaskey is the co-founder of RaceRaves, the premier online reviews community for runners to share their race experiences and find their next challenge. Mike honed his creative and critical thinking skills as a research scientist, earning a Ph.D. in Cancer Biology from Stanford. He's also completed over 100 races — including 50+ marathons and ultras — in locations ranging from Antarctica to Zimbabwe.

Other RaceRaves articles you'll enjoy (trust us!):
July Featured Races that may actually happen
Toughest Road Marathons in North America
Best Racing Cities in the U.S.
Running on all seven continents
Unconventional Races that dare to be different
Must-See Running Documentary Movies
And for more helpful articles, check out our blog!
Subscribe & Stay Connected
Find this article informative? Please share it, and let others know RaceRaves is the premier online resource to DISCOVER, REVIEW & TRACK all their races and to CONNECT with other runners! Plus, sign up for our newsletter to receive the best racing-related content and special offers every month!