Welcome to our handy guide to top upcoming races—a list so nice, we're doing it twice! (For the crowded months of Sept & Oct, that is.) Here we highlight "best bets" and personal favorites that are scheduled to take place Oct 16–31.
NOTE: Scheduling remains fluid, and many Oct races (some of which moved from early 2021) have yet to open registration. Unless otherwise noted, the following list includes only events that are now taking registrations for an in-person race and which, based on current information, are likely to take place. As with life, however, there are no guarantees.
---
Late October Marathons
Mankato Marathon
Oct 15–16; Mankato, MN
Marathon, marathon relay, half marathon, 10K, 5K
Urban meets rural in the lush Minnesota River Valley
Des Moines Marathon
Oct 16–17; Des Moines, IA
Marathon, marathon relay, half marathon, 5 miler, 5K, 1 miler
Scenic, family-friendly weekend in Iowa's vibrant capital city
Freedom's Run
Oct 16; Harpers Ferry, WV
Marathon, half marathon, 10K, 5K
Hilly & historical course in a Civil War setting
Kansas City Marathon
Oct 16; Kansas City, MO
Marathon, half marathon, 10K, 5K
The City of Fountains puts its best foot forward
Baystate Marathon
Oct 17; Lowell, MA
Marathon, half marathon, half marathon relay
Fast, flat BQ favorite along the Merrimack River
Mount Desert Island Marathon
Oct 17; Bar Harbor, ME
Marathon, marathon relay, half marathon
Pristine coastline on the doorstep of Acadia Nat'l Park
(Half marathon is sold out)
End of the Road Marathon
Oct 23–24; Waterfall, PA
Marathon, half marathon, 4 miler
Run on the abandoned PA Turnpike where "The Road" was filmed
Columbia Gorge Marathon
Oct 24; Hood River, OR
Marathon, half marathon, half marathon relay
Spectacular out & back in the Columbia River Gorge
Cincinnati Flying Pig Marathon
Oct 29–31; Cincinnati, OH
Marathon, half marathon, 10K, 5K, 1 miler
One of America's most beloved events moves to Oct for 2021
Cape Cod Marathon
Oct 30–31; Falmouth, MA
Marathon, marathon relay, half marathon, 5K
Coastal beauty abounds at MA's other favorite marathon

Marine Corps Marathon
Oct 31; Arlington, VA
50K, marathon, 10K
Got what it takes to #RunWithTheMarines? Step up & prove it.

---
Late October Half Marathons
Buffalo Creek Half
Oct 16; Cabot, PA
Half marathon
Gentle, sylvan downhill on crushed limestone rail-trail
SPACEROCK Trail Race
Oct 16; Agua Dulce, CA
Half marathon, 10K, 5K
"Out-of-this-world" challenge in an iconic Hollywood setting
Urban Bourbon Half
Oct 16; Louisville, KY
Half marathon
"Spirit"ed fermentation sensation for runners 21 & older
New England Half
Oct 17; Concord, NH
Half marathon
Rustic point-to-point from apple orchard to NH State House
Haunted Half Salt Lake City
Oct 23; Salt Lake City, UT
Half marathon, 5K
RIP (Run, Indulge, Party) at SLC's downhill "spook"tacular
Heroes Run Shreveport
Oct 23; Shreveport, LA
Half marathon, 5K
Patriotic tribute to first responders & military heroes
Good Life Halfsy
Oct 24; Lincoln, NE
Half marathon
Festive, funsy running tour of Nebraska's capital city
Fayetteville Firefighters Hero Half
Oct 30; Fayetteville, AR
Half marathon, half marathon relay
Community fundraiser showcases a charming college town
Queen Bee Half
Oct 31; Cincinnati, OH
Half marathon, 4 miler
You'll "pollen" love with Cincy's female-focused favorite
---
Late October Ultra Marathons

Kansas Rails-to-Trails Fall Ultra Extravaganza
Oct 23; Ottawa, KS
100 miler, 100K, 50 miler, 50K, marathon, half marathon
Ideal first-time ultra on the wide, forgiving Prairie Spirit Trail
Tecumseh Trail Challenge
Oct 23; Nashville, IN
50K, marathon, half marathon, quarter marathon
Dramatic fall foliage awaits in Yellowwood State Forest
Stone Steps 50K Trail Run
Oct 24; Cincinnati, OH
50K, 27K
Hilly, alternating loop course on technical single-track
Chicago Lakefront Fall 50/50
Oct 30; Chicago, IL
50 miler, 50K
Run your personal best on the shores of Lake Michigan

Javelina Jundred Trail Runs
Oct 30–31; Fountain Hills, AZ
100 miler, 100K, 31K
Costumed running party in the Sonoran Desert
(Waitlist only for 100 miler & 100K)
---
Late October Other Distances

Atlanta 10 Miler & 5K
Oct 17; Atlanta, GA
10 miler, 5K
Popular "Perfect 10" features sweet skyline views
Ohio State 4 Miler
Oct 24; Columbus, OH
4 miler
"Finish On The 50" at this celebration of Buckeye nation
Wicked 10K & Monster Mile
Oct 29–30; Virginia Beach, VA
10K, 1 miler
Halloween hijinks on the Virginia Beach Boardwalk
Tulsa Run
Oct 30; Tulsa, OK
15K, 5K, 2K
Lively local tune-up for November's Route 66 Marathon
Harvard Pilgrim Middletown 10 Mile
Oct 31; Middletown, CT
10 miler, 3.5 miler
Rolling, wooded route in the home of Wesleyan University
Looking for more in-person races that may actually happen? Check out our Featured Races for:
---
Looking for more running events? Search for races by state/city or month, and try our handy Find a Race tool to search for events by name, date range, distance, location, terrain & more. Then sign up for a free account to build your wish list and start coloring in your 50 States Map!
Author: Mike Sohaskey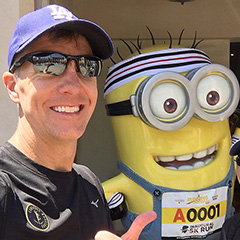 Mike Sohaskey is the co-founder of RaceRaves, the premier online reviews community for runners to share their race experiences and find their next challenge. Mike honed his creative and critical thinking skills as a research scientist, earning a Ph.D. in Cancer Biology from Stanford. He's also completed over 100 races — including 50+ marathons and ultras — in locations ranging from Antarctica to Zimbabwe.

Other RaceRaves articles you'll enjoy (trust us!)
World Marathon Majors Challenge Quiz
Toughest Road Marathons in North America
Races Inspired by Hollywood
Best Racing Cities in the U.S.
Running on all seven continents
Unconventional Races that dare to be different
And for more helpful articles, check out our blog!
Subscribe & Stay Connected
Find this article informative? Please share it, and let others know RaceRaves is the premier online resource to DISCOVER, REVIEW & TRACK all their races and to CONNECT with other runners! Plus, sign up for our newsletter to receive the best racing-related content and special offers every month!