With the new year underway and many of us eyeing ambitious goals and resolutions, there's no better time to plan out your 2022 (and beyond!) race schedule. For many runners this schedule will include one or more "bucket list" races, chief among these the six marathons that comprise the Abbott World Marathon Majors. Founded in 2006 to advance the sport and raise awareness of its elite athletes, the World Marathon Majors (WMM) are — in non-pandemic chronological order — Tokyo, Boston, London, Berlin, Chicago and New York City.
Due to their burgeoning popularity in recent years, registration for each of these six events is now restricted to a lottery selection process or other approved qualifying method (e.g. finish time or charitable fundraising), thus further enhancing each race's prestige and perpetuating the cycle. As the number of applications continues to grow — London alone received a world-record 457,861 applications for the 2020 race — the odds of lottery success continue to shrink, and gaining entry to each of these events has become as easy as running in high heels.
What is more, you'll need to complete all six races over time if you hope to earn what many consider marathon running's greatest prize: the Six Star Finisher Medal. (Currently the number of member races is six; however, with an eye toward growing the series, the Chengdu Marathon in China and Sanlam Cape Town Marathon in South Africa were officially announced as candidate races for the Abbott World Marathon Majors in May 2019 and August 2021, respectively, and are now undergoing a long-term, multi-year evaluation process.)
With all that in mind, we've created the following primer to demystify the World Marathon Majors application process. Our handy step-by-step guide will help you to plan accordingly, reduce anxiety, and optimize your chances of success.
---
Getting into the Abbott World Marathon Majors
Several entry points exist for WMM hopefuls. While guaranteed entries for locals are available in some cases — for instance, the 9+1 Program created by the New York Road Runners or the legacy programs offered by Boston, Chicago and New York City — here we touch on the four modes of entry targeted by the vast majority of runners.
1. Enter the lottery
Submit your free online application 6–12 months prior to the race date. Below are some key dates to keep in mind — the exact dates vary by year, but this is representative of the timetable for each race:
2. Run for charity
This approach requires a fundraising minimum for guaranteed entry, but since each event partners with dozens to hundreds of official charities, you're sure to find a cause that inspires you.
3. Channel your inner cheetah
Run fast enough to meet the time-based qualifying standards. Boston has no random lottery, and so a qualifying time is mandatory (see below; charity runners excepted). New York City is the only member of the World Marathon Majors that accepts a qualifying standard for the half marathon distance, while London's Good For Age Entry is valid only for UK residents.
4. Contact a tour operator
Reserve a package deal that includes travel, lodging and a guaranteed race entry. With a tour operator you avoid the lottery, plus you'll know within days or weeks whether you've secured a spot. And if you do happen to win the official race lottery, any reputable tour operator will credit you the price of their guaranteed entry. Yes you'll pay a bit of a premium for the convenience (this is their business, after all), but for those seeking a hassle-free way to control their own destiny — especially those who want to run with friends or family — this option may be the best bet. Marathon Tours & Travel works closely with the WMM team, and having traveled abroad three times with them we can vouch for their professionalism.
NOTE: We recommend joining the official AbbottWMM Six Star Journey Facebook group and following each of the six events on social media for specific questions and to stay informed of time-sensitive offers. Case in point, for the past four years the TCS New York City Marathon, in partnership with Strava, has announced a limited number of guaranteed, non-complimentary entries to the next year's marathon for runners who register for and complete a virtual (and verifiable) 26.2-mile run anywhere in the world during a specified timeframe (typically early November to coincide with the in-person marathon). Registration for this "Virtual 26.2M" opens in June or July on a first-come, first-served basis and reaches capacity within hours.
---
Presenting the Abbott World Marathon Majors
Mar 5, 2023 (no international runners in 2022)
RaceRaves rating: 4.5 out of 5 (12 reviews)
Tokyo is not only the youngest of the World Marathon Majors in absolute years, having run its inaugural race in 2007, but also the new kid on the block, having been added to the series in 2013. The lone Asian member of the WMM, the race has a capacity of 38,000 runners (including 500 10K runners) and the highest male:female participant ratio of the series at just over 3:1. With enthusiastic spectators (an estimated 690,000 in 2019) lining the crowded course at every turn, Tokyo offers its runners a unique cultural experience in one of the world's most vibrant and cosmopolitan cities.
Click for details on Tokyo's "Run with Heart" charity entry and "RUN as ONE" time-qualifying standards. Charity Runner registration typically opens on a first-come, first-served basis in July.
Cutoff time: Seven hours (two hours, ten minutes for wheelchair athletes) based on gun time, with the cutoff time enforced at each checkpoint due to reasons of traffic control, security, and event operation.
Apr 18, 2022
RaceRaves rating: 4.7 out of 5 (56 reviews)

Now in its 126th year, the world's oldest annual marathon is the race at the top of every serious marathoner's wish list. And the event — held each year on Patriots' Day — lives up to the hype with top-notch choreography, raucous crowds and its renowned unicorn medal waiting to celebrate your achievement at the finish. But here's the catch — Boston is the only member of the series with strict age- and gender-adjusted qualifying standards, while a fundraising minimum exists for those looking to qualify as charity runners. No matter how you get there, though, "Right on Hereford, left on Boylston" are two directions you won't soon forget.
Looking to qualify for Boston in 2023? Get started with our handy guide to the top Boston Marathon qualifying races across North America.
Click for details on Boston's official charity program. See below for time qualifying standards, updated for the 2021 race. For UK residents, a limited number of guaranteed entries are available for purchase each year on a first-come, first-served basis from Sports Tours International Limited and on a lottery basis from 2:09 Events.
Cutoff time: Six hours from the time the last starter crosses the start line in Hopkinton.
Oct 2, 2022 (normally held the last Sunday in April)
RaceRaves rating: 4.4 out of 5 (12 reviews)

With its densely packed field boasting all manner of costumed runners, London has earned a reputation as the ultimate 26.2-mile party. The course passes many of the city's historic landmarks including London Bridge, Tower Bridge and Big Ben while finishing in front of Buckingham Palace. Runners agree that London is unrivaled for its quality of spectator support, with RaceRaves member Lorelei S. calling its crowds "the best on the planet". At the same time it's one of the most difficult races on the planet to get into, with an estimated 2017 acceptance rate of — this is not a typo — less than 7% of lottery entrants. Crikey!
Click for details on charity entry and "Good For Age" (exclusive to UK residents) time-qualifying standards.
Cutoff time: Currently 18:30 local time (BST), subject to the organizers' discretion; in 2019 the "mass race" start time was 10:10 BST. Only competitors who complete the course before the cutoff time of 18:30 will be eligible for a finisher medal and inclusion in the official results.
Sep 25, 2022
RaceRaves rating: 4.1 out of 5 (41 reviews)
The fact that the past seven men's marathon world records (most recently in 2018, and very nearly again in 2019) were all set in Berlin speaks to the course's fast and flat profile. As the first of three World Marathon Majors staged in the fall, Berlin typically offers perfect running weather on a course that showcases one of the world's most historically significant cities. Though the crowded, narrow streets at times feel more like a parade route than a marathon course, arguably no home stretch in the sport inspires such raw emotion as passing through the Brandenburg Gate with the Tiergarten finish line in sight.
Click for details on charity entry and time-qualifying standards.
Cutoff time: Six hours, 15 minutes after passing the start-line time measure mat; participants who do not meet this time limit must leave the course and continue on the sidewalk or ride in the broom wagon to the finish, and are not eligible to receive a medal, refreshment, massage or poncho.
Oct 9, 2022
RaceRaves rating: 4.8 out of 5 (85 reviews)
As the second largest member of the series, Chicago has several compelling factors in its favor. The first is its fast, flat course which takes runners on a scenic tour of the city's ethnically diverse neighborhoods. The second is its Midwestern hospitality, on full display with jovial strangers congratulating you for hours after the race. And the third is its relatively sensible acceptance rate (a reported 53% for the 2015 event), which rivals Berlin as the highest among the World Marathon Majors. From its wide streets featuring ample elbow room to its finish in Grant Park, Chicago offers everything you could want in a big-city race.
Click for details on charity entry and time-qualifying standards. To secure guaranteed entry, runners must meet age-graded qualifying standards or qualify for the event's American Development Program which recognizes the fastest amateur athletes. Chicago 2022 hopefuls must meet the time-qualifying standard between January 1, 2019 and the close of registration on September 1, 2022 or before the field reaches a capacity of 300 participants, whichever comes first.
Cutoff time: Six hours, 30 minutes (approximately 15 minutes per mile) from start line to finish line; participants must meet this time limit in order to be recorded as an official finisher and to receive full on-course support from aid stations and traffic safety personnel.
Nov 6, 2022
RaceRaves rating: 4.7 out of 5 (83 reviews)
Annually the largest marathon in the world, New York is the 800-pound gorilla of the series with a world-record 53,636 runners crossing its Central Park finish line in 2019. Its sprawling course traverses the city's five boroughs, starting on the Verrazano–Narrows Bridge in Staten Island and passing through Brooklyn, Queens and the Bronx before finishing in Manhattan. And like the city itself, the race attracts a decidedly international field, with runners from all 50 U.S. states and (in 2019) 141 countries. If you're looking for 26.2 miles of memories, no race does "epic" on a grander scale than New York City.
Click for details on charity entry and time-qualifying standards.
Cutoff time: The race officially ends at 8:30pm local time (EST). Sweep buses will follow the marathon route at a pace of 6 hours, 30 minutes (approximately 15 minutes per mile) after the final wave start; once these buses pass the streets will reopen to traffic, services such as aid stations and medical assistance will no longer be available, and participants on the course should move onto the sidewalks.
---
Conclusion
Whether you're seeking the perfect first-time marathon or chasing the coveted Six Star Finisher Medal for completing the series, the Abbott World Marathon Majors offer something for every running enthusiast. If you've run one or more of these races, we and your fellow runners would love for you to post your review(s) and share your experiences here on RaceRaves!
(Updated Jan 20, 2022; originally published Jan 30, 2017)
---
Related Articles
---
Author: Mike Sohaskey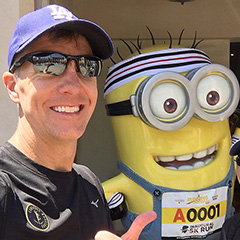 Mike Sohaskey is the co-founder of RaceRaves, the premier online reviews community for runners to share their race experiences and find their next challenge. Mike honed his creative and critical thinking skills as a research scientist, earning a Ph.D. in Cancer Biology from Stanford. He's also completed over 100 races — including 50+ marathons and ultras — in locations ranging from Antarctica to Zimbabwe.

Other RaceRaves articles you'll enjoy (trust us!):
May Featured Races you need to know about
2021: The Year in Racing
Top Five Things You Can Do as a RaceRaves Member
Tested and Trusted Race Day Tips
Toughest Road Marathons in North America
Running on all Seven Continents
And for more helpful articles, check out our blog!
Find this article informative or entertaining? Please share it, and let others know RaceRaves is the premier online resource to DISCOVER, REVIEW & TRACK all their races and to CONNECT with other runners!