Welcome to our new monthly guide to top upcoming races! Here we highlight a sampling of "best bets" as well as some of our team's personal favorites.
For a more comprehensive list of July road & trail races of all distances—and to exclude canceled events from your search—check out our Find a Race page!
Please note: Scheduling remains highly fluid, and some July races have yet to open registration. Unless otherwise noted, the following list includes only events that are now taking registrations for an in-person race and which, based on current information, are likely to take place. As with life, however, there are no guarantees.
Looking for more in-person races that may actually happen? Check out our Featured Races for April/May and June.
(* indicates race was held in 2020)
---
July (+ one June) Marathons
REVEL Sun Valley Limited Edition
Jun 26–27; Ketchum, ID
Marathon, half marathon
Fast, downhill Boston Qualifier offered exclusively in 2021
Hatcher Pass Marathon & Relay*
Jul 10; Willow, AK
Marathon, marathon relay
Relentless ascent & downhill finale in pristine nature
Madison Marathon* & Big Sky Marathon*
Jul 10–11; Ennis, MT
Marathon, marathon relay, half marathon
Breathtaking challenges in Big Sky Country
(Registration pending field size approval)
Waugoshance Trail Marathon
Jul 10, Carp Lake, MI
50K, marathon, marathon relay, half marathon
Scenic coastal run at the juncture of two Great Lakes
Texas Diablo Marathon
Jul 24; Decatur, TX
Marathon, half marathon
"The hardest marathon in Texas" makes a hot & humid debut
Jack & Jill's Downhill Marathon & Half
Jul 24-25; Snoqualmie Pass, WA
Marathon, half marathon
Downhill BQ favorite on the popular Iron Horse Trail
Idaho Falls Marathon
Jul 31; Firth, ID
Marathon, half marathon, 5K
Net downhill with a home stretch along the Snake River
---
July Half Marathons
Bryce Canyon Half*
Jul 10; Bryce Canyon, UT
Half marathon, 5K
Downhill run among red rock cliffs & sandstone spires
Meijer Festival of Races
Jul 10; Traverse City, MI
Half marathon, 15K, 10K, 5K
Festive "pit" stop in the Cherry Capital of the World
Spearfish Canyon Half
Jul 10; Spearfish, SD
Half marathon, 5K
Gentle downhill through Black Hills National Forest
Star Valley Half
Jul 10; Thayne, WY
Half marathon
Scenic charm on the edge of Bridger-Teton National Forest
Too Hot to Handle
Jul 10; Dallas, TX
Half marathon, 10K, 5K
Steamy summer scamper with post-race cooling zones
Madison Mini-Marathon (see above)
Jul 24; Madison, WI
Half marathon, 5K
Expect a capital time at the best half marathon in Wisconsin
Rocky Mountain Half*
Jul 30-31; Estes Park, CO
Half marathon, 5K
Breathtaking road course in the shadow of the Rockies
Snoqualmie Valley Half
Jul 31, Carnation, WA
Half marathon, 10K
Wooded out-and-back route on a smooth gravel trail
---
July Ultra Marathons
Silverton Alpine Marathon & 50K*
Jul 10; Silverton, CO
50K, marathon, 8 miler
High-altitude mountain run past historic mining ghost towns
Grand Island Trail Run
Jul 24; Munising, MI
50K, marathon, half marathon
Lake Superior dazzles on a scenic loop of Grand island
Speedgoat 50K*
Jul 24; Sandy, UT
50K, 28K
Steep & technical challenge in the Wasatch Mountains
Maah Daah Hey Trail Run*
Jul 31; Medora, ND
107 miler, 81 miler, 56 miler, marathon, half marathon, 10K, 5K
"Trail heaven" in the "butte-iful" Badlands of North Dakota
---
Looking for more running events? Search for races by state/city or month, and try our handy Find a Race tool to search for events by name, date range, distance, location, terrain & more. Then sign up for a free account to build your wish list and start coloring in your 50 States Map!
Author: Mike Sohaskey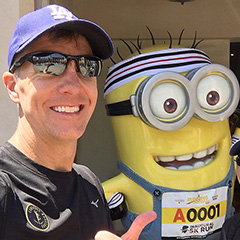 Mike Sohaskey is the co-founder of RaceRaves, the premier online reviews community for runners to share their race experiences and find their next challenge. Mike honed his creative and critical thinking skills as a research scientist, earning a Ph.D. in Cancer Biology from Stanford. He's also completed over 100 races — including 50+ marathons and ultras — in locations ranging from Antarctica to Zimbabwe.

Other RaceRaves articles you'll enjoy (trust us!)
Toughest Road Marathons in North America
Why do you run?
Best Racing Cities in the U.S.
Running on all seven continents
Unconventional Races that dare to be different
Must-See Running Documentary Movies
And for more helpful articles, check out our blog!
Subscribe & Stay Connected
Find this article informative? Please share it, and let others know RaceRaves is the premier online resource to DISCOVER, REVIEW & TRACK all their races and to CONNECT with other runners! Plus, sign up for our newsletter to receive the best racing-related content and special offers every month!