Welcome to our handy guide to top upcoming races—a list so nice, we're doing it twice! (For the crowded months of Sept & Oct, that is.) Here we highlight "best bets" and personal favorites that are scheduled to take place Sept 1–15.
NOTE: Scheduling remains fluid, and many Sept races (some of which moved from early 2021) have yet to open registration. Unless otherwise noted, the following list includes only events that are now taking registrations for an in-person race and which, based on current information, are likely to take place. As with life, however, there are no guarantees.
---
Early September Marathons
Tupelo Marathon
Sept 5; Tupelo, MS
Marathon, 14.2 miler
"Trample the Weak, Hurdle the Dead"—what's not to love?
Heart of America Marathon
Sept 6; Columbia, MO
Marathon, marathon relay
Hot & hilly challenge puts the "labor" in Labor Day
Surf City Marathon
Sept 10–11; Huntington Beach, CA
Marathon, half marathon, 5K, 1 miler
California's classic oceanfront marathon moves to Sept for 2021
Bozeman Marathon
Sept 11–12; Bozeman, MT
Marathon, half marathon, 5K
Big Sky beauty just north of Yellowstone National Park
Med City Marathon
Sept 11–12; Rochester, MN
Marathon, 20 miler, half marathon, 5K
Family-friendly weekend celebrates its 25th anniversary
REVEL Big Cottonwood
Sept 11; Salt Lake City, UT
Marathon, half marathon
Steep downhill from the Wasatch Mountains to Salt Lake City
Boring Marathon, Half-Boring Half & Constantly Boring 8K
Sept 12; Boring, OR
Marathon, half marathon, 8K
Tongue-in-cheek race offers thoughtful, small-town touches
Holland Haven Marathon
Sept 12; Holland, MI
Marathon, half marathon, 8K
Point-to-point, last-chance BQ option along Lake Michigan
Mad Marathon
Sept 12; Waitsfield, VT
Marathon, marathon relay, half marathon, half marathon relay
Don't let its New England charm fool you; the hills will school you
Sundance to Spearfish Marathon
Sept 12; Beulah, WY
Marathon
Fast & scenic downhill starts in WY & finishes in SD
---
Early September Half Marathons
Gorges Ithaca Half
Sept 4; Ithaca, NY
Half marathon
Picturesque, bridge-filled run in the Finger Lakes wine region
Bird-in-Hand Half
Sept 10–11; Bird-in-Hand, PA
Half marathon, 5K
Old-world favorite through easygoing Amish Country
Great Smoky Mountains Half
Sept 10–11; Townsend, TN
Half marathon, 5K
Lush, tranquil route voted best half marathon in Tennessee
Cedar City Half
Sept 11; Cedar City, UT
Half marathon
Closed-canyon course that's downhill all the way
Charlotte Covered Bridge Half
Sept 11; Shelburne, VT
Half marathon, 10K, 5K
Bucolic out-and-back a stone's throw from Lake Champlain
Dick Beardsley Races
Sept 11; Detroit Lakes, MN
25K, half marathon, 10K, 5K
Scenic circumnavigation of Detroit Lake honors a local legend
San Juan Island Half
Sept 11–12; South Beach, WA
Half marathon
Island getaway featuring spectacular views of the Salish Sea
Surftown Half
Sept 12; Westerly, RI
Half marathon, 5K
Flat beachside run along the Atlantic coastline
More September half marathons…
---
Early September Ultra Marathons

A Race for the Ages (ARFTA)
Sept 2–4; Manchester, TN
# of hours = your age
Innovative format gives a leg up to more experienced runners
(Lottery selection starts Jul 1)
Labor Pain 12 Hour Endurance Trail Run
Sept 5; Reading, PA
12 hr
5-mile loop course challenges participants to go the distance
Breaks Ultra
Sept 11; Breaks, VT
45 miler
24,000 ft of elevation change on the Kentucky-Virginia border
Mogollon Monster
Sept 11; Pine, AZ
100 miler, 105K, 35K
Rugged, technical route traverses high desert & pine forest
Tahoe 100K
Sept 11–12; Lake Tahoe, CA
100K, 25K
Single-track showcase for Lake Tahoe & the Sierra Nevadas
---
Early September Other Distances

Around the Crown 10K
Sept 5; Charlotte, NC
10K
On highways & byways, an energetic tour of the Queen City
New Haven Road Race
Sept 6; New Haven, CT
Half marathon, half marathon relay, 20K, 5K
Iconic New England event attracts elites & first-timers alike
Credit Union Cherry Blossom Ten Mile Run
Sept 12; Washington, DC
10 miler, 5K
"The Runner's Rite of Spring" swaps seasons for 2021
(Lottery open Jun 1–30)
Imogene Pass Run
Sept 12; Ouray, CO
17.1 miler
Humility awaits on the grueling climb to 13,000 ft
(Registration opens Jun 1 & sells out fast)
Looking for more in-person races that may actually happen? Check out our Featured Races for April/May, June, July and August.
---
Looking for more running events? Search for races by state/city or month, and try our handy Find a Race tool to search for events by name, date range, distance, location, terrain & more. Then sign up for a free account to build your wish list and start coloring in your 50 States Map!
Author: Mike Sohaskey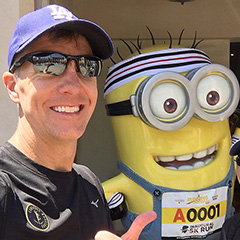 Mike Sohaskey is the co-founder of RaceRaves, the premier online reviews community for runners to share their race experiences and find their next challenge. Mike honed his creative and critical thinking skills as a research scientist, earning a Ph.D. in Cancer Biology from Stanford. He's also completed over 100 races — including 50+ marathons and ultras — in locations ranging from Antarctica to Zimbabwe.

Other RaceRaves articles you'll enjoy (trust us!)
World Marathon Majors Challenge Quiz
Toughest Road Marathons in North America
Racing Inspired by Hollywood
Best Racing Cities in the U.S.
Running on all seven continents
Unconventional Races that dare to be different
And for more helpful articles, check out our blog!
Subscribe & Stay Connected
Find this article informative? Please share it, and let others know RaceRaves is the premier online resource to DISCOVER, REVIEW & TRACK all their races and to CONNECT with other runners! Plus, sign up for our newsletter to receive the best racing-related content and special offers every month!