Welcome to our handy guide to top upcoming races—a list so nice, we're doing it twice! (For the crowded months of Sept & Oct, that is.) Here we highlight "best bets" and personal favorites that are scheduled to take place Oct 1–15.
NOTE: Scheduling remains fluid, and many Oct races (some of which moved from early 2021) have yet to open registration. Unless otherwise noted, the following list includes only events that are now taking registrations for an in-person race and which, based on current information, are likely to take place. As with life, however, there are no guarantees.
---
Early October Marathons
New River Marathon
Oct 2; Fleetwood, NC
Marathon, half marathon, 4 miler
Idyllic gem 💎 in the heart of the Blue Ridge Mountains
Oklahoma City Memorial Marathon
Oct 2–3; Oklahoma City, OK
Marathon, marathon relay, half marathon, 5K
"Run to Remember" honors the victims of the 1995 bombing
Run Crazy Horse
Oct 2–3; Crazy Horse, SD
Marathon, marathon relay, half marathon, 5K
Start in the shadow of the world's largest mountain monument
St. George Marathon
Oct 2; St. George, UT
Marathon, half marathon
Downhill BQ favorite voted Best Marathon in Utah
Wineglass Marathon
Oct 2–3; Bath, NY
Marathon, half marathon, 5K
Pastoral point-to-point in the Finger Lakes wine region
Milwaukee Lakefront Marathon
Oct 3; Milwaukee, WI
Marathon
Verdant run along Lake Michigan celebrates 40 years
Bemidji Blue Ox Marathon
Oct 8–9; Bemidji, MN
Marathon, 26K, half marathon, 10K. 5K
Circle Lake Bemidji in this ode to Paul Bunyan
Lake Tahoe Marathon & Emerald Bay Half Marathon
Oct 8–10; Homewood, CA
72 miler, 72 mile relay, double marathon, marathon, marathon relay, 16 miler, half marathon, 10K, 5K
If the hills don't kill ya, the Emerald Bay views will thrill ya
Catalina Island Marathon
Oct 9; Avalon, CA
Marathon, 10K, 5K
Pacific Ocean in all directions at California's oldest trail marathon
Amica Newport Marathon
Oct 10; Newport, RI
Marathon, half marathon
Crashing waves & Gilded Age mansions at RI's best marathon
---
Early October Half Marathons
Crawlin' Crab Half
Oct 2–3; Hampton, VA
Half marathon, 5K
Festive "shell"ebration on the shores of Chesapeake Bay
Indy Half at Fort Ben
Oct 2; Indianapolis, IN
Half marathon, 5K
Vibrant showcase of fall foliage in Fort Harrison State Park
Mighty Niagara Half
Oct 2; Lewiston, NY
Half marathon, 5K
Canada to the left of me, US to the right, here I am 🎵
The Race
Oct 2; East Point, GA
Half marathon, 5K
Run for black-owned businesses, neighborhoods & charities
Urban Cow Half
Oct 2–3; Sacramento, CA
Half marathon, 5K
"A Race Like No Udder" with cowbell finisher medals
Smuttynose Rockfest Half
Oct 3; Hampton, NH
Half marathon, 5K
Oceanside course + wicked aftah pahty = NH's best half
Lake Powell Half
Oct 9; Page, AZ
Half marathon
Red rock cliffs & sparkling blue water wow the eye
Run Bentonville Half
Oct 9; Bentonville, AR
Half marathon, half marathon relay, 5K
Rolling, rollicking loop with top-notch community support
Savannah Women's Half
Oct 9; Savannah, GA
Half marathon, 5K
Charming girls' getaway in the Hostess City of the South
Rock Hall Half & Relay
Oct 10; Cleveland, OH
Half marathon, half marathon relay, 10K, 5K
Start & finish at the Rock & Roll Hall of Fame on Lake Erie
---
Early October Ultra Marathons

Stump Jump 50K
Oct 2; Signal Mountain, TN
50K, 10 miler
Lush, rolling single track overlooking the Tennessee River
Blues Cruise 50K
Oct 3; Leesport, PA
50K
Non-technical trail run circumnavigates Blue Marsh Lake
Heartland 100
Oct 8–9; Cassoday, KS
125 miler, 100 miler, 100K, 50 miler, marathon
Wide-open out-and-back on backcountry gravel roads
West Virginia Trilogy
Oct 8–10; Circleville, WV
50 miler, 50K, half marathon, 5K
Three days, three distances in Monongahela National Forest
(Waitlist-only pending Aug 1 confirmation)
New Orleans Ultramarathon
Oct 9; New Orleans, LA
50 miler, 50K
Urban ultra showcases the sights & sounds of the Big Easy
---
Early October Other Distances

Fly 5K
Oct 2; Seattle, WA
5K
Aviation sensation starts & finishes at the Museum of Flight
High Knob Hellbender 10K
Oct 2; Norton, VA
10K
2,000+ ft climb to the highest point in the Cumberland Mtns
Ocean Road 10K
Oct 3; Narragansett, RI
10K
Coastal point-to-point in popular New England beach town
Abbott Chicago 5K
Oct 9; Chicago, IL
5K
Everyone's welcome at this Chicago Marathon shakeout
Boilermaker Road Race
Oct 10; Utica, NY
15K, 5K
The nation's premier 15K road race makes its fall debut
Looking for more in-person races that may actually happen? Check out our Featured Races for April/May, June, July, August, early Sept and late Sept.
---
Looking for more running events? Search for races by state/city or month, and try our handy Find a Race tool to search for events by name, date range, distance, location, terrain & more. Then sign up for a free account to build your wish list and start coloring in your 50 States Map!
Author: Mike Sohaskey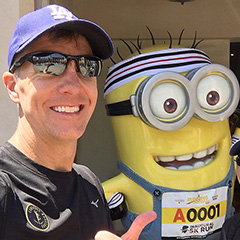 Mike Sohaskey is the co-founder of RaceRaves, the premier online reviews community for runners to share their race experiences and find their next challenge. Mike honed his creative and critical thinking skills as a research scientist, earning a Ph.D. in Cancer Biology from Stanford. He's also completed over 100 races — including 50+ marathons and ultras — in locations ranging from Antarctica to Zimbabwe.

Other RaceRaves articles you'll enjoy (trust us!)
World Marathon Majors Challenge Quiz
Toughest Road Marathons in North America
Racing Inspired by Hollywood
Best Racing Cities in the U.S.
Running on all seven continents
Unconventional Races that dare to be different
And for more helpful articles, check out our blog!
Subscribe & Stay Connected
Find this article informative? Please share it, and let others know RaceRaves is the premier online resource to DISCOVER, REVIEW & TRACK all their races and to CONNECT with other runners! Plus, sign up for our newsletter to receive the best racing-related content and special offers every month!