You voted, we wrote it—introducing our 2020 Best Racing Cities in the U.S.! Here we recognize the top racing destinations across the nation as chosen by you, the runners.
THANK YOU to everyone who voted in our poll; from bustling metropolitan areas to unsung municipalities, your tremendous support and insightful commentary enabled us to compile this authoritative list with confidence.
(Event months reflect normal, non-pandemic timing, and write-in selections are designated by *)
Best Large Cities / Metropolitan Areas
"Boston is Boston!" Other compelling reasons aside, this was the most frequently cited justification for why Beantown is #1 in the hearts and minds of runners across the U.S. Because if there's one race that captures the imagination and leaves runners weak in the knees, it's the world's oldest and most prestigious marathon, held annually on Patriots Day in April. That said, this is no one-horse (or one-unicorn) town thanks to several shorter-distance events from the Boston Athletic Association along with Boston's Run to Remember and "local races nearly every weekend," plus a BQ favorite at autumn's Baystate Marathon in nearby Lowell. And while it may be the nation's most popular place to run, Boston likewise appeals to walkers courtesy of the Freedom Trail, a 2½-mile path that brings to life the city's Revolutionary War heritage.
You'll want to run: Boston Marathon (Apr), Boston's Run to Remember (May)

Together with Boston and New York City, the racing mecca of the Midwest hosts one of the country's three Abbott World Marathon Majors, the Bank of America Chicago Marathon. Exuberant finishers applaud all aspects of the marathon, from the "flat course" with its many "different neighborhoods" and "awesome crowd support" to the "great vibes" and "everything in between." Beyond the marathon, Chicago's event portfolio extends to a "beautiful list of races" "of all distances all year along the lakefront, through the city and into the suburbs." And after your race, don't miss an opportunity to explore the city's soaring skyline on an architectural river cruise or to snap a selfie with your finisher's medal in front of Millennium Park's iconic Cloud Gate sculpture (aka The Bean). For runners of all levels, "The Windy City never disappoints!"
You'll want to run: Bank of America Chicago Marathon (Oct), Soldier Field 10 Mile (May)

One reason New York City never sleeps is because it's too busy racing. Between New York Road Runners and NYCRUNS, it's easy to find a race here on almost any weekend of the year. The biggest fish in the biggest pond, of course, is the TCS New York City Marathon in November—the world's largest marathon leads runners on a 26.2-mile tour of the city's five boroughs and is "an amazing way to see all NYC has to offer." In fact, simply getting to the start line on race day is a sightseeing tour de force, as the ferry ride from Lower Manhattan across New York Harbor passes Ellis Island and the Statue of Liberty en route to the start on Staten Island. Similarly, no taste of the Big Apple would be complete without a visit to the theater, and here you're also in luck since autumn is a popular season for Broadway openings.
You'll want to run: TCS New York City Marathon (Nov), Brooklyn Half Marathon (May)

It's the ultimate Texas Two-Step for runners: two of the Lone Star State's five largest cities, separated by a distance of 30 miles. Locals celebrate the fact "you can literally race every weekend," but the relentless summer heat means the metroplex's two largest and most popular events—the BMW Dallas Marathon and The Cowtown (voted America's Rave Race 2020)—normally take place in December and February, respectively. At the same time, a number of suburbs host races throughout the year, adding to the embarrassment of riches for intrepid bling collectors. No matter where in DFW you're racing, though, you'll want to visit the Sixth Floor Museum at Dealey Plaza in Dallas (site of John F. Kennedy's 1963 assassination) as well as the Fort Worth Stockyards National Historic District and family-friendly Sundance Square, also in Fort Worth.
You'll want to run: The Cowtown (Feb/Mar), BMW Dallas Marathon (Dec)

The Lone Star State's most populous city owes its top 5 showing in large part to its winter flagship event. Finishers rave about the Chevron Houston Marathon and Aramco Houston Half Marathon, with one veteran marathoner saying, "I don't believe there is any race more organized." Moreover, both the men's (2007) and women's (2018) American half marathon records were set on Houston's fast, flat course. Like DFW, Houston's active racing scene has spread to the suburbs in recent years, as one excited supporter notes: "From the Woodlands to Galveston, from Baytown to Katy, they've got a race for you!" Walk off any post-race soreness with a tour of the charming Rice University campus or a visit to The Health Museum, home to such unconventional exhibits as a 12-foot-tall beating heart and a giant walk-up eyeball.
You'll want to run: Chevron Houston Marathon & Aramco Houston Half (Jan), Houston Half Marathon & 10K (Oct)

6. Washington DC
7. Indianapolis, IN
8. Atlanta, GA
9. Minneapolis-St Paul, MN
10. Milwaukee, WI
Best Midsize Cities / Metropolitan Areas
There's nothing pork-uliar about seeing Cincinnati atop this list; the 'Nati may be a midsize city, but only Boston earned a higher score in our poll. And the #1 reason for its nationwide popularity among runners is the ham-azing Flying Pig Marathon, our only two-time winner (2017, 2019) as America's Rave Race. As one local puts it, "For runners in Cincinnati, [Flying Pig] weekend is better than Christmas!" And while runners ❤️ the Pig, Cincy also earns plenty of buzz for its women's Queen Bee Half Marathon as well as the Heart Mini Marathon, the city's largest single-day fundraiser. While you're in town, be sure to catch a Reds (baseball) game at Great American Ball Park along the Ohio River, visit the neon-lit halls of the American Sign Museum, or pay a visit to the Cincinnati Mushroom House, a quirky Hyde Park landmark.
You'll want to run: Cincinnati Flying Pig Marathon & Half (May), Queen Bee Half Marathon (Oct)

Running isn't easy and race day can be a struggle, so if you're looking for a racecation where "everyone is happy," look no further than Orlando. Race day in Central Florida starts and ends with RunDisney; the company stages four race weekends annually on the Walt Disney World campus, chief among them January's flagship Walt Disney World Marathon Weekend. Notably, "The Most Magical Place on Earth" more than lives up to expectations among its runners, with aficionados calling RunDisney's pricey events "a great spectacle for all racing abilities" and "a magical experience like no other." And though The Mouse dominates the local racing scene, the winter months boast no shortage of popular non-Disney events including the OUC Orlando Half Marathon and the nearby Town of Celebration Marathon, a highly rated BQ favorite.
You'll want to run: Walt Disney World Marathon Weekend (Jan), Town of Celebration Marathon & Half (Jan)

Tulsa earns national accolades thanks to "so much history and culture" plus "challenging courses that will test any runner." Not only is the hometown Williams Route 66 Marathon Oklahoma's biggest annual block party, but it's also the nation's shortest ultramarathon courtesy of a 0.3-mile detour to the Center of the Universe. And while Route 66 may be the consensus favorite for out-of-town runners, popular events like the Golden Driller Marathon and POSTOAK Lodge Challenge give those same visitors ample reasons to return. Be sure to visit the Woody Guthrie Center as well as beloved larger-than-life landmarks Buck Atom and the Golden Driller. And there's no better place to shake out sore legs than the Gathering Place, a sprawling riverfront community park named the nation's "Best New Attraction" of 2018 by USA Today.
You'll want to run: Williams Route 66 Marathon & Half (Nov), POSTOAK Lodge Challenge (Feb)

Home of "America's Friendliest Marathon," Virginia's capital city combines widespread appeal and an impressive race portfolio. In addition to the marathon, local organizations Sports Backers and Richmond Road Runners produce a "wide variety of races" like the festive Ukrop's Monument Avenue 10K. And River City doesn't lack for runner zeal, with proponents touting its "gorgeous and scenic" courses, "vibrant neighborhoods," "enthusiastic crowd support" and "strong running community." Despite the recent removal of several Confederate statues, the Monument Avenue Historic District remains a favorite among architectural buffs and is listed on the National Register of Historic Places. And stroke your ego at the Grand Kugel, a 29-ton granite sphere housed outside the Science Museum of Virginia that spins at the slightest touch.
You'll want to run: Richmond Marathon & Half (Nov), Ukrop's Monument Avenue 10K (Mar/Apr)

"Yinz gotta run Steel City!" proclaims one of the many enthusiastic reviews for the DICK'S Sporting Goods Pittsburgh Marathon. And clearly this mindset extends beyond Western Pennsylvania, as runners extol the Burgh's "outstanding challenging courses" that run "through all of the different areas of the city" and enjoy "fantastic community support." Marathon and half marathon runners cross the city's famed three rivers (Allegheny, Monongahela and Ohio), while runners who prefer shorter distances will appreciate the spirited crowds at the Richard S. Caliguiri City of Pittsburgh Great Race. During your visit, make time to ride the nation's oldest funicular up to Mount Washington for spectacular views of downtown Pittsburgh; on the other hand, your weary legs may prefer you avoid Canton Avenue aka the steepest street in the U.S.
You'll want to run: DICK'S Sporting Goods Pittsburgh Marathon & Half (May), Richard S. Caliguiri City of Pittsburgh Great Race (Sep)

6. Little Rock, AR
7. Madison, WI
8. Anchorage, AK
9. Honolulu, HI
10. Spokane, WA*
Best Small Cities

If there's one thing runners from coast to coast agree on, it's that nothing beats Running on the Ragged Edge of the Western World. Situated along California's Central Coast, Monterey County hosts the nation's premier one-two punch of bucket-list races in the Big Sur International Marathon and its northern neighbor, the Monterey Bay Half Marathon. Smitten runners use dueling superlatives to describe the picturesque courses, calling them "breathtaking," "unsurpassed," "stunning" and "beyond beautiful." And after your race, leave time to visit the world-class Monterey Bay Aquarium, stroll the waterfront shops on fabled Cannery Row, or soak up the scenery with a drive along the iconic Pacific Coast Highway. For runners in search of the ultimate destination race weekend, "The Big Sur/Monterey area is second to none."
You'll want to run: Big Sur International Marathon (Apr), Monterey Bay Half Marathon (Nov)

When it comes to Big Sky Country, a river runs through it—and a lot of satisfied runners, too. Missoula owes its perennial popularity to the dedicated team at Run Wild Missoula, organizers of the Missoula Marathon & Half Marathon (summer), Snow Joke Half (winter) and Sweathouse Half (spring). In particular, the Missoula Marathon is a small-town race with big-time heart and an event that gets everything right, from pre-race communication to gorgeous scenery to spot-on support. Plan a post-race visit to Glacier National Park to the north or Yellowstone National Park to the south; alternatively, stick around this "outdoor paradise" and enjoy any number of activities on the three rivers that run through the city. With an "amazing running community" in a "beautiful and rare environment," race day "doesn't get more visually stunning than" Missoula.
You'll want to run: Missoula Marathon & Half (Jun), Snow Joke Half Marathon (Feb)

Recognized internationally as a world-class winter ski resort, Steamboat Springs transforms during warmer months into a mecca for running and biking enthusiasts. In addition to its flagship Steamboat Marathon event, the city hosts a variety of road and off-road options for runners of all comfort and skill levels featuring "great people, beautiful courses, festive finish-line parties." If you're not from around here, your Steamboat race experience may prove breathtaking in more ways than one—the marathon course, for example, starts at 8,100 feet before descending past pristine Steamboat Lake and Medicine Bow–Routt National Forests to finish downtown at an elevation of 6,700 feet. But in the end, battling the thin air is worth it to be able to revive your tired muscles with a much-needed therapeutic soak in one of the local geothermal hot springs.
You'll want to run: Steamboat Marathon & Half (Jun), Emerald Mountain Epic fka Steamboat Stinger (Aug)

If life is a bowl of cherries, then nowhere is that more true than the "great little town" of Traverse City. The "Cherry Capital of the World" boasts two beloved running events: the Traverse City Track Club Bayshore Marathon held annually on Memorial Day Weekend, and the Meijer Festival of Races scheduled each summer to coincide with another local favorite, National Cherry Festival Week. Finishers tout the "beautiful scenery" and "terrific community support" as key reasons Bayshore "sells out quick." Keep an eye out around town for the world's largest cherry pie tin, now a roadside attraction after its prodigious pastry was baked and eaten here in 1987. And if grapes are more your finger fruit of choice, Northern Michigan plays a vital role in the thriving Midwest wine industry with more than 50 wineries in the Traverse City area.
You'll want to run: TCTC Bayshore Marathon (May), Meijer Festival of Races (Jul)

Don't let its diminutive size (population ~5,300) fool you; the tiniest town on this list is proof positive that good things come in small packages. Moab exudes a laid-back, Wild West vibe, and each year its stunning red sandstone, extensive trail networks and proximity to Arches and Canyonlands National Parks attract swarms of hiking, mountain-biking and rock-climbing enthusiasts. Likewise, runners benefit from Moab's thriving ecotourism industry with a diverse catalog of year-round races including the Moab Trail Marathon & Half, Canyonlands Half Marathon, and Dead Horse Ultra. Not only is Moab a "spectacular place to visit," but the town is also located within the Grand Circle of Southern Utah and Northern Arizona, one of the nation's most iconic road trips. After all, what better destination for runners than a place called Arches?
You'll want to run: Moab Trail Marathon & Half (Nov), Canyonlands Half Marathon (Mar)

6. Jackson, WY
7. Utica, NY*
8. Duluth, MN*
9. Portland, ME*
10. Newport, RI*
Have a memorable race experience in one of these cities, or feel a deserving candidate didn't make the list? Share your thoughts in the comments below. And be sure to add a few of these events to your Future Races wish list on your Staging Area page!
---
Looking for more running events? Search for races by state/city or month, and try our handy Find a Race tool to search for events by name, date range, distance, location, terrain & more. Then sign up for a free account to build your wish list and start coloring in your 50 States Map!
Author: Mike Sohaskey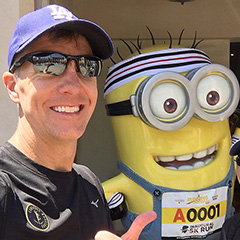 Mike Sohaskey is the co-founder of RaceRaves, the premier online reviews community for runners to share their race experiences and find their next challenge. Mike honed his creative and critical thinking skills as a research scientist, earning a Ph.D. in Cancer Biology from Stanford. He's also completed over 100 races — including 50+ marathons and ultras — in locations ranging from Antarctica to Zimbabwe.

Other RaceRaves articles you'll enjoy (trust us!)
Running on all seven continents
Unconventional Races that dare to be different
Must-See Running Documentary Movies
Races Inspired by Hollywood
Toughest Road Marathons in North America
And for more helpful articles, check out our blog!
Subscribe & Stay Connected
Find this article informative? Please share it, and let others know RaceRaves is the premier online resource to DISCOVER, REVIEW & TRACK all their races and to CONNECT with other runners! Plus, sign up for our newsletter to receive the best racing-related content and special offers every month!