Welcome to our handy guide to top upcoming races—a list so nice, we're doing it twice! (For the crowded months of Sept & Oct, that is.) Here we highlight "best bets" and personal favorites that are scheduled to take place in the second half of September.
NOTE: Scheduling remains fluid, and many Sept races (some of which moved from early 2021) have yet to open registration. Unless otherwise noted, the following list includes only events that are now taking registrations for an in-person race and which, based on current information, are likely to take place. As in life, however, there are no guarantees.
---
Late September Marathons
Air Force Marathon
Sept 17–18; Wright-Patterson AFB, OH
Marathon, marathon relay, half marathon, 10K, 5K
Minimally shaded showcase of U.S. military aviation

Huntsville Marathon
Sept 18; Huntsville, UT
Marathon, half marathon, 10K, 5K
Quad-pounding downhill with a Boston Qualification Guarantee
Montana Marathon
Sept 19; Billings, MT
Marathon, half marathon, 10K
Small, scenic run from the open prairie to the heart of Billings
Fargo Marathon
Sept 24–25; Fargo, ND
Marathon, marathon relay, half marathon, 10K, 5K
Midwestern favorite for first-timers & seasoned runners alike
Akron Marathon
Sept 25; Akron, OH
Marathon, marathon relay, half marathon
It's a "good year" to run the Rubber City's rolling new course
Bellingham Bay Marathon
Sept 25–26; Bellingham, WA
Marathon, marathon relay, half marathon, 10K, 5K
Waterfront course features views of the San Juan Islands
Eau Claire Marathon
Sept 25–26; Eau Claire, WI
Marathon, marathon relay, half marathon, 5K
The City of Bridges struts its stuff at Wisconsin's best marathon
Jackson Hole Marathon
Sept 25; Jackson Hole, WY
Marathon, half marathon, quarter marathon
Breathtaking beauty in the shadow of Grand Teton
Monument Marathon
Sept 25; Gering, NE
Marathon, half marathon, half marathon relay, 5K
Road/trail hybrid traverses Scotts Bluff National Monument
Clarence DeMar Marathon
Sept 26; Gilsum, NH
Marathon, half marathon
Small-town gem and New Hampshire's best marathon

Quad Cities Marathon
Sept 26; Moline, IL
Marathon, marathon relay, half marathon, 5K
Four cities, three bridges & two states on the mighty Mississippi
---
Late September Half Marathons
Buffalo Bill Cody Half
Sept 18; Cody, WY
Half marathon, 10K
Mile-high mountain vistas just east of Yellowstone NP
Mount Rushmore Half
Sept 18; Hermosa, SD
Half marathon
Rock-solid destination race in the pristine Black Hills
(NOTE: 2021 edition will likely be the last)
Orca Half
Sept 18–19; Seattle, WA
Half marathon
Picturesque route along Puget Sound in peak whale season
Rhode Races Jamestown Half
Sept 18; Jamestown, RI
Half marathon
Rolling, seaside course on charming Conanicut Island
Maine Coast Half
Sept 19; Wells, ME
Half marathon, 5K
Beaches & marshes aplenty along the Atlantic coastline
Philadelphia Distance Run & 5K
Sept 19; Philadelphia, PA
Half marathon, 5K
Iconic road race returns to the City of Brotherly Love
Indy Women's Half
Sept 25; Indianapolis, IN
Half marathon, 5K
Festive, female-only tour of downtown Indianapolis
OCNJ Half
Sept 26; Ocean City, NJ
Half marathon, 10 miler, 5K
"America's greatest family resort" hosts NJ's best half marathon
Rose Bowl Half
Sept 26; Pasadena, CA
Half marathon
Pound the Pasadena pavement and finish on the field
More September half marathons…
---
Late September Ultra Marathons
The Barkley Fall Classic
Sept 18; Wartburg, TN
50K
Rugged challenge gives masochists a sense of the Big Barkley
(Waitlist only, no charge)

Bay Ridge 100K, Dick Collins Firetrails 50 & Golden Hills Marathon
Sept 25; Castro Valley, CA
100K, 50 miler, marathon
Iconic ultra on some of the Bay Area's most popular trails

Javelina Jangover Night Runs
Sept 25; Scottsdale, AZ
75K, 50K, 25K, 15K, 7K
"Seize the night" at this 25K loop in the Sonoran desert
Mad City Ultras
Sept 25; Madison, WI
50K, 50K relay (no 100K in 2021)
Multi-loop urban course ideal for chasing a personal best
Vermont 50
Sept 26; Brownsville, VT
50 miler, 50 mile relay, 50K
The Green Mountain State lives up to its billing
(Registration opens May 25)
---
Late September Other Distances

Gateway to Space
Sept 18; Merritt Island, FL
10K, 5K
Run where the shuttle once landed at Kennedy Space Center
Cooper River Bridge Run
Sept 25; Charleston, SC
10K
The pride of Charleston encourages runners to "get over it"
Emerald Mountain Trail Run
Sept 25; Steamboat Springs, CO
12K, 4 miler
High-altitude mountain run on aspen-lined singletrack
Looking for more in-person races that may actually happen? Check out our Featured Races for April/May, June, July, August and early Sept.
---
Looking for more running events? Search for races by state/city or month, and try our handy Find a Race tool to search for events by name, date range, distance, location, terrain & more. Then sign up for a free account to build your wish list and start coloring in your 50 States Map!
Author: Mike Sohaskey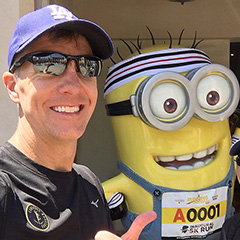 Mike Sohaskey is the co-founder of RaceRaves, the premier online reviews community for runners to share their race experiences and find their next challenge. Mike honed his creative and critical thinking skills as a research scientist, earning a Ph.D. in Cancer Biology from Stanford. He's also completed over 100 races — including 50+ marathons and ultras — in locations ranging from Antarctica to Zimbabwe.

Other RaceRaves articles you'll enjoy (trust us!)
Toughest Road Marathons in North America
World Marathon Majors Challenge Quiz
Best Bets for Boston Marathon Qualifying Races
Best Racing Cities in the U.S.
Running on all seven continents
Unconventional Races that dare to be different
And for more helpful articles, check out our blog!
Subscribe & Stay Connected
Find this article informative? Please share it, and let others know RaceRaves is the premier online resource to DISCOVER, REVIEW & TRACK all their races and to CONNECT with other runners! Plus, sign up for our newsletter to receive the best racing-related content and special offers every month!