Welcome to your RaceRaves guide to top upcoming races! Here we highlight a sampling of best bets plus some personal favorites we think you'll enjoy. (Sign up now for a free RaceRaves account to add these events & thousands more to your Future Races!)
NOTE: Unless otherwise noted, the following list includes only events that are now taking registrations for an in-person race and which, based on current information, are likely to take place. As with life, however, there are no guarantees.
🏆 = Top Rated on RaceRaves (Overall rating of at least 4.7 across 10+ reviews)
---
Early October Marathons
St. George Marathon
Oct 1; St. George, UT
Marathon, half marathon
Utah's top marathon is a downhill destination sensation
Cape Cod Marathon
Oct 1–2; Falmouth, MA
Marathon, marathon relay, half marathon, 5K
Meandering route hugs the stunning Falmouth coastline
(Moved from late Oct)
Medtronic Twin Cities Marathon Weekend 🏆
Oct 1–2; Minneapolis, MN
Marathon, 10 miler, 10K, 5K
Year 40 of "The Most Beautiful Urban Marathon in America®"
Wineglass Marathon
Oct 1–2; Bath, NY
Marathon, half marathon, 5K
Picturesque fall favorite with handcrafted glass medals
Greerbrier River Trail Marathon
Oct 2; Cass, WV
Marathon, half marathon
Hidden gem 💎 showcases charming Pocahontas County
Milwaukee Lakefront Marathon 🏆
Oct 2; Milwaukee, WI
Marathon, half marathon, 5K
Wisconsin's largest marathon follows its Lake Michigan muse
Portland Marathon
Oct 2; Portland, OR
Marathon, half marathon
Rose City revival celebrates its 50th anniversary
Long Beach Marathon
Oct 8–9; Long Beach, CA
Marathon, half marathon, 5K, bike & run combo, bike tour
You'll "fall" for SoCal's premier autumn race weekend
Run Crazy Horse
Oct 8–9; Crazy Horse, SD
Marathon, marathon relay, half marathon, 5K
Start in the shadow of the world's largest monument
Boulderthon
Oct 9; Boulder, CO
Marathon, half marathon, 10K, 5K
Smiles for miles in the "Happiest City in America"
Kansas City Marathon
Oct 15; Kansas City, MO
Marathon, half marathon, 10K, 5K
The City of Fountains puts its best foot forward ⛲️
👉 Or search for more October marathons
---
Early October Half Marathons
Indy Half at Fort Ben 🏆
Oct 1; Indianapolis, IN
Half marathon, 10K, 5K
Family-friendly fall festivities in Fort Harrison State Park
Jackass Half 🏆
Oct 1; Kellogg, ID
Half marathon, 5K
Speedy point-to-point in spectacular surroundings
Jamestown Rhode Races
Oct 1; Jamestown, RI
Half marathon
Island loop with epic views of Narragansett Bay
The Race
Oct 1; East Point, GA
Half marathon, 5K
Run to support black-owned businesses & neighborhoods
OCNJ Half 🏆
Oct 2; Ocean City, NJ
Half marathon, 10 miler, 5K
"America's greatest family resort" hosts the best half in NJ
Rock Reno Half
Oct 2; Reno, NV
Half marathon, 10K, 5K
Inaugural race from the team behind top-rated Rock Tahoe
Smuttynose Rockfest Half
Oct 2; Hampton, NH
Half marathon, 5K
Quaint coastal run boasts a raucous aftah-pahty
Lake Powell Half 🏆
Oct 8; Page, AZ
Half marathon
Gorgeous road/trail hybrid on the AZ/UT border
Queen Bee Half 🏆
Oct 8; Cincinnati, OH
Half marathon, 4 miler
Runners swarm to Cincy's buzzy women's race
Roots N Blues Festival Betsy Farris Memorial Run
Oct 8; Columbia, MO
Half marathon, 10K, 5K
Scenic, spirited run honors former RNB Festival director
Urban Bourbon Half
Oct 8; Louisville, KY
Half marathon
Whiskey-inspired race day is a love letter to Louisville
👉 Or search for more October half marathons
---
Early October Ultra Marathons
Blues Cruise 50K
Oct 2; Leesport, PA
50K
Rolling, runnable route circumnavigates Blue Marsh Lake
Heartland 100
Oct 7–8; Cassoday, KS
125 miler, 100 miler, 100K, 50 miler, marathon, half marathon
Gravel out-and-back thru protected tallgrass prairie
West Virginia Trilogy
Oct 7–9; Circleville, WV
50 miler, 50K, half marathon, 5K
3-day, 3-distance gauntlet in the mountains of Appalachia
Mo' Bell
Oct 8–9; Burns, TN
24 hr, 24 hr relay, 12 hr, 12 hr relay, 100 miler, 100K, 50 miler, 50K, marathon, half marathon, 10K, 5K, 1 miler
Well-supported road or trail loops & cowbell medals
Wild Duluth Races
Oct 15; Duluth, MN
100K, 50K, half marathon, 10K
Rugged, hilly challenge overlooking Lake Superior
👉 Or search for more October ultra marathons
---
Early October International Races
Marathon P'tit Train du Nord 🇨🇦
Oct 1–2; Val-David, Canada
Marathon, half marathon
Magnificent setting + gentle downhill = BQ favorite
(Sells out quickly, so plan ahead for 2023)
Košice Peace Marathon 🇸🇰
Oct 2; Košice, Slovakia
Marathon, marathon relay, half marathon
Europe's oldest marathon comes alive with civic pride
Loch Ness Marathon & Festival of Running 🏴󠁧󠁢󠁳󠁣󠁴󠁿
Oct 2; Inverness, Scotland
Marathon, 10K, 5K
Come for the mythology, stay for the dramatic landscapes

Patagonian World Marathon 🇨🇱
Oct 8; Torres del Paine, Chile
50K, marathon, half marathon, 10K, 5K
Behold the breathtaking beauty of Torres del Paine Natl Park
Sparkasse 3-Länder-Marathon 🇩🇪
Oct 9; Lindau, Germany
Marathon, marathon relay, half marathon, 11K, quarter marathon
Unique opportunity to run thru 3 countries (🇩🇪,🇦🇹,🇨🇭)
👉 Or search for more October international races
Looking for more in-person races that may actually happen? Check out our Featured Races for:
---
Looking for more running events? Search for races by state/city or month, and try our handy Find a Race tool to search for events by name, date range, distance, location, terrain & more. Then sign up for a free account to build your wish list and start coloring in your 50 States Map!
Author: Mike Sohaskey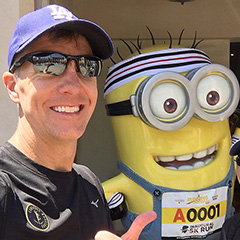 Mike Sohaskey is the co-founder of RaceRaves, the premier online reviews community for runners to share their race experiences and find their next challenge. Mike honed his creative and critical thinking skills as a research scientist, earning a Ph.D. in Cancer Biology from Stanford. He's also completed over 100 races — including 50+ marathons and ultras — in locations ranging from Antarctica to Zimbabwe.

Other RaceRaves articles you'll enjoy (trust us!)
Running events on Racetracks
Iconic Short-Distance Races (Summer & Fall)
Lunatic Spotlight: One Year, 100+ Races
Top Five Things You Can Do as a RaceRaves Member
Tested and Trusted Race Day Tips
And for more helpful articles, check out our blog!
Subscribe & Stay Connected
Find this article informative? Please share it, and let others know RaceRaves is the premier online resource to DISCOVER, REVIEW & TRACK all their races and to CONNECT with other runners! Plus, sign up for our newsletter to receive the best racing-related content and special offers every month!