Welcome to your RaceRaves guide to top upcoming races! Here we highlight a sampling of best bets plus some personal favorites we think you'll enjoy. (Sign up now for a free RaceRaves account to add these events & thousands more to your Future Races!)
NOTE: Unless otherwise noted, the following list includes only events that are now taking registrations for an in-person race and which, based on current information, are likely to take place. As with life, however, there are no guarantees.
🏆 = Top Rated on RaceRaves (Overall rating of at least 4.7 across 10+ reviews)
---
July & August Marathons
Grandfather Mountain Marathon
Jul 9; Boone, NC
Marathon
Rolling, uphill run in the Blue Ridge Mountains
(Registration opens Apr 5)
Madison Marathon | Big Sky Marathon
Jul 9–10; Ennis, MT
Marathon, half marathon (Madison only)
High-altitude off-road challenges in Big Sky Country
(Limited entries available)
Mad Marathon
Jul 10; Waitsfield, VT
Marathon, marathon relay, half marathon, half marathon relay
New England charm aside, these hills will test your pride
Mesa Falls Marathon 🏆
Jul 16; Idaho Falls, ID
Marathon, marathon relay, half marathon, 10K, 5K
Lovely road/trail hybrid thru Caribou-Targhee Nat'l Forest
Jack & Jill's Downhill Marathon
Jul 30–31; Snoqualmie Pass, WA
Marathon, half marathon
Gentle downhill + crushed gravel = BQs aplenty
Crater Lake Rim Runs
Aug 13; Crater Lake, OR
Marathon, 13 miler, 6.7 miler
Hilly, breathtaking circumnavigation of Crater Lake
ET Full Moon Midnight Marathon
Aug 14; Rachel, NV
51K, marathon, half marathon, 10K, 5K
Dark desert highway hosts a quirky run thru Area 51
Anchorage RunFest (Humpy's Marathon)
Aug 20–21; Anchorage, AK
49K, marathon, marathon relay, half marathon, 5K, 1 miler
Celebrate AK on tree-lined trails among four-legged locals
Main to Main Marathon
Aug 20; Osage, IA
Marathon, half marathon, 10K, 5K
A-maize-ing, bucolic gem 💎 thru corn & soybean country
Santa Rosa Marathon
Aug 27–28; Santa Rosa, CA
Marathon, half marathon, 10K, 5K
Flat BQ favorite w/ great swag in Northern CA wine country
New England Green River Marathon
Aug 28; Marlboro, VT
Marathon
Rustic, rolling, riverside route starts in VT & finishes in MA
👉 Or search for more July & August marathons
---
July & August Half Marathons
Jackson Hole Half
Jul 2; Teton Village, WY
Half marathon, 5K
Relaxed run with spectacular views of the Teton Range
Meijer Festival of Races (Chateau Grand Traverse Half)
Jul 9; Traverse City, MI
Half marathon, 15K, 10K, 5K
Summer celebration in the Cherry Capital of the World
Mount Rainier Half 🏆
Jul 15–16; Ashford, WA
Half marathon, 5K
Remote road/trail hybrid in the shadow of Mount Rainier
Fueled by Fine Wine Half
Jul 17; Dundee, OR
Half marathon, quarter marathon, 5K
Stunning trail run & wine tasting in Willamette Valley
Skinny Raven Half & 10K (above)
Jul 17; Anchorage, AK
Half marathon, 10K
Miles of popular park trails and a uniquely Alaskan vibe
Madison Mini-Marathon
Jul 23; Madison, WI
Half marathon, 5K
Raucous, rolling urban tour highlighted by UW–Madison
Rocky Mountain Half 🏆
Jul 29–30; Estes Park, CO
Half marathon, 5K
Step up to a legit Rocky Mountain runner's high
Bridge of the Gods Half
Aug 7; Cascade Locks, OR
Half marathon, 10K
"Gorge"ous run across & along the Columbia River
Cedar Breaks at Night Half (inaugural)
Aug 12–13; Brian Head, UT
Half marathon
High-altitude moonlit challenge is VR's newest event
Iron Horse Half 🏆
Aug 21; North Bend, WA
Half marathon
Wooded rails-to-trails downhill voted WA's best half
👉 Or search for more July & August half marathons
---
July & August Ultra Marathons
Dirty Dozen & Half Dozen Endurance Runs 🏆
Jul 9; San Pablo, CA
12 hr, 12 hr relay, 6 hr, 6 hr relay, 3 hr, 3 hr relay
Festive, fully supported running party on San Pablo Bay
Dances With Dirt Devil's Lake
Jul 9; Baraboo, WI
50 miler, 50K, marathon, half marathon, 10K
Hilly off-road adventure explores a glacier-created reserve
Maah Daah Hey Trail Run
Jul 30; Medora, ND
107 miler, 81 miler, 56 miler, marathon, half marathon, 10K, 5K
Bask in the barren & "butte-iful" Badlands of North Dakota
Lean Horse 100 Ultra Marathon
Aug 20; Custer, SD
100 miler, 100 mile relay, 50 miler, 30 miler, 20 miler
Black Hills beauty ideal for fast times & first-timers
North Country Trail Run
Aug 27–28; Wellston, MI
50 miler, 50K, marathon, half marathon
Smooth single-track, A+ production & massive medals
👉 Or search for more July & August ultra marathons
---
July & August Other Distances
AJC Peachtree Road Race
Jul 4; Atlanta, GA
10K
Celebrate US independence w/ the nation's largest road race
(Registration open Mar 15–31)
Boilermaker Road Race 🏆
Jul 10; Utica, NY
15K, 5K
Family- and fitness-focused community extravaganza
(Open registration begins Mar 11)
Shawshank Hustle
Aug 6; Mansfield, OH
4.6 miler
Get busy running at this immersive tribute to the 1994 classic
Falmouth Road Race
Aug 21; Woods Hole, MA
7 miler
Iconic Cape Cod coastal course celebrates its 50th year
(General registration opens in May)
Across the Bay 12K & 415K
Aug 28; San Francisco, CA
12K, 5K
Enjoy sweeping views atop the Golden Gate Bridge
👉 Or search for more July & August races of other distances
---
July & August International Races
Australian Outback Marathon 🇦🇺
Jul 30; Alice Springs, Australia
Marathon, half marathon, 11K, 6K
Red dirt run in the shadow of Uluru, a sacred Aboriginal site
Come to Galapagos Marathon 🇪🇨
Aug 5; Galapagos, Ecuador
Marathon, half marathon, 10K
Run in Darwin's footsteps at this eco-friendly adventure
City2Surf 🇦🇺
Aug 14; Sydney, Australia
14K
Sydney comes alive at "the world's largest fun run"
(Registration opens Mar 31)
Reykjavik Marathon 🇮🇸
Aug 20; Reykjavik, Iceland
Marathon, half marathon, 10K, 3K
Dramatic geography in the Land of Fire & Ice
Comrades Marathon 🇿🇦 🏆
Aug 28; Durban, South Africa
90K
The Ultimate Human Race marks its 95th running
(Registration open Apr 20–May 16 for non-2020 entrants)
👉 Or search for more July & August international races
Looking for more in-person races that may actually happen? Check out our Featured Races for:
---
Looking for more running events? Search for races by state/city or month, and try our handy Find a Race tool to search for events by name, date range, distance, location, terrain & more. Then sign up for a free account to build your wish list and start coloring in your 50 States Map!
Author: Mike Sohaskey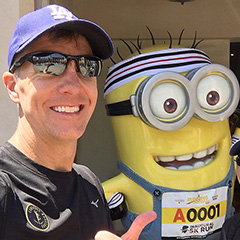 Mike Sohaskey is the co-founder of RaceRaves, the premier online reviews community for runners to share their race experiences and find their next challenge. Mike honed his creative and critical thinking skills as a research scientist, earning a Ph.D. in Cancer Biology from Stanford. He's also completed over 100 races — including 50+ marathons and ultras — in locations ranging from Antarctica to Zimbabwe.

Other RaceRaves articles you'll enjoy (trust us!)
10 Presidential Races of the U.S. (PROTUS)
Getting to Know the Abbott World Marathon Majors
Lunatic Spotlight: One Year, 100+ Races
Top Five Things You Can Do as a RaceRaves Member
Tested and Trusted Race Day Tips
And for more helpful articles, check out our blog!
Subscribe & Stay Connected
Find this article informative? Please share it, and let others know RaceRaves is the premier online resource to DISCOVER, REVIEW & TRACK all their races and to CONNECT with other runners! Plus, sign up for our newsletter to receive the best racing-related content and special offers every month!