RaceRaves helps runners of all levels find the best endurance events across the U.S. and around the world. But did you know we also offer a slew of handy features and functionality available exclusively to our members? Here we share five member benefits that newcomers and loyal Lunatics alike should know in order to make the most of their RaceRaves experience. Membership is free, so join the RaceRaves community today!
I. Look Back: Track Your Past Races & Personal Bests
Ditch the spreadsheet! As a RaceRaves member, My Staging Area is your profile page and personal race HQ. Here you'll track your racing history—including Past Races, Future Races & Personal Bests—as well as all your reviews (My Raves) in one convenient location that's accessible to signed-in members by clicking your first name (on desktop), avatar (on mobile) or username on any screen.
My Staging Area is the easiest way to organize ALL your races, past & future. Simply click the orange "ADD A RACE" button and follow the cues to add the race name, date and distance; it's quick & easy! (Alternatively, you can add a race from any individual race page.) Races you've run will display in reverse chronological order in your Past Races table.
Enter your finish time when adding a race or by clicking the ADD NOW link in the "Result" column of your Past Races table. Based on your reported finish times, your best results display automatically in your Personal ­Bests table, if desired. This is true for both distance races (e.g. 5K, half marathon) and timed races (e.g. 6 hr, 12 hr).
II. Look Ahead: Create a Wish List/Roadmap of Future Races
In addition to races you've already run, My Staging Area is the go-to place to track races you plan to run (i.e. already registered) as well as those you want to run (i.e. your wish list, date TBD). These races display in chronological order in your Future Races table.
Aside from building out your racing roadmap, there are several good reasons to track your future races:
To keep friends in the know—your followers will receive an email notification two days before each of your Future Races.
To keep you informed—you'll be notified whenever someone posts a review for one of your Future Races.
For busy athletes with good intentions, we'll send you a friendly reminder to post your review after each race.
Future Races move automatically into your Past Races table on race day!
And for those who like to plan well in advance—if you add a Future Race with only the year as the date, the exact race date will update automatically in your Future Races table once it's published on the site. Voilà! 😊
III. Visualize the Journey: Your Personal 50 States Map
Designed for traveling runners and located on your Staging Area page, your personal 50 States Map is a smart, intuitive online tool that lets you visualize your racing progress. As the Swiss Army knife of your racing toolbox, your 50 States Map:
Colors in each US state automatically by distance—half marathon, marathon, ultra or other—based on your Past Races table.
Tracks combinations for states in which you've run more than one distance, e.g. Marathon + Ultra, (Marathon or Ultra) + Half.
Shows future races (with appropriately colored cross-hatching) for states in which you've yet to run.
Keeps a running tally of your US races by distance (shown in the map legend) as well as non-US races and countries (listed below the legend).
Lets you filter by distance (above) to enable more fine-tuned control for analysis and sharing (e.g. with Facebook friends).
Start filling in your map now by adding past & future races to your Staging Area page, and color your running mates jealous!
IV. Show & Tell: Review Your Past Races
Race reviews celebrate your racing adventures, help your fellow runners make smart decisions, and give hard-working race directors a shout-out of appreciation. Finisher reviews on RaceRaves currently cover all 50 US states (+ DC) and 80+ countries.
Our Review a Race form comprises three main sections:
Rate it: Five required ratings ask you to evaluate (on a scale of 1 to 5 shoes) your overall experience as well as course difficulty, course scenery, event production, and event swag; you can even rate (optional) your own performance. Each of the five required ratings is independent of the others.
Review it: Your review headline (get creative!) summarizes your review, while the review itself is your chance to shine—reviews must be a minimum of 140 characters, but feel free to write as much as you please. Your fellow runners will appreciate your attention to detail!
Add Race Report and Media (optional): Supplement your review with cool photos, a video or even a link to a separate race report (e.g. on your blog). 
If you're not sure how to start your review, ask yourself: What would I want to know about this race? What made it special? Would I recommend it to other runners? Travel tips, too, are always appreciated! Good, bad or indifferent, your opinion matters and EVERY REVIEW COUNTS.
V. Join the Tribe: Connect With Other RaceRaves Members
RaceRaves is a thriving community of diverse athletes who learn from and support each other. Members of our community (i.e. Raving Lunatics) can correspond both publicly and privately in three main ways:
Follow other members: When you Follow someone (1, above) we'll let them know, and we'll notify you whenever they post a new review or have an upcoming race, so you can wish them luck. (You can always see who's following you in the "My Followers" section at the bottom of your Staging Area page.)
Publicly respond to reviews: Got a question, comment or compliment? Don't be shy, click Reply! Replying to another member's review (and/or marking their review as helpful) is a great way to let your fellow Lunatics know you value their contributions.
Privately message members: You can message another member(s) privately by clicking the orange MESSAGE button near the top of their Staging Area page (2, above) and following the cues. Your recipient(s) will receive an email notification with your message and a link to join the conversation.
And of course, we'd love for you to join the conversation on our Facebook and Instagram pages!
For more cool tips & tricks, check out our informational series on Getting To Know RaceRaves.
(Updated Sept 21, 2022; originally published Aug 17, 2021)
---
Author: Mike Sohaskey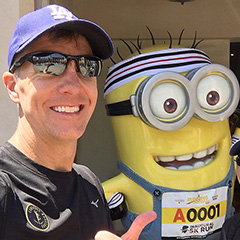 Mike Sohaskey is the co-founder of RaceRaves, the premier online reviews community for runners to share their race experiences and find their next challenge. Mike honed his creative and critical thinking skills as a research scientist, earning a Ph.D. in Cancer Biology from Stanford. He's also completed over 100 races — including 50+ marathons and ultras — in locations ranging from Antarctica to Zimbabwe.

Other RaceRaves articles you'll enjoy (trust us!):
January 2023 Featured Races
Anniversary Races to Celebrate (2022-23)
Coach Denise: When YOUR BEST is ENOUGH
Tested and Trusted Race Day Tips
Unconventional Races that dare to be different
And for more helpful articles, check out our blog!
Subscribe & Stay Connected
Find this article informative? Please share it, and let others know RaceRaves is the premier online resource to DISCOVER, REVIEW & TRACK all their races and to CONNECT with other runners! Plus, sign up for our newsletter to receive the best racing-related content and special offers every month!