For many runners, the term "destination race" brings to mind longer distances such as a marathon or half marathon, i.e. "no pain, no plane." On the other hand, a number of popular events across the U.S. feature scenic courses, spirited crowds, and awesome after-parties without the post-race limp. Here we profile ten iconic short-distance races (10 miles or less) worth traveling for this summer and fall.
---
Mount Washington Road Race – Gorham, NH
(Jun; 7.6 miler)
Gravity lovers be warned: what goes up needn't always come down, case in point the Mount Washington Road Race. For 61 years, intrepid runners have battled the gravitational pull of the MWRR's entirely uphill course, which climbs 4,650 vertical feet over 7.6 miles to reach the summit of the highest peak in the White Mountains. In addition to recreational runners, the annual field boasts less gravitationally challenged athletes including some of the world's most skilled mountain runners. The competition kicks off (unofficially) in February with a two-week lottery for the 1,300 coveted slots. And classical physics aside, come race day all finishers must secure their own ride back down the mountain.
AJC Peachtree Road Race – Atlanta, GA
(Jul; 10K)
Nothing says "summer block party" like sweating alongside 60,000 strangers friends you haven't met yet. Not only is Peachtree the largest road race in the U.S., it's the biggest 10K in the world. Now in its 53rd year, the Atlanta Track Club's Independence Day tradition follows a rolling, point-to-point course from Buckhead to Midtown to the finish line in Piedmont Park. What Peachtree lacks in swag (i.e. no medal, no tech shirt), it makes up for in excitement with "big enthusiastic crowds" and plenty of aid stations to beat the heat and humidity. Registration is via a random lottery, and competitive runners should plan to submit a qualifying time or risk being assigned to one of the last of the 22 start waves.
Boilermaker Road Race 🏆– Utica, NY
(Jul; 15K, 5K)
The slogan says it all: "More Than a Race," the pride of Utica is a rollicking weekend that's all about community. Named in 1978 in a nod to the local businesses at the start and finish, 45 years later the Boilermaker supports the Utica community with one of the summer's most beloved running events. One popular word to describe Boilermaker race day is "support," and for good reason—the rolling course features more aid stations (20+) than kilometers along with popsicles, "music at every corner," and "wall to wall people." At the finish, collect your traditional pin and bring your commemorative beer glass to Saranac Brewery to celebrate your run at one of the best post-race parties in the business.
Across the Bay 12K & 5K – San Francisco, CA
(Aug; 12K, 5K)
As iconic race courses go, it's tough to beat running across the Golden Gate Bridge. So it's easy to see why the Across the Bay 12K has become a bucket-list calling for runners across the country. The USATF-certified 12K (7.4-mile) course leads runners on a stunning point-to-point journey that starts in Sausalito and crosses the bridge into San Francisco before finishing in Aquatic Park, where waterfront views of Alcatraz Island and a short stroll to Ghirardelli Square await. (The 5K forgoes the bridge in favor of a bayside out-and-back through the Marina.) And true to the ethos of parent company Run Local, the event features unique shirts and finisher medals from local apparel designer San Franpsycho.
Beach to Beacon 10K Road Race – Cape Elizabeth, ME
(Aug; 10K)
Go coastal this summer at the largest road race in the Pine Tree State. The brainchild of American running legend Joan Benoit Samuelson, Beach to Beacon annually draws elite talent and weekend warriors from across the U.S. and around the world, including former Olympians Shalane Flanagan and Meb Keflezighi. New England heat and humidity notwithstanding, finishers tout Beach to Beacon's superb organization and beautiful point-to-point course. Starting near Crescent Beach State Park, the charming, tree-lined route features dramatic ocean views before finishing alongside Portland Head Light, the nation's first commissioned lighthouse and the most photographed lighthouse in the world.
Crim Festival of Races – Flint, MI
(Aug; 10 miler, 5 miler, 5K, 1 miler)
The Crim Festival of Races boasts a 45-year legacy of combating childhood obesity, improving public health, and increasing access to physical activity in the Flint community. All distances, from the most popular 10-miler to the Michigan Mile, start and finish downtown on the historic red bricks of Saginaw Street. Along the way, runners enjoy a scenic loop around the city and across the Flint River, tackling the heat, hills and humidity with the help of "huge local support" and on-course entertainment that "keeps a smile on your face." As 36-time Crim finisher Jim L. notes, "Whether you're challenging the Kenyans with a sub 5 minute pace or plodding along in the back, you're all treated like stars."
Falmouth Road Race – Woods Hole, MA
(Aug; 7 miler)
Cape Cod's most popular running event celebrates its 50th anniversary in 2022. Founded by local legend Tommy Leonard, the inaugural race coincided with Leonard's 40th birthday and finished at the Brothers 4 Club where he worked as a bartender. Half a century later, the Falmouth Road Race has established its reputation as a "Who's Who" of running talent, attracting an international field of elite and recreational runners (including all three U.S. women's Olympic marathon medalists) to its scenic, point-to-point course along the Cape Cod shoreline. Naturally, with great tradition comes great demand, and out-of-town hopefuls must enter a random lottery each May for the opportunity to #RunFalmouth.
Shawshank Hustle – Mansfield, OH
(Aug; 4.6 miler)
Get busy running, or get busy dying at this inspired tribute to the 1994 classic. The Hustle starts and ends at the now-defunct Ohio State Reformatory, better known to moviegoers as Shawshank State Penitentiary. Much of The Shawshank Redemption was filmed in Mansfield, and the closed course passes several of the 15 local filming sites including Brooks' Bench. Race weekend features a Guards v. Inmates Challenge as well as tours of the Reformatory (free for race participants) and appearances by Shawshank actors. And forget the Dolby Surround Sound and luxury recliner seating of your local cinema—what could be better than a Shawshank viewing in the Reformatory Central Guard Room?
5th Avenue Mile – New York, NY
(Sep; 1 miler)
If you feel the need for speed, there's no better place than New York City and no better race than the 5th Avenue Mile. Finishers agree nothing compares to the all-out adrenaline of racing 20 Manhattan city blocks in a straight shot. Starting at the Metropolitan Museum of Art, the linear course borders Central Park en route to the finish at E. 60th St. Runners of all abilities show up to compete—first-timers, long-timers, and everyone from the top professionals to the tiniest amateurs. Even the FDNY and NYPD battle for bragging rights. And the New York Road Runners go the extra mile to ensure a top-notch experience, with individual heats spaced out to prevent congestion and enable all runners to take their best shot.
Army Ten-Miler – Washington, DC
(Oct; 10 miler)
The second-largest 10-miler in the U.S. welcomes 25,000+ runners for a patriotic tour of our nation's capital. The historic route starts and finishes at the Pentagon, crossing the Potomac River and running alongside the National Mall while showcasing several of the city's signature monuments and memorials like the Washington Monument and Jefferson Memorial. "Always a perfect day and a perfectly executed race," raves Tony M. of the ATM, which sells out within weeks and serves as a timely tune-up for the Marine Corps Marathon. Uniformed service members provide on-course support and encouragement, and all finishers receive a traditional coin as a reminder of the #RunArmyRunStrong mindset.
Looking for more running events? Search for races by state/city or month, and try our handy Find a Race tool to search for events by name, date range, distance, location, terrain & more. Then sign up for a free account to build your wish list and start coloring in your 50 States Map!
---
Author: Mike Sohaskey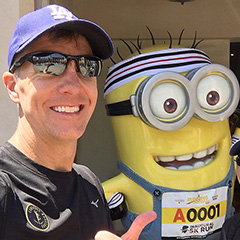 Mike Sohaskey is the co-founder of RaceRaves, the premier online reviews community for runners to share their race experiences and find their next challenge. Mike honed his creative and critical thinking skills as a research scientist, earning a Ph.D. in Cancer Biology from Stanford. He's also completed over 100 races — including 50+ marathons and ultras — in locations ranging from Antarctica to Zimbabwe.
Other RaceRaves articles you'll enjoy (trust us!):
July & August Featured Races you need to know about
March Lunacy 2022: America's Favorite Half Marathon
Lunatic Spotlight: One Year, 100+ Races
Top Five Things You Can Do as a RaceRaves Member
Tested and Trusted Race Day Tips
And for more helpful articles, check out our blog!
Find this article informative? Please share it, and let others know RaceRaves is the premier online resource to DISCOVER, REVIEW & TRACK all their races and to CONNECT with other runners!