Welcome to your RaceRaves guide to top upcoming races! Here we highlight a sampling of best bets plus some personal favorites we think you'll enjoy. (Sign up now for a free RaceRaves account to add these events & thousands more to your Future Races!)
NOTE: Unless otherwise noted, the following list includes only events that are now taking registrations for an in-person race and which, based on current information, are likely to take place. As with life, however, there are no guarantees.
🏆 = Top Rated on RaceRaves (Overall rating of at least 4.7 across 10+ reviews)
---
September Marathons
Kauai Marathon
Sep 4; Koloa, HI
Marathon, half marathon
From tiki torches to tree tunnels, the Garden Island amazes
Last Chance BQ.2 Marathon
Sep 10; Geneva, IL and Grand Rapids, MI
Marathon
Flat loop courses cater to last-minute Boston Qualifiers
REVEL Big Cottonwood
Sep 10; Salt Lake City, UT
Marathon, half marathon
Quad-busting downhill from the Wasatch Mtns to SLC
Erie Marathon at Presque Isle
Sep 11; Erie, PA
Marathon
Two-loop BQ favorite along Presque Isle Bay & Lake Erie
Sundance to Spearfish Marathon
Sep 11; Beulah, WY
Marathon
Stunningly scenic 3,000 ft drop from WY to SD
Pikes Peak Marathon & Ascent
Sep 17–18; Manitou Springs, CO
Marathon, half marathon
Grueling up-and-down challenge climbs to 14,115 ft
(Waitlist only for marathon)
Akron Marathon 🏆
Sep 24; Akron, OH
Marathon, marathon relay, half marathon
Rubber City meets the road in its 20th anniversary
Jackson Hole Marathon 🏆
Sep 24; Jackson Hole, WY
Marathon, half marathon, quarter marathon
Mile-high marvel in the shadow of Grand Teton
Monument Marathon
Sep 24; Gering, NE
Marathon, half marathon, half marathon relay, 5K
Rolling road/trail hybrid passes Scotts Bluff Natl Monument
Clarence DeMar Marathon 🏆
Sep 25; Gilsum, NH
Marathon, half marathon
Small-town gem 💎 named for Boston's only 7x champ
TBK Bank Quad Cities Marathon (above)
Sep 25; Moline, IL
Marathon, marathon relay, half marathon, 5K, 1 miler
Two-state favorite on the Mississippi celebrates year 25
👉 Or search for more September marathons
---
September Half Marathons
Oregon Wine Country Half
Sep 4; Independence, OR
Half marathon, half marathon relay, 5K
Peaceful run plus wine tasting in the Willamette Valley
Swanzey Covered Bridges Half
Sep 4; Swanzey, NH
Half marathon
Quaint New England countryside & four covered bridges
Bird in Hand Half 🏆
Sep 9–10; Bird-in-Hand, PA
Half marathon, 5K
Idyllic run among the Amish features horseshoe medals
Great Smoky Mountains Half 🏆
Sep 9–10; Townsend, TN
Half marathon, 5K
Appalachian charm aplenty at the best half in TN
Dick Beardsley Races
Sep 10; Detroit Lakes, MN
25K, half marathon, 10K, 5K
Running icon hosts a scenic circumnavigation of Detroit Lake
Surftown Half
Sep 11; Westerly, RI
Half marathon, half marathon relay, 5K
Oceanfront tour of affluent, picturesque beach communities
Orca Half
Sep 17; Seattle, WA
Half marathon
Epic shoreline views of Puget Sound & the Seattle skyline
St. Luke's FitOne Half
Sep 24; Boise, ID
Half marathon, 10K, 5K
Community-minded event showcases the best of Boise
(Registration opens Jun 1)
Plano Balloon Festival Half
Sep 24–25; Plano, TX
Half marathon, 10K, 5K, 1K
Come for the hot air balloons, stay for the fun suburban run
Chicago Half
Sep 25; Chicago, IL
Half marathon, 5K
Traffic-free out-and-back on Lake Shore Drive
👉 Or search for more September half marathons
---
September Ultra Marathons
A Race for the Ages (ARFTA)
Sept 2–3; Manchester, TN
# of hrs = your age (40 hrs for 40 yrs or younger)
Innovative competition levels the playing field for all ages
Megunticook 50
Sep 10; Camden, ME
50K, 10K
Rugged, ruthless beauty where the mountains meet the sea
Run Rabbit Run
Sep 16–17; Steamboat Springs, CO
100 miler, 50 miler
Lovely high-altitude challenge in Routt National Forest
(Waitlist only)
Dick Collins Firetrails
Sep 24; Castro Valley, CA
50 miler, marathon (no 100K in 2022)
Iconic event traverses the popular Bay Area Ridge Trail
Vermont 50
Sep 25; Brownsville, VT
50 miler, 50 mile relay, 50K
Welcome the arrival of autumn on Vermont's verdant trails
(Registration opens May 25)
👉 Or search for more September ultra marathons
---
September Other Distances
George Washington Patriot Run
Sep 10; Mount Vernon, VA
10 miler, 5K
Parkway run finishes at Washington's Mount Vernon home
Imogene Pass Run
Sep 10; Ouray, CO
17.1 miler
High-elevation sensation is equal parts brutal & breathtaking
(Registration opens Jun 1)
5th Avenue Mile
Sep 11; New York, NY
1 miler
The nation's premier mile attracts elites & first-timers alike
Surf City 10
Sep 24; Huntington Beach, CA
10 miler, 10K, 5K
Run a stone's throw from the ocean on Pacific Coast Hwy 
Richard S. Caliguiri City of Pittsburgh Great Race
Sep 25; Pittsburgh, PA
10K, 5K, 1 miler
PA's largest 10K delivers a high-energy tour of the Steel City
👉 Or search for more September races of other distances
---
September International Races
Petra Desert Marathon 🇯🇴
Sep 3; Petra, Jordan
Marathon, half marathon
Hot, hilly trail race in one of the New 7 Wonders of the World
Ladakh Marathon 🇮🇳
Sep 8–11; Leh, India
122K, 72K, marathon, half marathon, 10.5K, 5K
Extreme road challenge tops out at 17,600 ft of elevation
Jungfrau Marathon 🇨🇭
Sep 9–10; Interlaken, Switzerland
Marathon, 4K
Dramatic Alpine course climbs 6,400 ft to the finish
Marathon du Medoc 🇫🇷
Sep 10; Pauillac, France
Marathon
The original wine country race is a bucket-list party
(Waitlist only, or entries available thru Marathon Tours & Travel)
Blackmores Sydney Running Festival 🇦🇺
Sep 18; Sydney, Australia
Marathon, half marathon, 10K
Iconic cityscape views with a finish at the Opera House
👉 Or search for more September international races
Looking for more in-person races that may actually happen? Check out our Featured Races for:
---
Looking for more running events? Search for races by state/city or month, and try our handy Find a Race tool to search for events by name, date range, distance, location, terrain & more. Then sign up for a free account to build your wish list and start coloring in your 50 States Map!
Author: Mike Sohaskey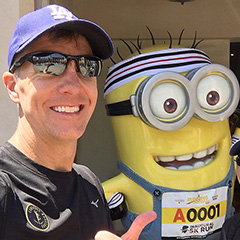 Mike Sohaskey is the co-founder of RaceRaves, the premier online reviews community for runners to share their race experiences and find their next challenge. Mike honed his creative and critical thinking skills as a research scientist, earning a Ph.D. in Cancer Biology from Stanford. He's also completed over 100 races — including 50+ marathons and ultras — in locations ranging from Antarctica to Zimbabwe.

Other RaceRaves articles you'll enjoy (trust us!)
Iconic Short-Distance Races (Summer & Fall)
March Lunacy 2022: America's Favorite Half Marathon
Lunatic Spotlight: One Year, 100+ Races
Top Five Things You Can Do as a RaceRaves Member
Tested and Trusted Race Day Tips
And for more helpful articles, check out our blog!
Subscribe & Stay Connected
Find this article informative? Please share it, and let others know RaceRaves is the premier online resource to DISCOVER, REVIEW & TRACK all their races and to CONNECT with other runners! Plus, sign up for our newsletter to receive the best racing-related content and special offers every month!