To many Americans, the word "racing" brings to mind images of sleek roadsters and sleeker Thoroughbreds. And with two of the nation's most celebrated races taking place this month in the equine-powered Kentucky Derby and the turbine-powered Indianapolis 500, there's no better time to profile nine running events that showcase horse or auto racing tracks. Ladies and gentlemen, start your Garmins!
---
Kentucky Derby Festival Marathon & miniMarathon – Louisville, KY
(Apr; Marathon, marathon relay, half marathon)
When it comes to the state's premier event, Louisville doesn't horse around. The Marathon & miniMarathon is one of more than 70 events attended by 1.5+ million people as part of the city's two-week Kentucky Derby Festival, culminating in the Run for the Roses. Both courses start and finish in Downtown Louisville (marathoners cross into Indiana and back), with the hands-down highlight arriving in mile 8: a lap inside the gates of the legendary Churchill Downs race track, accompanied by the broadcast sounds of past Derby calls. Here, insider views of the dirt track and iconic twin spires atop the grandstands provide a unique perspective and appreciation for "The Most Famous Two Minutes in Sports."
Long Beach Grand Prix 5K – Long Beach, CA
(Apr; 5K)
Now in its 5th year, the Long Beach Grand Prix 5K sets the stage for its prestigious namesake event. Welcoming an estimated 170,000 spectators annually, the Acura Grand Prix of Long Beach is a three-day, family-focused festival that features five world-class Indy car racing events on the streets of Downtown Long Beach. Led out of the blocks by a pace car, 5K runners follow a two-lap course that largely overlaps the IndyCar street circuit with a finish line located at the official site of the Grand Prix start/finish. Besides the thrill of "running the course," participants receive an impressive array of swag including a t-shirt, finisher medal, and complimentary general admission tickets to the Grand Prix.
Prove It 5K & 10K – Milford, MI
(Apr, 10K, 5K)
What list of auto racing anything would be complete without a nod to the Motor City? Located in Milford on the outskirts of Metro Detroit, the General Motors Proving Ground is the venue for this unique entry in the Trivium Racing Southeast Michigan Medal Series. Normally reserved for testing new automotive technologies and industry protoypes, GM's track also serves as an admirable proving ground for runners, with age- and gender-graded results used to determine the overall winners and thus level the playing field. Think you've got what it takes to set a PR on their challenging, USATF-certified loop course? The folks at Trivium invite you—in no uncertain terms—to step up and Prove It.
Santa Anita Derby Day 5K – Arcadia, CA
(Apr; 5K)
From its start line in an authentic starting gate to its finish on one of the world's most beautiful race tracks, there's a reason the Santa Anita Derby Day 5K is a Golden State favorite and a Top Rated event on RaceRaves. Starting outside Santa Anita Park just east of Pasadena, the scenic course runs through the Los Angeles County Arboretum & Botanic Garden before finishing on the Park's dirt track in the hoofsteps of Thoroughbred legends. With perks like post-race entertainment and a complimentary beer garden for runners 21 and over, plus free admission to the annual Derby Day horse races later in the day, you'll appreciate why Santa Anita Park claims the title of "The Great Race Place!"
OneAmerica 500 Festival Mini-Marathon (Indy Mini) – Indianapolis, IN
(May; Half marathon, 5K)
With 35,000 participants, volunteers and spectators, the Indy Mini is anything but small. In fact, "The Greatest Spectacle in Running" is one of the nation's largest running events and a raucous kickoff to Indianapolis 500 month. Curiously, it also happens to fall on the same Saturday as a certain prestigious horse race in neighboring Kentucky. Runners hail the 2.5 miles on the iconic Indianapolis Motor Speedway (miles 7–9 of the half marathon) as an "exciting and emotional" highlight, while boisterous crowds and nearly 100 on-course entertainment acts "make for a lot of energy and fun." And for those who feel the need for speed, the top 500 finishers receive an exclusive "First 500" medal to commemorate their achievement.
Run the Bluegrass (Spring Classic) – Lexington, KY
(May; Half marathon, 7 miler, 3.6 miler)
If Thoroughbred horse racing is your cup of tea, then Lexington is the place and Run the Bluegrass—aka "America's Prettiest Half Marathon"—is the race. Starting and finishing at Keeneland, a world-renowned horse racing track and National Historic Landmark, the idyllic loop course passes more than a dozen Thoroughbred farms on relentlessly rolling roads with 2+ miles along Old Frankfort Pike, named "one of the ten best scenic drives in the United States". Participants rave about the finisher medal, which each year honors a different iconic Thoroughbred. And be sure to make time for one of the weekend's chartered tours to a local horse farm or bourbon distillery for a distinctively bluegrass experience.
Endurafest 12 Hours of Road America – Plymouth, WI
(Aug; 12 hr run, ride or duathlon; 2 hr run or ride)
Billed as "America's National Park of Speed," the Road America motorsports facility is the undisputed star of Endurafest, the Midwest's premier endurance festival. Runners and cyclists compete overnight on separate courses, cyclists circling the asphalt road course while runners navigate a 4-mile mixed-terrain loop on trails and service roads with a start/finish near Victory Lane. Awards aplenty include jerseys, trophies, and even milestone awards for solo and team efforts. And participants craving a pit stop will appreciate the generous perks like free food—dinner, midnight pizza, and pancake breakfast—plus one free beer to ensure your own personal chassis stays lubricated through the night.
Goodyear Half Marathon & 10K – Akron, OH
(Aug; Half marathon, 10K)
Rubber City meets the road at the Goodyear Half Marathon & 10K, the second of three annual events in the Akron Marathon Race Series. Both distances start in exclusive fashion with a mile on the test track at the Goodyear Proving Grounds, a spectator-friendly facility that's closed to the public year-round. With its generous 4-hour time limit, the 13.1-mile circuit welcomes runners and walkers alike on a rolling tour of Akron neighborhoods before coming full circle to finish at Goodyear World Headquarters. An early start time helps to beat the summer heat, while all finishers can cool their engines and refuel after the race with burgers, beer and ice cream in addition to the usual post-race refreshments.
Holiday Running Festival – Pomona, CA
(Dec; Half marathon, 10K, 5K)
Celebrate the ho-ho-holidays and treat your (s)elf to this popular Christmas-themed event held at Fairplex, home to the Los Angeles County Fair and Auto Club Raceway. The scenic, meandering course offers beautiful views of Bonelli Park, Puddingstone Reservoir, and the San Gabriel Mountains, along with two speedy stretches on the Auto Club Raceway's quarter-mile NHRA dragstrip. Immerse yourself in holiday spirit with Christmas music, yuletide decorations, and festive touches like a start line arch that sprinkles snow on passing runners. And for more good cheer, racing aficionados with a thing for bling can step up to the Triple Snowflake Challenge to earn additional holiday-themed swag.
(Updated May 18, 2022; originally published May 22, 2018)
Looking for more running events? Search for races by state/city or month, and try our handy Find a Race tool to search for events by name, date range, distance, location, terrain & more. Then sign up for a free account to build your wish list and start coloring in your 50 States Map!
---
Author: Mike Sohaskey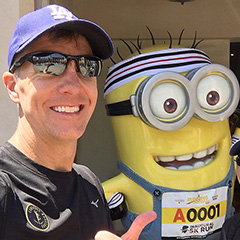 Mike Sohaskey is the co-founder of RaceRaves, the premier online reviews community for runners to share their race experiences and find their next challenge. Mike honed his creative and critical thinking skills as a research scientist, earning a Ph.D. in Cancer Biology from Stanford. He's also completed over 100 races — including 50+ marathons and ultras — in locations ranging from Antarctica to Zimbabwe.

Other RaceRaves articles you'll enjoy (trust us!)
Sept Featured Races You Need to Know About
Iconic Short-Distance Races (Summer & Fall)
Races Inspired by Monsters, Myths & Legends
Top Five Things You Can Do as a RaceRaves Member
Tested and Trusted Race Day Tips
And for more helpful articles, check out our blog!
Find this article informative or entertaining? Please share it, and let others know RaceRaves is the premier online resource to DISCOVER, REVIEW & TRACK all their races and to CONNECT with other runners!