Welcome to your RaceRaves guide to top upcoming races! Here we highlight a sampling of best bets plus some personal favorites we think you'll enjoy. (Sign up now for a free RaceRaves account to add these events & thousands more to your Future Races!)
NOTE: Unless otherwise noted, the following list includes only events that are now taking registrations for an in-person race and which, based on current information, are likely to take place. As with life, however, there are no guarantees.
🏆 = Top Rated on RaceRaves (Overall rating of at least 4.7 across 10+ reviews)
---
June Marathons
Newport Marathon
Jun 4; Newport, OR
Marathon, half marathon
Bayside out-and-back attracts first timers & BQ hopefuls

REVEL Rockies
Jun 4; Evergreen, CO
Marathon, half marathon
High-altitude, quad-busting descent w/ picturesque payoffs
Deadwood Mickelson Trail Marathon 🏆
Jun 4–5; Deadwood, SD
Marathon, marathon relay, half marathon, 5K
What goes up, must come down in the beautiful Black Hills
Bear Lake Marathon Trifecta
Jun 9–11; St. Charles, ID; Cokeville, WY; Laketown, UT
Marathon, half marathon, 5K (UT only)
Unique, low-key opportunity to notch 3 states in 3 days
Hatfield McCoy Marathon 🏆
Jun 11; Williamson, KY
Marathon, Blackberry Mountain Half Marathon, River Road Half Marathon, 5K
Two-state favorite turns on the Appalachian charm
Lake Placid Marathon
Jun 12; Lake Placid, NY
Marathon, half marathon
Winter Olympics venue in the heart of the Adirondacks
Grandma's Marathon & Garry Bjorklund Half
Jun 17–18; Two Harbors, MN
Marathon, half marathon, 5K
Rolling point-to-point follows the shoreline of Lake Superior
(Half marathon is at capacity)
Anchorage Mayor's Marathon
Jun 18; Anchorage, AK
Marathon, marathon relay, half marathon, half marathon relay, 5 miler
Mountains & black bears & moose, oh my!
Missoula Marathon 🏆
Jun 25–26; Missoula, MT
Marathon, half marathon, 5K
Perennially popular gem 💎 in stunning Big Sky Country
(Marathon is at capacity)
Morgan Valley Marathon
Jun 25; Morgan, UT
Marathon, half marathon, 10K, 5K
Gorgeous double loop favored by four-legged spectators
Cascade Super Series – Super Marathon
Jun 26; Snoqualmie Pass, WA
Marathon
Gentle downhill on crushed gravel is a PR waiting to happen
👉 Or search for more June marathons.
---
June Half Marathons
Grand Teton Half 🏆
Jun 3–4; Wilson, WY
Half marathon, 5K
"Amazing course" with "magical views" of the Teton Range
DAM to DSM
Jun 4; Johnston, IA
Half marathon
Iowa running tradition steps up to the half marathon distance
Fairfield Road Races
Jun 4–5; Fairfield, CT
Half marathon, 5K
New England staple finishes beachside on Long Island Sound
Helvetia Half 🏆
Jun 4; Hillsboro, OR
Half marathon, 10K, 5K
"Leave the city behind" on this rolling tour of rural Oregon
Bank of America Chicago 13.1
Jun 5; Chicago, IL
Half marathon
Inaugural race explores the Windy City's West Side
Dexter–Ann Arbor Run
Jun 5; Dexter, MI
Half marathon, 10K, 5K
Point-to-point along the Huron River celebrates its 48th year
Shipyard Old Port Half
Jun 11; Portland, ME
Half marathon, 5K
Maine's best half marathon showcases the state's largest city
Rock Tahoe Half 🏆
Jun 18; Stateline, NV
Half marathon
Net downhill features "epic views" & post-race pool party
Glacier Half 🏆
Jun 25; Kiowa, MT
Half marathon
"Challenging course and spectacular scenery," for the win
Craft Classic Half 🏆
Jun 26; Redmond, WA
Half marathon, 5K
Lovely riverside run culminates with a post-race beer garden
👉 Or search for more June half marathons.
---
June Ultra Marathons
24 Hour Eagle Up Ultra
Jun 4; Canal Fulton, OH
24 hr, 100 mile relay
Fully supported, wooded 5-mile loop to benefit veterans
GO! St. Louis KT82 Trail Relay (above)
Jun 11; Maryland Heights, MO
82 miler, 82 mile relay
One-day team challenge thru Missouri wine country 🍇
Shadow of the Giants
Jun 11; Fish Camp, CA
50K, 20K
Stunning run among the giant sequoias in Sierra Natl Forest
Denali 135 & Denali 100K
Jun 20; Cantwell, AK
135 miler, 100K
Spectacular bucket-list race at the gateway to Denali Natl Park
Gunstock TrailFest
Jun 25–26; Gilford, NH
50 miler, 50K, 30K, 10K, 5K, 1.5 miler
Family-friendly celebration of running & the outdoors
👉 Or search for more June ultra marathons.
---
June International Races
Spitsbergen Marathon 🇳🇴
Jun 4; Longyearbyen, Norway
Marathon, half marathon, 10K
Remote, cold-weather race with polar bear spectators
Uganda Marathon 🇺🇬
Jun 4; Masaka, Uganda
Marathon, half marathon, 10K
"Incredible week" of public service & community spirit
Original Inca Trail Marathon to Machu Picchu 🇵🇪
Jun 8; Machu Picchu, Peru
Marathon, 30K
One of the world's toughest marathons marks its final year
Big Five Marathon 🇿🇦
Jun 18; Bosveld, South Africa
Marathon, half marathon
Run among the wildlife on a private game reserve 🦁
Hella Hamburg Half 🇩🇪
Jun 26; Hamburg, Germany
Half marathon
Festive, cosmopolitan half in one of Europe's busiest seaports
👉 Or search for more June international races.
Looking for more in-person races that may actually happen? Check out our Featured Races for:
---
Looking for more running events? Search for races by state/city or month, and try our handy Find a Race tool to search for events by name, date range, distance, location, terrain & more. Then sign up for a free account to build your wish list and start coloring in your 50 States Map!
Author: Mike Sohaskey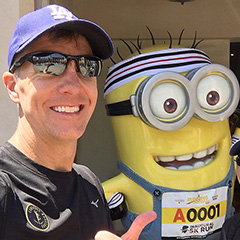 Mike Sohaskey is the co-founder of RaceRaves, the premier online reviews community for runners to share their race experiences and find their next challenge. Mike honed his creative and critical thinking skills as a research scientist, earning a Ph.D. in Cancer Biology from Stanford. He's also completed over 100 races — including 50+ marathons and ultras — in locations ranging from Antarctica to Zimbabwe.

Other RaceRaves articles you'll enjoy (trust us!)
Getting to Know the Abbott World Marathon Majors
Lunatic Spotlight: One Year, 100+ Races
Top Five Things You Can Do as a RaceRaves Member
Tested and Trusted Race Day Tips
Toughest Road Marathons in North America
And for more helpful articles, check out our blog!
Subscribe & Stay Connected
Find this article informative? Please share it, and let others know RaceRaves is the premier online resource to DISCOVER, REVIEW & TRACK all their races and to CONNECT with other runners! Plus, sign up for our newsletter to receive the best racing-related content and special offers every month!