For many runners, completing 100 races would be an ambitious lifetime goal. For Amy Seagroves, that lifetime happened in a single year. A resident of Rochester, NY, Amy tallied an astonishing 107 races in a pandemic-constrained 2021 while regularly challenging herself in new ways. She tackled distances ranging from one to 31.1 miles on roads and trails alike, and even mixed in a triathlon along the way. During one summer stretch, she crossed six finish lines in a single week.
Despite a relentless race schedule and a couple of painful setbacks, Amy ended the year with a 100% success rate—107 starts, 107 finishes. What's more, she reviewed every one of those races on RaceRaves in detailed narratives that thoughtfully capture the essence of race day. All while working full-time as a pediatrician in the Division of Pediatric Endocrinology at the University of Rochester Medical Center.
Having followed her inspiring quest from afar, naturally we wanted to know what makes Amy tick and, just as importantly, what kept her ticking as she averaged a new start line every 3½ days for an entire year. And though she crossed more finish lines in 2021 than most runners do in a lifetime, her motivation remains—as it does for so many of us—an unflagging enthusiasm for the physical and mental health benefits that come with opting outdoors and chasing a finish line.
Oh, and the bling… turns out she also loves her bling. 😍🏅
RR: First and foremost, CONGRATS on an amazing accomplishment; our team enjoyed following your journey on RaceRaves. So as a starting point I have to ask: was 100 race finishes the plan from the outset and if so, how did you decide on that goal?
AS: Running 100 races was actually a goal I had planned to accomplish in 2022 to celebrate the return of races, since I didn't expect there to be so many races in 2021. I still wanted to run a race most weekends in 2021, and due to uncertainty I was registering for multiple races each weekend in case a few would get canceled. However, starting about April there were very few race cancellations, and I was running about two races per weekend. Then over the summer there were several weekday races announced around Rochester, and I realized I would be able to complete my goal a year early.
RR: Certainly 100 finishes was your primary goal, but were you able to achieve any secondary goals of note along the way?
AS: I achieved quite a few other running goals along with 100 races; I completed my first ultramarathon (Editor's note: the Zion Ultras 50K in April) and my first triathlon, and I qualified for Marathon Maniacs.
RR: In addition to being an accomplished runner, you're a full-time pediatrician at the University of Rochester Medical Center. How did you balance the demands of your job, which includes being on call much of the time, with everything that goes into pursuing such an ambitious goal (training, travel, race day, recovery, etc)?
AS: Running has actually helped me with work–life balance. Setting running goals helps me carve out time for my life outside of work. For my job I'm on call for about one week per month. Luckily being on call consists of pretty normal work hours and answering phone calls from home, which I can do on runs. I actually work with my schedule to use my on-call weeks as rest weeks, where I run lower mileage weeks and shorter local races those weeks.
RR: I was joking with you last spring that you'd run 20+ races by the time I ran my first in-person race in May. That said, I have to assume your own quest was made more challenging by all the pandemic cancellations and postponements?
AS: I was pretty lucky with cancellations. The main difference was, I chose different races than I probably would have had there not been a pandemic. I tried to choose smaller races and races produced by companies that had held most of their [scheduled] races in fall 2020, such as Millennium Running in New Hampshire, Calico Racing in Las Vegas and Bishop's Events in Washington DC. Still, there were a few cancellations I had to deal with, and I learned to be flexible and change travel plans on the fly.
RR: Generally speaking, what did you enjoy most about your journey to 100 finish lines?
AS: Along with the accomplishment itself, I enjoyed meeting new runners and of course all the swag. I have quite a medal collection from last year. I also found it really interesting to see the different production aspects of each race and the creative ways race directors were trying to hold races during the pandemic, for example, the time trial starts used by Millennium Running or the smaller fields and multiple waves used by Bishop's Events and Calico Racing.
---
"I learned to just enjoy the races and the atmosphere and not worry as much about time."
---
RR: Looking back on your year, I'm guessing 2021 was a bit of a whirlwind. Still, though, you must have two or three races that stand out in your mind? Conversely, were there any race days that—for whatever reason—just didn't go according to plan?
AS: The two races that stood out the most to me were my two trips to the Southwest at the Red Rock Canyon Marathon and the Zion 50K. Both races were breathtakingly beautiful but also two of the hardest races I have done. I am a big fan of the scenery of the Southwest, and they were the types of races that were nice to have a smaller field and really feel connected with nature. I was pretty lucky and had no major race-day issues in terms of travel or logistics.
There was one half marathon where I twisted my ankle in the middle of it which resulted in a slower finishing time, but I was able to finish the race and took the next week off running so I didn't have to miss any races. (Ed. note: 😲)
RR: Given the importance of mindset on race day, and aside from keeping your eye on the prize of 100 finishes, how did you stay motivated to race on average every 3½ days including, on several occasions, twice a day?
AS: I love running races more than I like training runs, so it was pretty easy to stay motivated to do the races. The main issue with motivation was, I often had to drive quite a bit to get to races, and even the local races I did while on call were often in Buffalo [75 miles to the west] or Syracuse [90 miles to the east].
There were definitely times when I didn't feel like driving, so I tried to incorporate other fun things to do on my trips to make it worth it. For instance, I learned about this place called Clyde Peeling's Reptiland which is an American Zoo Association accredited reptile house between Rochester and DC. I would also often find hiking trails between Rochester and my destination, for instance stopping at the Berkshires [in Massachusetts] or in Vermont on my way to New Hampshire.
RR: Overall, how well did your body adapt to the challenge of racing so frequently? Any insights on recovery for your fellow runners who may be looking to race more often in 2022?
AS: I think the main thing is that you will not set a personal record (PR) while running so many races. Other than new distances such as the 50K, I didn't set any PRs last year. In order to run so many races, I had to run some of them at more of a training pace. I often just saw how I felt on race day and, if I was feeling good, I would push myself harder. And if I wasn't feeling it, I would do more of a training pace.
A few races I purposely took slow, took pictures, and/or chatted more with other runners. Also, it's important to listen to your body and look at the big picture. For instance, in the race where I twisted my ankle, I ended up walking most of the second half and took the week off afterward to make sure I was ready for the next weekend.
RR: Your 2021 will be a tough year to top, so naturally we're curious to know what's next. What are your running goals, big and small, for 2022 and beyond?
AS: I'm probably not going to run 100 races again this year. It was a fun goal to chase, but I ended up injured by the end and I think 50 to 75 races seems more reasonable. My main goal I am working toward is running a half marathon or longer in every state (Ed. note: 23 states & DC down, 27 to go!). I'm hoping to get about ten more states this year.
I am also hoping to run a half marathon or longer in every Canadian province and on every continent, but those goals have been put on hold with the pandemic. I'd also eventually like to make Sun level (the highest level) in Half Fanatics at some point (Ed. note: Sun level = 30 half marathons in any combination of 30 US states, countries, or Canadian provinces within 365 days).
RR: No doubt you took home some valuable lessons along with a hard-earned sense of accomplishment and a whole lot of bling. Aside from recovery, are there any tips or tricks you acquired that may help others better enjoy the race experience?
AS: Last year made me appreciate enjoying the race more. Prior to 2021, I generally tried to PR every race I did or at least meet a time goal, such as under two hours, 30 minutes for a half or under 30 minutes for a 5K. However, last year I learned to just enjoy the races and the atmosphere and not worry as much about time. If I saw any cool animals on the course, I would stop and take pictures. I would sometimes slow down to chat with other runners, spend a few more seconds at the aid stations to thank volunteers, etc. Even though I didn't have any PRs, I enjoyed the races more last year.
👉 Follow Amy on RaceRaves to stay updated on all her racing adventures, including her quest to run a half marathon (or farther) in all 50 states!
---
Looking for more running events? Search for races by state/city or month, and try our handy Find a Race tool to search for events by name, date range, distance, location, terrain & more. Then sign up for a free account to build your wish list and start coloring in your 50 States Map!
Author: Mike Sohaskey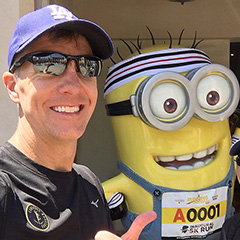 Mike Sohaskey is the co-founder of RaceRaves, the premier online reviews community for runners to share their race experiences and find their next challenge. Mike honed his creative and critical thinking skills as a research scientist, earning a Ph.D. in Cancer Biology from Stanford. He's also completed over 100 races — including 50+ marathons and ultras — in locations ranging from Antarctica to Zimbabwe.

Other RaceRaves articles you'll enjoy (trust us!)
May Featured Races you need to know about
2021: The Year in Racing
Lunatic Spotlight: 50 States the Hard(er) Way
Lunatic Spotlight: Unbreakable
Lunatic Spotlight: Racking up the (s)miles
Lunatic Spotlight: A Race Of Her Own
And for more helpful articles, check out our blog!
Subscribe & Stay Connected
Find this article informative? Please share it, and let others know RaceRaves is the premier online resource to DISCOVER, REVIEW & TRACK all their races and to CONNECT with other runners! Plus, sign up for our newsletter to receive the best racing-related content and special offers every month!