Welcome to your RaceRaves guide to top upcoming races! Here we highlight a sampling of best bets plus some personal favorites we think you'll enjoy. (Sign up now for a free RaceRaves account to add these events & thousands more to your Future Races!)
NOTE: Unless otherwise noted, the following list includes only events that are now taking registrations for an in-person race and which, based on current information, are likely to take place. As with life, however, there are no guarantees.
🏆 = Top Rated on RaceRaves (Overall rating of at least 4.7 across 10+ reviews)
---
November Marathons
Indianapolis Monumental Marathon
Nov 5; Indianapolis, IN
Marathon, half marathon, 5K
Indiana's best marathon is a fall BQ favorite
Moab Trail Marathon
Nov 5–6; Moab, UT
Marathon, half marathon, 5K
Moab wows w/ scenery, slickrock & stream crossings
bg26.2 (Bowling Green Marathon)
Nov 6; Bowling Green, KY
Marathon, half marathon, 6K
"Awesome" small-town race benefits MS research
Raleigh City of Oaks Marathon
Nov 6; Raleigh, NC
Marathon, half marathon, 10K, 5K
Rolling route offers an engaging tour of the state capital
Allianz Partners Richmond Marathon (above) 🏆
Nov 12; Richmond, VA
Marathon, half marathon, 8K
Run happy at America's Friendliest Marathon
Chickamauga Battlefield Marathon
Nov 12; Fort Oglethorpe, GA
Marathon, half marathon, 5K
Double-loop course in a hallowed Civil War setting
Magnolia Marathon 🏆
Nov 19; Meridian, MS
Marathon, marathon relay, half marathon
Friendly hometown race for runners, by runners
Philadelphia Marathon
Nov 19–20; Philadelphia, PA
Marathon, half marathon, 8K
Big-city energy in the birthplace of America
Williams Route 66 Marathon
Nov 19–20; Tulsa, OK
Marathon, marathon relay, half marathon, 5K, 1 miler
26.2-mile block party is a spirited ode to the Mother Road
Harpeth Hills Flying Monkey Marathon
Nov 20; Nashville, TN
Marathon
Hilly hidden gem 💎 in a densely wooded urban oasis
(Registration lottery open Aug 1–8)
Space Coast Marathon
Nov 27; Cocoa, FL
Marathon, half marathon, 10K, 5K
Florida's oldest marathon embraces its celestial theme

👉 Or search for more November marathons
---
November Half Marathons
Hillbilly Hike Half
Nov 5; Carlisle, IA
Half marathon, 10K, 5K
Rustic point-to-point with a terrific post-race spread
Malibu Half
Nov 5–6; Malibu, CA
Half marathon, 5K
Run one of the world's most iconic coastlines
100% Pure Kona Coffee Half Marathon
Nov 12; Kailua-Kona, HI
Half marathon
Oceanside run to the "End of the World" & back 🤙
Catalina Island Half 🏆
Nov 12; Avalon, CA
Half marathon, 10K
Hilly trail challenge boasts sweeping ocean views
Colonel Sanders Half
Nov 12; Corbin, KY
Half marathon, 10K
"Bucket"-list race honors Corbin's most famous citizen
St. Pete Run Fest
Nov 12–13; St. Peterburg, FL
Half marathon, 10K, 5K
Sunshine + coastline = fun times in Central Florida
Monterey Bay Half 🏆
Nov 12–13; Monterey, CA
Half marathon, 5K, 3K
Big Sur's stunning sibling is a feel-good favorite
Princeton Half
Nov 13; Princeton, NJ
Half marathon
Historic tour of Ivy League town supports LGBTQ+ youth
Snow Canyon Half
Nov 19; St. George, UT
Half marathon, 10K, 5K
Dramatic red sandstone & a finish on the high-school track
Palmetto Peach Half
Nov 26; North Augusta, SC
Half marathon, 10K, 5K
Two-state celebration spans the Savannah River
👉 Or search for more November half marathons
---
November Ultra Marathons
Barrier Island Ultra
Nov 5; Port Aransas, TX
50 miler, 50K, marathon, half marathon, 10K, 5K
Run on a sandy beach steps from the Gulf of Mexico
Screaming Monkey 100
Nov 5–6; Keithville, LA
100 miler, 100K, 50K, 25K, 10K
Forested trails near the world's largest chimpanzee sanctuary
Mt. Tam Trail Run
Nov 12; Stinson Beach, CA
50K, 30K, half marathon, 10K
Epic challenge on gorgeous trails among the redwoods
Tunnel Hill 100 & 50 Mile Runs
Nov 12; Vienna, IL
100 miler, 50 miler
Where first-timers & long-timers go for a personal best
JFK 50 Mile
Nov 19; Boonsboro, MD
50 miler
The nation's most revered 50 miler celebrates its 60th year
👉 Or search for more November ultra marathons
---
November Other Distances
Cooper Norcross Run the Bridge
Nov 6; Camden, NJ
10K, 2 miler
Cross the Benjamin Franklin Bridge into Philly & back
Rocky Run
Nov 12; Philadelphia, PA
10 miler, 5K
Channel your inner Italian Stallion in his hometown
Battleship 12K
Nov 13; Mobile, AL
12K
Patriotic run across Mobile Bay honors our troops & veterans
Chesapeake Bay Bridge Run
Nov 13; Annapolis, MD
10K
Enjoy a Maryland tradition with 10,000 new friends
T9 Mermaid Run San Francisco
Nov 13; San Francisco, CA
10 miler, 10K, 5K
Female-focused run across the Golden Gate Bridge
👉 Or search for more November other distances
---
November International Races
Hamilton Marathon Road2Hope 🇨🇦
Nov 5–6; Hamilton, Canada
Marathon, half marathon, 10K, 5K
BQ favorite moves to a new loop course on Lake Ontario
Istanbul Marathon 🇹🇷
Nov 6; Istanbul, Turkey
Marathon, 15K
Run from Asia to Europe at the only intercontinental marathon
Athens Marathon. The Authentic 🇬🇷
Nov 12–13; Athens, Greece
Marathon, 10K, 5K
From Marathon to Athens, follow in Pheidippides' footsteps
Volcano Marathon 🇨🇱
Nov 17; San Pedro de Atacama, Chile
Marathon, half marathon
Thin air & an active volcano in the Atacama Desert
Polar Bear Marathon 🇨🇦
Nov 19; Churchill, Canada
50K, marathon, half marathon
Expect close encounters of the furry white kind 🐻‍❄️
Queenstown International Marathon 🇳🇿
Nov 19; Arrowtown, New Zealand
Marathon, half marathon, 10K
Soak up the scenery in the adventure capital of the world
👉 Or search for more November international races
Looking for more in-person races that may actually happen? Check out our Featured Races for:
---
Looking for more running events? Search for races by state/city or month, and try our handy Find a Race tool to search for events by name, date range, distance, location, terrain & more. Then sign up for a free account to build your wish list and start coloring in your 50 States Map!
Author: Mike Sohaskey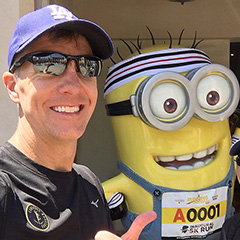 Mike Sohaskey is the co-founder of RaceRaves, the premier online reviews community for runners to share their race experiences and find their next challenge. Mike honed his creative and critical thinking skills as a research scientist, earning a Ph.D. in Cancer Biology from Stanford. He's also completed over 100 races — including 50+ marathons and ultras — in locations ranging from Antarctica to Zimbabwe.

Other RaceRaves articles you'll enjoy (trust us!)
Running events on Racetracks
Iconic Short-Distance Races (Summer & Fall)
Lunatic Spotlight: One Year, 100+ Races
Top Five Things You Can Do as a RaceRaves Member
Tested and Trusted Race Day Tips
And for more helpful articles, check out our blog!
Subscribe & Stay Connected
Find this article informative? Please share it, and let others know RaceRaves is the premier online resource to DISCOVER, REVIEW & TRACK all their races and to CONNECT with other runners! Plus, sign up for our newsletter to receive the best racing-related content and special offers every month!