Welcome to your RaceRaves guide to top upcoming races! Here we highlight a sampling of best bets plus some personal favorites we think you'll enjoy. (Sign up now for a free RaceRaves account to add these events & thousands more to your Future Races!)
NOTE: Unless otherwise noted, the following list includes only events that are now taking registrations for an in-person race and which, based on current information, are likely to take place. As with life, however, there are no guarantees.
🏆 = Top Rated on RaceRaves (Overall rating of at least 4.7 across 10+ reviews)
---
Late October Marathons
7 Bridges Marathon
Oct 16; Chattanooga, TN
Marathon, marathon relay, half marathon, half marathon relay, 5K
Rolling urban tour follows the Tennessee River
Baystate Marathon
Oct 16; Lowell, MA
Marathon, half marathon, half marathon relay
Flat double loop along the river caters to BQ hopefuls
Columbia Gorge Marathon
Oct 16; Hood River, OR
Marathon, half marathon, half marathon relay
Pacific Northwest gem 💎 flaunts its fall foliage 
Detroit Free Press Marathon
Oct 16; Detroit, MI
Marathon, marathon relay, U.S.-only half, int'l half, 5K, 1 miler
Motor City showcase returns to its international route
IMT Des Moines Marathon (above)
Oct 16; Des Moines, IA
Marathon, marathon relay, half marathon, 5K
Midwest favorite shows its runners a capital time
Lake Tahoe Marathon
Oct 16; Homewood, CA
Double marathon, marathon, marathon relay, half marathon, 10K, 5K
Breathtaking point-to-point boasts panoramic views
Mount Desert Island Marathon 🏆
Oct 16; Bar Harbor, ME
Marathon, marathon relay, half marathon
Seaside stunnah a stone's throw from Acadia Natl Pahk
Brookings Marathon
Oct 22; Brookings, SD
Marathon, marathon relay, half marathon
Small college town rolls out the red carpet for runners
(Moved from May for 2022)
Freedom's Run
Oct 22; Harpers Ferry, WV
Marathon, half marathon, 10K, 5K
Hilly road/trail hybrid in a Civil War setting
Marine Corps Marathon
Oct 30; Arlington, VA
50K, marathon, 10K
"The People's Marathon" is a patriotic powerhouse
(Marathon sold out)
👉 Or search for more October marathons
---
Late October Half Marathons
ZOOMA Amelia Island
Oct 16; Amelia Island, FL
Half marathon, 12K, 5K
Female-focused weekend in a charming coastal retreat
Everglades Half
Oct 21–22; Homestead, FL
Half marathon, 5K
South Florida fave returns with its resident spec-gators
End of the Road Half
Oct 22–23; Waterfall, PA
Half marathon, 4 miler
Run the abandoned PA turnpike & its 5 miles of tunnels
Haunted Half Salt Lake City
Oct 22; Salt Lake City, UT
Half marathon, 5K
Smooth downhill course promises scary fast finish times
Run Ocean Isle Beach
Oct 22; Ocean Isle Beach, NC
Half marathon, 5K, 1 miler
Ocean views, island vibes & massive medals
SPACEROCK Trail Race 🏆
Oct 22; Agua Dulce, CA
Half marathon, 10K, 5K
Challenging trails in an iconic Hollywood setting
New England Half
Oct 23; Concord, NH
Half marathon
Quintessential fall half travels colorful country roads
Hallowine Run (fka Healdsburg Wine Country Half) 🏆
Oct 29; Healdsburg, CA
Half marathon, half marathon relay, 5K
Popular wine country run returns to Sonoma County
Houston Half
Oct 30; Houston, TX
Half marathon, 10K
Well-oiled out-&-back thru the heart of the 713
Rock Hall Half & Relay
Oct 30; Cleveland, OH
Half marathon, half marathon relay, 10K, 5K
Cleveland original hits all the right notes 🎸
👉 Or search for more October half marathons
---
Late October Ultra Marathons
Door County Fall 50
Oct 22; Ellison Bay, WI
50 miler, 50 mile relay
Follow beautiful back roads to the post-race party tent
(Relay sold out)
Tecumseh Trail Challenge
Oct 22; Bloomington, IN
50K, marathon, half marathon, quarter marathon
Rolling, varied terrain explores Yellowwood State Forest
Yippee-Ki-Yay 50K
Oct 22; Council Bluffs, IA
50K, half marathon, 5 miler
Speedy rails-to-trails route thru the Heartland
Stone Steps 50K Trail Run
Oct 23; Cincinnati, OH
50K, 27K
Repeating figure-8 course in an urban oasis
Chicago Lakefront 50/50
Oct 29; Chicago, IL
50 miler, 50K
Chase a personal best alongside Lake Michigan
👉 Or search for more October ultra marathons
---
Late October International Races
Cape Town Marathon 🇿🇦
Oct 16; Cape Town, South Africa
46K (trail), marathon (road), 22K (trail), 10K (trail), 5K (trail)
Experience Africa's first World Marathon Majors candidate
Toronto Waterfront Marathon 🇨🇦
Oct 16; Toronto, Canada
Marathon, half marathon, 5K
Canada's premier marathon highlights the best of Toronto
Venice Marathon 🇮🇹
Oct 23; Venice, Italy
Marathon, half marathon, 10K
Go with the flow in the seductive City of Canals
Polar Circle Marathon 🇬🇱
Oct 29–30; Kangerlassuaq, Greenland
Marathon, half marathon
Run on the Greenland ice sheet in the Arctic Circle
Swiss City Marathon Lucerne 🇨🇭
Oct 30; Lucerne, Switzerland
Marathon, half marathon, 10K
Picturesque loop runs thru a sports stadium & concert hall
👉 Or search for more October international races
Looking for more in-person races that may actually happen? Check out our Featured Races for:
---
Looking for more running events? Search for races by state/city or month, and try our handy Find a Race tool to search for events by name, date range, distance, location, terrain & more. Then sign up for a free account to build your wish list and start coloring in your 50 States Map!
Author: Mike Sohaskey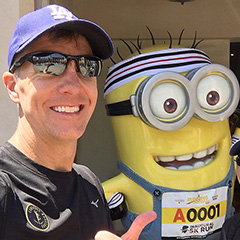 Mike Sohaskey is the co-founder of RaceRaves, the premier online reviews community for runners to share their race experiences and find their next challenge. Mike honed his creative and critical thinking skills as a research scientist, earning a Ph.D. in Cancer Biology from Stanford. He's also completed over 100 races — including 50+ marathons and ultras — in locations ranging from Antarctica to Zimbabwe.

Other RaceRaves articles you'll enjoy (trust us!)
Running Events on Racetracks
Iconic Short-Distance Races (Summer & Fall)
Lunatic Spotlight: One Year, 100+ Races
Top Five Things You Can Do as a RaceRaves Member
Tested and Trusted Race Day Tips
And for more helpful articles, check out our blog!
Subscribe & Stay Connected
Find this article informative? Please share it, and let others know RaceRaves is the premier online resource to DISCOVER, REVIEW & TRACK all their races and to CONNECT with other runners! Plus, sign up for our newsletter to receive the best racing-related content and special offers every month!