Welcome to your RaceRaves guide to top upcoming races! Here we highlight a sampling of "best bets" for April 2022 plus some personal favorites we think you'll enjoy, as the spring racing season shifts into high gear.
NOTE: Unless otherwise noted, the following list includes only events that are now taking registrations for an in-person race and which, based on current information, are likely to take place. As with life, however, there are no guarantees.
🏆 = Top Rated on RaceRaves (Overall rating of at least 4.7 across 10+ reviews)
---
April Marathons
REVEL Mt Charleston 🏆
Apr 2; Las Vegas, NV
Marathon, half marathon
Scorch your quads on one of the nation's top BQ courses
Gettysburg Festival of Races
Apr 10; Gettysburg, PA
Marathon, half marathon, 5K
Run a stone's throw from the Civil War's most storied battlefield
Foot Levelers Blue Ridge Marathon 🏆
Apr 16; Roanoke, VA
Double marathon, marathon, marathon relay, half marathon, 10K, 1 miler
"America's Toughest Road Marathon" brings the charm
Garmin Olathe Marathon in the Land of Oz
Apr 23; Olathe, KS
Marathon, half marathon, 10K
Kansas' best marathon embraces its Wizard of Oz theme
Salt Lake City Marathon
Apr 23; Salt Lake City, UT
Marathon, half marathon, 10K, 5K, bike tour
Rolling, net downhill route showcases Utah's capital city
2Slow4Boston Marathon 🏆
Apr 24; Greer, SC
Marathon
Unique race format exclusive to less fleet-footed runners
Big Sur International Marathon 🏆
Apr 24; Big Sur, CA
Marathon, marathon relay, 21 miler, 11 miler, 12K, 5K
Bucket-list run on the ragged edge of the western world
(Second Chance Random Drawing registration open Dec 13–29)
Oklahoma City Memorial Marathon
Apr 24; Oklahoma City, OK
Marathon, marathon relay, half marathon, 5K
Run to remember those killed in the 1995 OKC bombing
Maui Marathon
Apr 24; Lahaina, HI
Marathon, marathon relay, half marathon, 10K, 5K
Tropical oceanside marathon celebrates its 50th year 🤙
Christie Clinic Illinois Marathon
Apr 29–30; Champaign-Urbana, IL
Marathon, marathon relay, half marathon, 10K, 5K, 1 miler
Finish on the 50 at this spirited tour of a Big Ten college town
Kentucky Derby Festival Marathon & miniMarathon
Apr 30; Louisville, KY
Marathon, marathon relay, half marathon
Festive weekend highlighted by a lap inside Churchill Downs
👉 Or search for more April marathons.
---
April Half Marathons
Hattiesburg Half
Apr 2; Hattiesburg, MS
Half marathon, 10K, 5K
The Hub City welcomes spring at Mississippi's best half
Havasu Half
Apr 2; Lake Havasu City, AZ
Half marathon, 5K
Cross over & under the world-famous, relocated London Bridge
Lincoln Presidential Half
Apr 2; Springfield, IL
Half marathon
Run in the footsteps of Honest Abe
Run the Bluegrass Spring Original
Apr 2; Lexington, KY
Half marathon, 7 miler, 3.6 miler
Rolling, pastoral route in the heart of KY thoroughbred country
Rock the Parkway
Apr 9; Kansas City, MO
Half marathon, 5K
Speedy Midwest favorite follows picturesque Ward Pkwy
Hapalua Half
Apr 10; Honolulu, HI
Half marathon
Hawaii's largest half features a loop of Diamond Head crater
The Split Half 🏆
Apr 17; Spokane, WA
Half marathon, 10K, 5K
Scenic riverfront out and back w/ views of Spokane Falls
RussVegas Half 🏆
Apr 22–23; Russellville, AR
Half marathon, 10K, 5K
Russellville rolls out the red carpet w/ A+ community support
Drake Road Races
Apr 24; Des Moines, IA
Half marathon, 10K, 5K
Des Moines showcase finishes on Drake U's iconic Blue Oval

Capital City Half
Apr 30; Columbus, OH
Half marathon, quarter marathon, 5K
Soak up the sights & sounds of springtime in Columbus
👉 Or search for more April half marathons.
---
April Ultra Marathons
Zion Ultras & Trail Half
Apr 9–10; Apple Valley, UT
100 miler, 100K, 50K, half marathon
Beauty meets the beast in the shadow of Zion National Park
Canyons Endurance Runs
Apr 23; Foresthill, CA
100K, 50K, 25K
Rugged, hilly challenge on the iconic Western States Trail
Evergreen Squak Mountain Trail Runs
Apr 23; Issaquah, WA
50K, half marathon, 12K
"Gorgeous trails" feature "crazy climbs" and "killer vert"
Frisco Railroad Run
Apr 30; Willard, MO
50 miler, 50K, marathon, half marathon, 8K
USATF-certified out and back thru the Ozarks on flat rail-trail
UROC 100K: Ultra Race of Champions
Apr 30; Raphine, VA
100K, 50K, 25K
Dig deep & find your inner champion in the Blue Ridge Mtns
👉 Or search for more April ultra marathons.
---
April Other Distances
Cooper River Bridge Run 
Apr 2; Charleston, SC
10K
Amazing energy & spectacular views from the Ravenel Bridge
Credit Union Cherry Blossom Ten Mile Run
Apr 3; Washington, DC
10 miler, 5K
"The Runner's Rite of Spring" returns to the nation's capital
Statesman Cap 10K
Apr 10; Austin, TX
10K
Austin's hilly hometown showcase = a TX tradition for 45 years
Allstate Sugar Bowl Crescent City Classic 10K
Apr 16; New Orleans, LA
10K
The Big Easy's spring fling attracts runners & walkers alike
Grit OCR East Walker Ranch 🏆
Apr 30–May 1; Santa Clarita, CA
8 miler, 5 miler
Innovative OCR challenges & delights participants of all abilities
IPA 10K & Beer Mile Invitational 🏆
Apr 30; Sebastopol, CA
10K, 3K
One-of-a-kind celebration of running, craft brewing & more
👉 Or search for more April races of other distances.
---
April International Races
Schneider Electric Paris Marathon
Apr 3; Paris, France
Marathon
26.2 miles of celebrated landmarks & cosmopolitan glamour
Rotterdam Marathon
Apr 9–10; Rotterdam, Netherlands
Marathon, quarter marathon, 4.2K
One of the world's fastest marathons in Europe's largest seaport
North Pole Marathon
Apr 13; Longyearbyen; Norway
Marathon, half marathon
Run atop an Arctic ice floe in subzero temps for $19,000 USD
Two Oceans Marathon
Apr 16–17; Cape Town, South Africa
56K, half marathon
Iconic ultra known as "the world's most beautiful marathon"
(International entries available on a first-come, first-sold basis)
Shakespeare Marathon & Half
Apr 24; Stratford-upon-Avon, UK
Marathon, half marathon
To be or not to be your next destination race, that is the question
👉 Or search for more April international races.
Looking for more in-person races that may actually happen? Check out our Featured Races for:
---
Looking for more running events? Search for races by state/city or month, and try our handy Find a Race tool to search for events by name, date range, distance, location, terrain & more. Then sign up for a free account to build your wish list and start coloring in your 50 States Map!
Author: Mike Sohaskey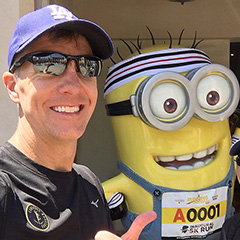 Mike Sohaskey is the co-founder of RaceRaves, the premier online reviews community for runners to share their race experiences and find their next challenge. Mike honed his creative and critical thinking skills as a research scientist, earning a Ph.D. in Cancer Biology from Stanford. He's also completed over 100 races — including 50+ marathons and ultras — in locations ranging from Antarctica to Zimbabwe.

Other RaceRaves articles you'll enjoy (trust us!)
Races Inspired by Monsters, Myths & Legends
Anniversary Races Worth Celebrating (2021-22)
Top Five Things You Can Do as a RaceRaves Member
Tested and Trusted Race Day Tips
Toughest Road Marathons in North America
And for more helpful articles, check out our blog!
Subscribe & Stay Connected
Find this article informative? Please share it, and let others know RaceRaves is the premier online resource to DISCOVER, REVIEW & TRACK all their races and to CONNECT with other runners! Plus, sign up for our newsletter to receive the best racing-related content and special offers every month!