Welcome to your RaceRaves guide to top upcoming races! Here we highlight a sampling of "best bets" for February 2022 as well as some personal favorites we think you'll enjoy.
NOTE: Scheduling remains fluid, and some February races have yet to open registration. Unless otherwise noted, the following list includes only events that are now taking registrations for an in-person race and which, based on current information, are likely to take place. As with life, however, there are no guarantees.
🏆 = Top Rated on RaceRaves (Overall rating of at least 4.7 across 10+ reviews)
---
February Marathons
Miami Marathon
Feb 5–6; Miami, FL
Marathon, half marathon, 5K
South Florida's premier race weekend celebrates 20 years
Mississippi River Marathon
Feb 5; Greenville, MS
Marathon, Arkansas Half Marathon, Mississippi River Half Marathon, half marathon relay, 5K
Start in AR & finish in MS, or run two halfs in two states in one day
Surf City Marathon
Feb 5–6; Huntington Beach, CA
Marathon, half marathon, 5K, 1 miler
Life's a beach at California's Classic Oceanfront Marathon
Mesa Marathon
Feb 12; Mesa, AZ
Marathon, half marathon, 10K
From mountain to Mesa, net downhill ideal for a winter BQ
Lost Dutchman Marathon
Feb 19–20; Apache Junction, AZ
Marathon, half marathon, 10K, 8K, 2 miler
Road/trail hybrid starts at sunrise in the Superstition Mtns
Run Oak Island (BAM! Race Series)
Feb 19; Oak Island, NC
Marathon, half marathon, 5K, 1 miler
Beachside run popular for its artistic, oversized medals
Austin Marathon
Feb 20; Austin, TX
Marathon, half marathon, 5K
Urban running in the Live Music Capital of the World
George Washington's Birthday Marathon & Relay
Feb 20; Greenbelt, MD
Marathon, marathon relay
Rural, three-loop course with post-race birthday cake
The Cowtown 🏆
Feb 26–27; Fort Worth, TX
50K, marathon, marathon relay, half marathon, 10K, 5K
Family fun at TX's most bull-loved marathon & half
Ventura Marathon
Feb 27; Ventura, CA
Marathon, half marathon, 5K, 1 miler
Fast, gradual descent + SoCal weather = BQ favorite
---
February Half Marathons
RunSedona 🏆
Feb 5; Sedona, AZ
Half marathon, 10K, 5K
Red rock landscapes amAZe at the Best Half in Arizona
Kaiser Permanente San Francisco Half
Feb 6; San Francisco, CA
Half marathon, 10K, 5K
Scenic run thru Golden Gate Park & along Ocean Beach
Lexington Medical Center Governor's Cup Running Festival
Feb 18–19; Columbia, SC
Half marathon, 5K, 1 miler
Spirited tour of the state capital marks its 49th year
Saguaro Half 🏆
Feb 19; Tucson, AZ
Half marathon
Stunning road/trail hybrid in the Sonoran Desert
Run the Line Half
Feb 20; Texarkana, TX
Half marathon, half marathon relay
Two-state loop course starts in TX & finishes in AR
War Eagle Run Fest
Feb 20; Auburn, AL
Half marathon, 5K
Finish on the field at this inaugural tour of Auburn Univ
Gasparilla Distance Classic
Feb 26–27; Tampa, FL
Half marathon, 15K, 8K, 5K
Central Florida favorite boasts parrots & pirates aplenty
Greenville Half & 5K
Feb 26; Greenville, SC
Half marathon, 5K
Gentle net downhill bills itself the "fastest half in the South"
---
February Ultra Marathons
Algonquin 50K
Feb 12; Pocomoke City, MD
50K
Expect "Mud or Blood" at this flat, forested out & back
Tejas Trails Rocky 50
Feb 12; Huntsville, TX
50 miler, 50K, half marathon
Fast, multi-loop course with plenty of roots to test your focus
Moab Red Hot 55K & 33K
Feb 19; Moab, UT
55K, 33K
Red dirt running next door to Arches National Park
Lake Ouachita Vista Trail (LOViT) Endurance Runs
Feb 25–26; Mount Ida, AR
100 miler, 100K
Rugged & rolling challenge in Ouachita National Forest
Jackpot Ultra Running Festival
Feb 18–20; Henderson, NV
72 hr, 48 hr, 24 hr, 12 hr, 6 hr, 100 miler, 50 miler
Bet on yourself at this first timer-friendly, short-loop shindig
Looking for more in-person races that may actually happen? Check out our Featured Races for:
---
Looking for more running events? Search for races by state/city or month, and try our handy Find a Race tool to search for events by name, date range, distance, location, terrain & more. Then sign up for a free account to build your wish list and start coloring in your 50 States Map!
Author: Mike Sohaskey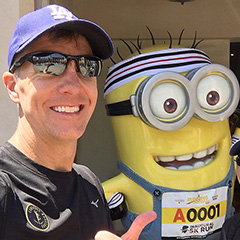 Mike Sohaskey is the co-founder of RaceRaves, the premier online reviews community for runners to share their race experiences and find their next challenge. Mike honed his creative and critical thinking skills as a research scientist, earning a Ph.D. in Cancer Biology from Stanford. He's also completed over 100 races — including 50+ marathons and ultras — in locations ranging from Antarctica to Zimbabwe.

Other RaceRaves articles you'll enjoy (trust us!)
Anniversary Races Worth Celebrating (2021–22)
Top Five Things You Can Do as a RaceRaves Member
Tested and Trusted Race Day Tips
Lunatic Spotlight: 50 States the Hard(er) Way
Toughest Road Marathons in North America
Unconventional Races that dare to be different
And for more helpful articles, check out our blog!
Subscribe & Stay Connected
Find this article informative? Please share it, and let others know RaceRaves is the premier online resource to DISCOVER, REVIEW & TRACK all their races and to CONNECT with other runners! Plus, sign up for our newsletter to receive the best racing-related content and special offers every month!