Welcome to your RaceRaves guide to top upcoming races! Here we highlight a sampling of best bets for May 2022 plus some personal favorites we think you'll enjoy, as the racing season enters one of its busiest months of the year.
NOTE: Unless otherwise noted, the following list includes only events that are now taking registrations for an in-person race and which, based on current information, are likely to take place. As with life, however, there are no guarantees.
🏆 = Top Rated on RaceRaves (Overall rating of at least 4.7 across 10+ reviews)
---
May Marathons
Cincinnati Flying Pig Marathon 🏆
Apr 29–May 1; Cincinnati, OH
Marathon, marathon relay, half marathon, 10K, 5K, 1 miler
Two-state favorite embraces its popular porcine theme
Eau Claire Marathon 🏆
Apr 30–May 1; Eau Claire, WI
Marathon, marathon relay, half marathon, 10K, 5K
Bridges galore, boisterous support & the beloved Blugold Mile
Eugene Marathon 🏆
Apr 30–May 1; Eugene, OR
Marathon, half marathon, 5K
Tour of TrackTown USA finishes on historic Hayward Field
OC Marathon Running Festival
Apr 30–May 1; Newport Beach, CA
Marathon, half marathon, 5K
Diverse course features exhilarating oceanfront views
Pittsburgh Marathon
Apr 30–May 1; Pittsburgh, PA
Marathon, marathon relay, half marathon, 5K
Hilly, challenging route turns on the Steel City charm
Windermere Marathon (above) 🏆
May 15; Spokane, WA
Marathon, half marathon, 10K, 5K
Flat point-to-point along the sparkling Spokane River
Fargo Marathon 🏆
May 20–21; Fargo, ND
Marathon, half marathon, 10K, 5K
Perennially popular party starts & finishes in the FargoDome
Buffalo Marathon 🏆
May 28–29; Buffalo, NY
Marathon, half marathon, 5K
Lively urban loop showcases the City of Good Neighbors
Prince of Wales Island Marathon
May 28; Craig, AK
Marathon, marathon relay, half marathon
Small, stunning hidden gem 💎 far off the beaten path
Traverse City Track Club Bayshore Marathon
May 28; Traverse City, MI
Marathon, half marathon, 10K
Charming destination race in the Cherry Capital of the World
(Half marathon is at capacity)
Coeur d'Alene Marathon
May 29; Coeur d'Alene, ID
Marathon, half marathon, 10K, 5K
Soak up the scenery in this family-friendly resort town
Mountains 2 Beach Marathon
May 29; Ojai, CA
Marathon, half marathon, 5K
Gradual downhill to the ocean earns M2B top BQ honors
👉 Or search for more May marathons.
---
May Half Marathons
Mark Twain Redding Road Race
May 1; Redding, CT
Half marathon, 7 miler
These rural hills are alive with the sound of moo-sic 🐮
Greenbrier Half Marathon
May 1; White Sulphur Springs, SC
Half marathon, 10K, 5K
Luxury destination race on the grounds of "America's Resort"
OneAmerica 500 Festival Mini-Marathon (Indy Mini)
May 7; Indianapolis, IN
Half marathon, 5K
Kiss the bricks at "The Greatest Spectacle in Running"
Santa Barbara Wine Country Half Marathon 🏆
May 7; Solvang, CA
Half marathon, half marathon relay
Idyllic Mother's Day getaway on CA's Central Coast
Yosemite Half Marathon
May 7; Oakhurst, CA
Half marathon
Road/trail hybrid with a fast downhill thru Sierra Nat'l Forest
Running With the Cows 🏆
May 14; Bucyrus, KS
Half marathon, 5K
The best half marathon in KS is a rolling, rustic fan favorite
San Juan Island Half 🏆
May 14; Friday Harbor, WA
Half marathon
Gorgeous island landscapes "where the sea meets the sky"
Thelma & Louise Marathon & Half 🏆
May 21; Moab, UT
Marathon, marathon relay, half marathon, 15K
Moab's rugged, women-only trail half adds a full marathon
Chicago Spring Half Marathon
May 22; Chicago, IL
Half marathon, 10K
Enjoy dramatic skyline views on the popular Lakefront Trail
Marine Corps Historic Half
May 22; Fredericksburg, VA
Half marathon, 5 miler
Run thru history & earn your finisher medal from a Marine
👉 Or search for more May half marathons.
---
May Ultra Marathons
Strolling Jim
May 7; Wartrace, TN
40 miler, marathon, half marathon, 10K
Old-school favorite travels the hilly roads of rural TN
Ice Age Trail 50
May 14; Whitewater, WI
50 miler, 50K, half marathon
Iconic ultra boasts an elite field & sells out quickly
(Waitlist only; all 2022 events are at capacity)
Quest for the Crest Trail Races
May 14–15; Burnsville, NC
50K, 10K
One of the nation's toughest 50Ks is both beauty & beast
Bryce Canyon Ultras
May 28–29; Hatch, UT
100 Miler, 50 miler, 60K, 50K, 30K
Q: Hoodoo you love? A: VR's high-altitude mountain challenge
Stumptown Trail Runs
May 28, 30; Portland, OR
50K, half marathon
Portland's only 50K showcases the lush trails of Forest Park
👉 Or search for more May ultra marathons.
---
May Other Distances
Lilac Bloomsday Run
May 1; Spokane, WA
12K
Spokane's spring spectacular celebrates its 46th year
Amway River Bank Run
May 14; Grand Rapids, MI
25K, 10K, 5K
Grand Rapids proudly hosts the nation's largest 25K
Carlsbad 5000 🏆
May 22; Carlsbad, CA
5K
Earn a high-five from Meb at "The World's Fastest 5K" 🙏
Soldier Field 10 Mile
May 28; Chicago, IL
10 miler
Lakefront tour of local landmarks finishes on the 50-yard line
BOLDERBoulder
May 30; Boulder, CO
10K
Celebrate Memorial Day with a Rocky Mountain runner's high
(Registration opens in early Jan)
👉 Or search for more May races of other distances.
---
May International Races
NOTE: As of Jan 5, Australia & New Zealand remain closed to international visitors
Du Motion Runners' Days Dubrovnik 🇭🇷
Apr 30–May 1; Dubrovnik, Croatia
Half marathon, 5K, 2.5K
Seaside tour of a magnificent walled city on the Adriatic coast
BMO Vancouver Marathon 🇨🇦
May 1; Vancouver, Canada
Marathon, marathon relay, half marathon, 8K
Canada's largest marathon marks its 50th anniversary
Copenhagen Marathon 🇩🇰
May 15; Copenhagen, Denmark
Marathon
Enjoy the sights & sounds of Denmark's vibrant capital
Kenya Impact Marathon (Run With the Legends) 🇰🇪
May 16–22; Kericho, Kenya
Marathon, half marathon, 10K
Immersive week among elite runners supports Kenyan women
Luxembourg Night Marathon 🇱🇺
May 28; Luxembourg, Luxembourg
Marathon, marathon relay, half marathon, 5K
Festive nighttime run in one of Europe's smallest countries
👉 Or search for more May international races.
Looking for more in-person races that may actually happen? Check out our Featured Races for:
---
Looking for more running events? Search for races by state/city or month, and try our handy Find a Race tool to search for events by name, date range, distance, location, terrain & more. Then sign up for a free account to build your wish list and start coloring in your 50 States Map!
Author: Mike Sohaskey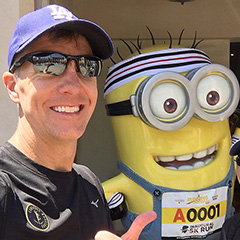 Mike Sohaskey is the co-founder of RaceRaves, the premier online reviews community for runners to share their race experiences and find their next challenge. Mike honed his creative and critical thinking skills as a research scientist, earning a Ph.D. in Cancer Biology from Stanford. He's also completed over 100 races — including 50+ marathons and ultras — in locations ranging from Antarctica to Zimbabwe.

Other RaceRaves articles you'll enjoy (trust us!)
2021: The Year in Racing
Races Inspired by Monsters, Myths & Legends
Top Five Things You Can Do as a RaceRaves Member
Tested and Trusted Race Day Tips
Toughest Road Marathons in North America
And for more helpful articles, check out our blog!
Subscribe & Stay Connected
Find this article informative? Please share it, and let others know RaceRaves is the premier online resource to DISCOVER, REVIEW & TRACK all their races and to CONNECT with other runners! Plus, sign up for our newsletter to receive the best racing-related content and special offers every month!