Welcome to your RaceRaves guide to top upcoming races! Here we highlight a sampling of "best bets" for March 2022 plus some personal favorites we think you'll enjoy.
And this month, we introduce our newest segment on featured international races.
NOTE: Unless otherwise noted, the following list includes only events that are now taking registrations for an in-person race and which, based on current information, are likely to take place. As with life, however, there are no guarantees.
🏆 = Top Rated on RaceRaves (Overall rating of at least 4.7 across 10+ reviews)
---
March Marathons
Coast Guard Marathon
Mar 4–5; Elizabeth City, NC
Marathon, half marathon, 5K
Inaugural in-person event in the Harbor of Hospitality®
Little Rock Marathon
Mar 5–6; Little Rock, AR
Marathon, half marathon, 10K, 5K
Capital city charisma & the nation's largest finisher medal
Newport News One City Marathon
Mar 5–6; Newport News, VA
Marathon, marathon relay, half marathon, 5K
Point-to-point BQ favorite in the heart of coastal Virginia
Napa Valley Marathon (above) 🏆
Mar 6; Calistoga, CA
Marathon, half marathon, 5K
Speedy, idyllic route through iconic wine country
Catalina Island Marathon
Mar 12; Avalon, CA
Marathon, 10K, 5K
Run among the bison with Pacific Ocean views aplenty
Sand Hollow Marathon
Mar 12; Hurricane, UT
Marathon, half marathon
Red sandstone landscapes & snow-capped mountains
Asheville Marathon & Half at Biltmore Estate
Mar 19–20; Asheville, NC
Marathon, half marathon
Boutique race weekend in "America's Largest Backyard"
Skidaway Island Marathon
Mar 19; Skidaway Island, GA
Marathon, half marathon, 5K
Destination race thru an exclusive waterfront community
Tomoka Marathon
Mar 19; Ormond Beach, FL
Marathon, half marathon, 5K
Lovely seaside course welcomes runners to the "Real Florida"
(Registration opens Nov 28)
Yuengling Shamrock Marathon Weekend
Mar 19–20; Virginia Beach, VA
Marathon, half marathon, 8K
Oceanfront St. Patrick's Day shindig celebrates 50 years
Bataan Memorial Death March
Mar 20; White Sands, NM
Marathon, 14 miler
Inspiring high-desert challenge honors the heroes of WWII
---
March Half Marathons
Lake Sammamish Half
Mar 5; Redmond, WA
Half marathon
Flat, PR-friendly course along the shores of Lake Sammamish
Zion Half 🏆
Mar 5; Springdale, UT
Half marathon
Vacation Races' flagship event celebrates its 10th year
Livermore Valley Half
Mar 6; Livermore, CA
Half marathon
Postcard-pretty vineyard run & spirited post-race festival
(Currently a waitlist, registration reopens soon)
Celebrate Life Half
Mar 13; Rock Hill, NY
Half marathon, half marathon relay
Feel-good experience honors & benefits cancer patients
Shamrock Run Portland
Mar 13; Portland, OR
Half marathon, 15K, 8K, 4 miler, 5K
Perennially popular, picturesque St. Patrick's Day party
Canyonlands Half
Mar 19; Moab, UT
Half marathon, 5 miler
BeaUTiful red rock route along the Colorado River gorge
(Note: Does not run in Canyonlands Natl Park)
Race to the Cave Half
Mar 20; Woodville, AL
Half marathon
Rural loop course finishes with 1.2 miles inside a cave
United Airlines NYC Half 🏆
Mar 20; New York City, NY
Half marathon
NYC's premier half showcases Brooklyn & Manhattan
(Application window Nov 18–Dec 1)
Garden Spot Village Half
Mar 26; New Holland, PA
Half marathon, 10K
Rolling, welcoming tour of charming Amish farmland
Liberty Hospital Half
Mar 26; Liberty, MO
Half marathon, 5K
Hills galore, strong spectator support & a "mega medal"
Love Run Philadelphia Half
Mar 27; Philadelphia, PA
Half marathon, 7.6K
Spring fling thru downtown Philly finishes at the Rocky Steps
---
March Ultra Marathons
Way Too Cool 50K Endurance Run
Mar 5; Cool, CA
50K
The nation's most popular trail 50K lives up to its name
(Lottery window Dec 1–10)
Badwater Cape Fear
Mar 19; Bald Head Island, NC
51 miler, 50K
Flex your "mussels" at this sandy challenge on a secluded beach
The Pistol Ultra Run
Mar 19–20; Alcoa, TN
100 miler, 100K, 50 miler, 50K, 50K relay, marathon, half marathon
Paved 10-mile loop along the Pistol River boasts A+ support
Prairie Spirit Trail Ultra Races
Mar 26; Ottawa, KS
100 miler, 100K, 50 miler, 50K
Flat, smooth out & back ideal for first-timers & personal bests
VALENCIA Trail Race 🏆
Mar 26; Santa Clarita, CA
50K, half marathon, 10K
Hilly hidden gem 💎 lauded by novice & veteran trail runners alike
---
March International Races
Ultra Marathon Caballo Blanco
Mar 5–6; Urique, Mexico
50 miler, marathon, half marathon, 10K
Run with the Rarámuri as celebrated in "Born to Run"
Guatemala Impact Marathon (Run the Live Volcano)
Mar 6; Antigua, Guatemala
Marathon, half marathon, 10K
Immersive, community-minded week culminates in race day
Nagoya Women's Marathon
Mar 13; Nagoya, Japan
Marathon
Female-focused urban run features Tiffany necklace for finishers
(Application window Nov 2–7)
Jerusalem Winner Marathon & Half
Mar 25; Jerusalem, Israel
Marathon, half marathon, 10K, 5K
Run thru 3,000 years of history in the Holy Land
Around the Bay 30K Road Race
Mar 27; Hamilton, Canada
30K, 30K relay, 5K
North America's oldest road race encircles Hamilton Harbour
(Registration opens Nov 9)
More March international races…
Looking for more in-person races that may actually happen? Check out our Featured Races for:
---
Looking for more running events? Search for races by state/city or month, and try our handy Find a Race tool to search for events by name, date range, distance, location, terrain & more. Then sign up for a free account to build your wish list and start coloring in your 50 States Map!
Author: Mike Sohaskey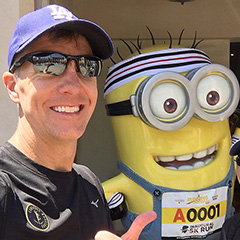 Mike Sohaskey is the co-founder of RaceRaves, the premier online reviews community for runners to share their race experiences and find their next challenge. Mike honed his creative and critical thinking skills as a research scientist, earning a Ph.D. in Cancer Biology from Stanford. He's also completed over 100 races — including 50+ marathons and ultras — in locations ranging from Antarctica to Zimbabwe.

Other RaceRaves articles you'll enjoy (trust us!)
Races Inspired by Monsters, Myths & Legends
Anniversary Races Worth Celebrating (2021-22)
Top Five Things You Can Do as a RaceRaves Member
Tested and Trusted Race Day Tips
Toughest Road Marathons in North America
And for more helpful articles, check out our blog!
Subscribe & Stay Connected
Find this article informative? Please share it, and let others know RaceRaves is the premier online resource to DISCOVER, REVIEW & TRACK all their races and to CONNECT with other runners! Plus, sign up for our newsletter to receive the best racing-related content and special offers every month!