Welcome to your RaceRaves guide to top upcoming races! Here we highlight a sampling of best bets and personal favorites to kick off 2023. (Sign up now for a free RaceRaves account to add these events & thousands more to your Future Races!)
NOTE: Unless otherwise noted, the following list includes only events that are now taking registrations for an in-person race.
🏆 = Top Rated (Overall rating of at least 4.7 across 10+ reviews)
---
January Marathons
Chevron Houston Marathon
Jan 14–15; Houston, TX
Marathon, half marathon, 5K
Launch your year on Space City's record-setting course
Daufuskie Island Marathon
Jan 14; Daufuskie Island, SC
Marathon, half marathon
Low-key, two-loop tour of SC's southernmost sea island
Louisiana Marathon
Jan 14–15; Baton Rouge, LA
Marathon, half marathon, quarter marathon, 5K
Cajun favorite boasts one of the nation's best finish festivals
Carlsbad Marathon
Jan 15; Carlsbad, CA
Marathon, half marathon, 5K
Escape the cold with surf, sand & ocean views aplenty 😎
Jekyll Island Marathon
Jan 15; Jekyll Island, GA
Marathon, half marathon, 10K
Nowhere to "hyde" on this small but scenic barrier island
Maui Oceanfront Marathon
Jan 15; Lahaina, HI
Double marathon, marathon, half marathon, 15K, 10K, 5K
Hawaiian heat & humidity in spectacular surroundings
Red Rock Canyon Marathon
Jan 21; Las Vegas, NV
Marathon, half marathon, 5K
Breathtaking sandstone beauty in the Mojave Desert
Big Beach Marathon
Jan 28–29; Gulf Shores, AL
Marathon, half marathon, 7K
Fast, flat circuit of Gulf State Park + a beachin' after party
Miami Marathon
Jan 28–29; Miami, FL
Marathon, half marathon, 5K
South Florida's finest rolls out the red carpet
Town of Celebration Marathon 🏆
Jan 29; Celebration, FL
Marathon, half marathon
Disney-adjacent gem 💎 lives up to its name
👉 Or search for more January marathons
---
January Half Marathons
Charleston Half
Jan 14; North Charleston, SC
Half marathon, 5K
Charming port city puts its best foot forward
Shark Bite Half
Jan 14–15; New Smyrna Beach, FL
Half marathon, 5K
Fin-tastic weekend in the Shark Bite Capital of the World 🦈
Key West Half
Jan 15; Key West, FL
Half marathon, 5K
Oceanfront racecation on the southern edge of the U.S.
Rose Bowl Half
Jan 15; Pasadena, CA
Half marathon, 5K
Picturesque run finishes on the field of its iconic namesake
3M Half
Jan 22; Austin, TX
Half marathon
Speedy downhill course finishes alongside the state capitol
SHE Power Half Chandler
Jan 22; Chandler, AZ
Half marathon, 5K
Women-only celebration features top-notch medal & swag
Too Cold to Hold Half
Jan 28; Dallas, TX
Half marathon, 10K, 5K
PR-friendly run around popular White Rock Lake
👉 Or search for more January half marathons
---
January Ultra Marathons
Avalon 50K & 50M Benefit Run
Jan 7; Avalon, CA
50 miler, 50K
Explore idyllic Catalina Island at CA's oldest trail ultra
Frozen Sasquatch Trail 50K & 25K
Jan 7; Charleston, WV
50K, 25K
Snowy, frosty challenge in Kanawha State Forest
Franklin Mountains Trail Run
Jan 20–22; El Paso, TX
50 miler, 55K, 30K, half marathon, 10K, 5K, King & Queen
Rugged mountain course overlooks Mexico & New Mexico
(Registration opens Oct 1)
Southern Tour Ultra
Jan 21; Wilmington, NC
Last Runner Standing, 50 miler, 50 mile relay, 50K
Woodstock-inspired festival features camping & camaraderie
Florida Skydive Ultra Run
Jan 28; Clewiston, FL
100 miler, 100K, 50 miler, 50K, marathon, half marathon, 10K
From 13,500 ft to sea level, the fastest first two miles in racing
👉 Or search for more January ultra marathons
---
January International Races
Ishavkraft Marathon & Polar Night Half 🇳🇴
Jan 7; Tromsø, Norway
Marathon, half marathon, 10K, 5K
Epic Arctic adventure in the land of the Northern Lights
Vietnam Trail Marathon 🇻🇳
Jan 7; Mộc Châu, Vietnam
70K, Marathon, Half Marathon, 10K
Remote wilderness run thru fruit orchards & tea terraces
Cadbury Marathon 🇦🇺
Jan 8; Hobart (Tasmania), Australia
Marathon, Half Marathon, 10K, 5K
Hilly run starts & finishes at the Cadbury Chocolate Factory
(Registration opens in Sept)
Bermuda Triangle Challenge 🇧🇲
Jan 13–15; Hamilton, Bermuda
Marathon, Half Marathon, 10K, 1 Miler
Lose yourself in the island life at this balmy winter getaway
Egyptian Marathon 🇪🇬
Jan 13; Luxor City, Egypt
Marathon, 22.2K, 12K, 5K
Run among ancient ruins in the footsteps of pharaohs
👉 Or search for more January international races
Looking for more in-person races that may actually happen? Check out our Featured Races for:
---
Looking for more running events? Search for races by state/city or month, and try our handy Find a Race tool to search for events by name, date range, distance, location, terrain & more. Then sign up for a free account to build your wish list and start coloring in your 50 States Map!
Author: Mike Sohaskey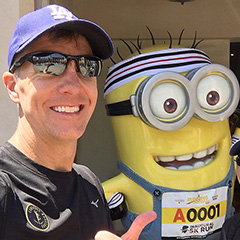 Mike Sohaskey is the co-founder of RaceRaves, the premier online reviews community for runners to share their race experiences and find their next challenge. Mike honed his creative and critical thinking skills as a research scientist, earning a Ph.D. in Cancer Biology from Stanford. He's also completed over 100 races — including 50+ marathons and ultras — in locations ranging from Antarctica to Zimbabwe.

Other RaceRaves articles you'll enjoy (trust us!)
Anniversary Races to Celebrate (2022-23)
Iconic Short-Distance Races (Summer & Fall)
Lunatic Spotlight: One Year, 100+ Races
Top Five Things You Can Do as a RaceRaves Member
Tested and Trusted Race Day Tips
And for more helpful articles, check out our blog!
Subscribe & Stay Connected
Find this article informative? Please share it, and let others know RaceRaves is the premier online resource to DISCOVER, REVIEW & TRACK all their races and to CONNECT with other runners! Plus, sign up for our newsletter to receive the best racing-related content and special offers every month!