Welcome to your RaceRaves guide to top upcoming races! Here we highlight a sampling of best bets plus some personal favorites we think you'll enjoy. (Sign up now for a free RaceRaves account to add these events & thousands more to your Future Races!)
NOTE: Unless otherwise noted, the following list includes only events that are now taking registrations for an in-person race and which, based on current information, are likely to take place. As with life, however, there are no guarantees.
🏆 = Top Rated on RaceRaves (Overall rating of at least 4.7 across 10+ reviews)
---
December Marathons
Four Corners Quad Keyah Marathon
Dec 1–4; Teec Nos Pos, AZ (UT, CO, NM)
Marathon, half marathon
Four marathons, four states, four days on the Navajo Nation
Millinocket Marathon
Dec 3; Millinocket, ME
Marathon, half marathon
Free event started to support a struggling mill town
Rehoboth Beach Seashore Marathon
Dec 3; Rehoboth Beach, DE
Marathon, half marathon
Beautiful mix of coastal scenery plus a great after-party
St. Jude Memphis Marathon
Dec 3; Memphis, TN
Marathon, half marathon, 10K, 5K
Inspirational race day benefits the courageous kids of St. Jude
BMW Dallas Marathon Festival
Dec 9–11; Dallas, TX
50K, marathon, marathon relay, half marathon, half marathon relay, 10K, 5K, 1 miler
Big D-elight is a shining star among urban marathons
Jacob Wells 3 Bridges Marathon
Dec 10; Little Rock, AR
Marathon
Hidden gem 💎 centered around the Arkansas River
Kiawah Island Marathon
Dec 10; Kiawah Island, SC
Marathon, half marathon, 5K
Winding route features grandeur & golf courses galore
Mississippi Gulf Coast Marathon
Dec 10–11; Biloxi, MS
Marathon, half marathon, 5K
Flat beachfront getaway along the Gulf of Mexico
Palm Beaches Marathon
Dec 10–11; West Palm Beach, FL
Marathon, marathon relay, half marathon, 5K
Tropical waterfront run boasts an amazing swag bag
Rocket City Marathon
Dec 10–11; Huntsville, AL
Marathon, marathon relay, front half marathon, back half marathon, 10K, 5K
AL's top marathon expands to a two-day running festival
Hawaii Bird Conservation Marathon
Dec 18; Volcano, HI
Marathon
BQ-friendly downhill starts alongside an active volcano
👉 Or search for more December marathons
---
December Half Marathons
OUC Orlando Half
Dec 3; Orlando, FL
Half marathon, 5K
"Orlando's Hometown Half" showcases The City Beautiful
Run Laughlin Half
Dec 3; Laughlin, NV
Half marathon, 12K, 5K
2 states, 2 time zones & a net downhill 4 the win
Wilmington Historic Half
Dec 3; Wilmington, NC
Half marathon, 5K
Over 3 bridges & 'round the lake to Riverfront Park we go
Nittany Valley Half
Dec 4; State College, PA
Half marathon
Hilly rural run starts & finishes on the Penn State campus
Holiday Running Festival
Dec 10–11; Pomona, CA
Half marathon, 10K, 5K
Scenic yuletide celebration on an NHRA dragstrip
Islamorada Half
Dec 10–11; Islamorada. FL
Half marathon, 10K, 5K, beer mile
Balmy destination relaxation in the Florida Keys
Foot Traffic Holiday Half
Dec 11; Portland, OR
Half marathon, 10 miler, 10K, 5K
'Tis the season for cookies, carolers & Freddi the Yeti
Santa Hustle Race Series
Dec 11/18; locations in AZ, CA, IN, NJ, TX
Half marathon, 5K
Festive multi-state series spreads the holiday cheer
👉 Or search for more December half marathons
---
December Ultra Marathons
Brazos Bend 100
Dec 3; Needville, TX
100 miler, 50 miler, marathon, half marathon
Chase a personal best in alligator country 🐊
McDowell Mountain Frenzy Trail Runs
Dec 3; Fountain Hills, AZ
50 miler, 50K, 25K, 10 miler, 5 miler
Rolling, rugged, runnable terrain in the Sonoran Desert
Tallahassee Ultra Distance Classic (TUDC)
Dec 10; Crawfordville, FL
50 miler, 50K, Marathon
Run paved 10K loops & soak your legs with the manatees
Rodeo Beach Trail Run
Dec 11; Sausalito, CA
50K, 30K, 20K, 8K
Savor breathtaking views of the San Francisco cityscape
Paramount Ranch Trail Runs
Dec 17; Agoura Hills, CA
50K, marathon, 30K, half marathon, 10K
Holiday run thru an iconic Hollywood Western movie set
The HUFF 50K Trail Run
Dec 17; Albion, IN
50K, 50K relay, 11 miler
Come for the chilly challenge, stay for the scrumptious soups
(Registration expected to open in Aug)
👉 Or search for more December ultra marathons
---
December Other Distances
Savannah Bridge Run
Dec 3; Savannah, GA
15K (10K + 5K), 10K, 5K
"Strut" your stuff with up to 3 crossings of the Savannah River
Tiger 10K
Dec 4; Baton Rouge, LA
10K, 5K
Tour the LSU campus & finish on the field at Tiger Stadium
Space Force T-Minus 10-Miler
Dec 10; Cape Canaveral, FL
10 miler
Inaugural race in the historic home of the U.S. space program
Crystal Cove Trail Run
Dec 17; Laguna Beach, CA
15K, 6K
Enjoy well-groomed trails overlooking the Pacific Ocean
👉 Or search for more December other distances
Looking for more in-person races that may actually happen? Check out our Featured Races for:
---
Looking for more running events? Search for races by state/city or month, and try our handy Find a Race tool to search for events by name, date range, distance, location, terrain & more. Then sign up for a free account to build your wish list and start coloring in your 50 States Map!
Author: Mike Sohaskey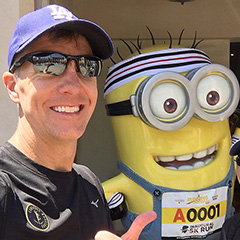 Mike Sohaskey is the co-founder of RaceRaves, the premier online reviews community for runners to share their race experiences and find their next challenge. Mike honed his creative and critical thinking skills as a research scientist, earning a Ph.D. in Cancer Biology from Stanford. He's also completed over 100 races — including 50+ marathons and ultras — in locations ranging from Antarctica to Zimbabwe.

Other RaceRaves articles you'll enjoy (trust us!)
Anniversary Races to Celebrate (2022-23)
Iconic Short-Distance Races (Summer & Fall)
Lunatic Spotlight: One Year, 100+ Races
Top Five Things You Can Do as a RaceRaves Member
Tested and Trusted Race Day Tips
And for more helpful articles, check out our blog!
Subscribe & Stay Connected
Find this article informative? Please share it, and let others know RaceRaves is the premier online resource to DISCOVER, REVIEW & TRACK all their races and to CONNECT with other runners! Plus, sign up for our newsletter to receive the best racing-related content and special offers every month!