Whether you're a first-timer seeking an unforgettable debut or a long-timer looking to rekindle your motivation, an anniversary celebration makes a memorable race weekend even better. And looking ahead, a number of popular running events are poised to celebrate milestone anniversaries in the coming months. With that in mind, and in response to the popularity of our 2021–22 rundown, here we spotlight nine notable races that celebrate their 50th (golden), 25th (silver), or 20th (platinum) anniversary in 2022–23. Because there ain't no party like an anniversary party!
Note: Only charity and virtual entries remain for the 50th running of the iconic Falmouth Road Race on Aug 21. And a shout-out to the Medtronic Twin Cities Marathon (40th year, Oct 1–2) and the JFK 50 Mile (60th year, Nov 19), both of which celebrate milestone birthdays of their own in 2022.
---
Races Celebrating Golden (50th) Anniversaries
Portland Marathon
Portland, OR; Oct 2, 2022
Marathon, half marathon
If you think "golden anniversary" implies a certain complacency, the Rose City invites you to think again. Belying its 50-year tenure, Portland's hometown race boasts a newfound focus and vitality thanks in large part to new management (as of 2019) by Brooksee, the team behind the popular REVEL Racing Series. With its new management comes a renewed commitment to the runner experience that includes thoughtful touches like race-day packet pickup or packet mailing, free race photos and videos, and even a free poncho in the event of rain—this is Portland, after all. Likewise, the reimagined Boston Qualifier course features a downtown start and finish along the waterfront, four bridge crossings (two for the half) of the Willamette River, and visits to some of the city's most vibrant and scenic neighborhoods like the Rose Quarter, the Pearl District, and the Reed College campus.
Credit Union Cherry Blossom Ten Mile Run
Washington, DC; Apr 2, 2023
10 miler, 5K
Launched three years before the inaugural Marine Corps Marathon, "The Runner's Rite of Spring" is DC's longest-running footrace and a perennially popular tour of the nation's capital. Race day coincides with the annual National Cherry Blossom Festival and, in the past 20 years, has raised more than $10 million for the Children's Miracle Network. As the seat of American government, DC offers an urban backdrop like no other, and the ten-mile course takes advantage with a start and finish alongside the Washington Monument, sightings of both the Jefferson Memorial and Lincoln Memorial, and a crossing of the Potomac River culminating in a turnaround near Arlington National Cemetery. Do note that 2023 participants will be selected by random lottery in early December. And keep your fingers crossed for a timely appearance by the event's namesake blooms, a 1912 gift from the city of Tokyo.
Kentucky Derby Festival Marathon & miniMarathon
Louisville, KY; Apr 29, 2023
Marathon, marathon relay, half marathon
The Bluegrass State's largest road race celebrates the 50th running of its miniMarathon and 22nd running of its marathon in 2023. As part of the city's annual Kentucky Derby Festival, race day represents one of more than 70 events attended by 1.5+ million people in the weeks leading up to horse racing's signature event. Starting downtown at Louisville Slugger Field, the largely flat marathon and miniMarathon courses share 12½ miles while passing local landmarks like the Louisville Slugger Museum & Factory and Conrad's Castle. But the consensus highlight arrives in mile 8 with a lap inside the gate of the legendary Churchill Downs race track, accompanied by the broadcast sounds of past Derby calls. Here, insider views of the dirt track and iconic twin spires provide a unique perspective that promises even Derby neigh-sayers a deeper appreciation for "The Greatest Two Minutes in Sports."
Races Celebrating Silver (25th) Anniversaries
Chicago Half Marathon & 5K
Chicago, IL; Sep 25, 2022
Half marathon, 5K
As the only race to completely shut down iconic Lake Shore Drive, the Chicago Half occupies an enviable niche within the city's diverse tapestry of running events. The flat out-and-back course starts alongside the Statue of the Republic (aka the "Golden Lady") in Jackson Park, site of the 1893 World Columbian Exposition. From there it travels north through Hyde Park past the Museum of Science and Industry, paralleling the shoreline to its lakefront turnaround. Runners enjoy sweeping views of Lake Michigan and the soaring city skyline before returning to the finish line in Jackson Park to celebrate with pizza, beer, and the event's trademark oversize medals. And if bling's your thing, runners who complete both the Chicago Half and May's Chicago Spring Half in the same calendar year can earn an exclusive Chicago Half Marathon Series medal to affirm their Windy City bona fides.
TBK Bank Quad Cities Marathon
Moline, IL; Sep 25, 2022
Marathon, marathon relay, half marathon, 5K, 1 miler
Success is all about timing, and the timing for this year's Quad Cities Marathon couldn't be better. Billed as its "golden" birthday, the event celebrates its 25th edition on Sept 25 with reimagined courses and a redesigned logo that pays tribute to the newly completed I-74 Mississippi River Bridge connecting Illinois and Iowa. True to its promise, race weekend features five distances that cover four cities, three bridges (including the new I-74 span), two states and one island along the mighty Mississippi. Marathoners will appreciate a key course change that relocates a potentially disheartening 10K out-and-back stretch to the start rather than the finish. And all participants will appreciate celebratory swag that includes a 25th anniversary medal (for finishers), long-sleeve shirt, beanie, gloves, socks, and poster, along with a well-deserved high-five from race director extraordinaire Joe Moreno.
Cincinnati Flying Pig Marathon 🏆
Cincinnati, OH; May 6–7, 2023
Marathon, marathon relay, half marathon, 10K, 5K, 1 miler
Given its perennial popularity, there's little doubt the Flying Pig's silver anniversary will hog the spotlight come May. One of the nation's most beloved race weekends, Flying Pig is also among its most family-friendly, community-minded and inclusive with distances ranging from one mile to the marathon, plus several piglet (kids) events and a "PigAbilities" mile for participants and supporters who live with disabilities. There's even a Flying Fur event for dogs and their humans. Both the marathon and half marathon courses start with an Ohio River crossing into Kentucky and back before heading out to face Cincinnati's notorious rolling hills, where copious amounts of enthusiasm, entertainment and bacon await. And if one finish "swine" isn't enough, upsize your anniversary earnings with the Skyline Chili 3-Way or 4-Way Challenge, named for the city's ironically pork-free signature dish.
Races Celebrating Platinum (20th) Anniversaries
Akron Marathon 🏆
Akron, OH; Sep 24, 2022
Marathon, marathon relay, half marathon
In a state that hosts its share of top-notch race weekends (see above), Ohio's fifth-largest city earns its stripes with one of the best in the U.S. While Akron's Top Rated event may lack the hype and glamour of bigger-city races, "Blue Liners" agree it delivers impeccable organization and on-course enthusiasm with keen attention to detail. Both courses offer a rolling mix of urban and suburban highlighted by the All-America Bridge, the University of Akron, and (for marathoners) Sand Run Metro Park. For sports enthusiasts, mile 26 passes St. Vincent–St. Mary High School, the alma mater of hometown hero LeBron James who began his illustrious NBA career 3½ months before the inaugural Akron Marathon. And keep an eye out in the home stretch for the recently unveiled Akron Rubber Worker Sculpture, a 12-foot-tall bronze tribute to the one-time rubber capital of the world.
Blackmores Sydney Running Festival
Sydney, Australia; Sep 18, 2022
Marathon, half marathon, 10K, 3.5K
Few cityscapes can rival the visual allure of Sydney Harbour, and its running festival smartly plays to that strength. Headlined by the marathon, the sole remaining legacy of the 2000 Summer Olympics and a World Athletics Gold Label event, the Sydney Running Festival hosts 30,000+ participants from across the globe and is the only day of the year on which the main deck of the Sydney Harbour Bridge closes to vehicular traffic. It's also the only annual running event in Australia to be broadcast live. The marathon and half marathon start at one iconic landmark (Harbour Bridge) and finish at another (Sydney Opera House) while in between showcasing parks, commercial districts, residential neighborhoods, and naturally Sydney Harbour itself—all under the watchful gaze of Sydney Tower Eye, the highest point in the city and the second-tallest observation tower in the Southern Hemisphere.
Salt Lake City Marathon
Salt Lake City, UT; Apr 22, 2023
Marathon, half marathon, 10K run or skate, 5K, bike tour
Start with one of America's most picturesque cities, add a generous lineup of events plus a pinch of altitude, season with the anticipation of a 20th anniversary, and the platinum edition of the Salt Lake City Marathon promises to be the most memorable to date. Nestled between the Wasatch Mountains & the Great Salt Lake, Salt Lake City welcomes the entire family with events and distances that cater to runners, cyclists, and skaters alike. Boasting gorgeous mountain views (Mother Nature permitting), the rolling marathon and half marathon courses visit local landmarks like the Olympic Legacy Bridge on the University of Utah campus, Eagle Gate Monument, and Salt Lake Temple before finishing in Library Square in the heart of downtown. There, finishers can toast their accomplishment at the post-race beer garden while taking advantage of free medal engraving, one of the event's most inspired perks.
---
Looking for more running events? Search for races by state/city or month, and try our handy Find a Race tool to search for events by name, date range, distance, location, terrain & more. Then sign up for a free account to build your wish list and start coloring in your 50 States Map!
Author: Mike Sohaskey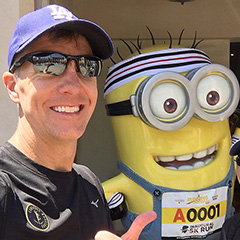 Mike Sohaskey is the co-founder of RaceRaves, the premier online reviews community for runners to share their race experiences and find their next challenge. Mike honed his creative and critical thinking skills as a research scientist, earning a Ph.D. in Cancer Biology from Stanford. He's also completed over 100 races — including 50+ marathons and ultras — in locations ranging from Antarctica to Zimbabwe.

Other RaceRaves articles you'll enjoy (trust us!):
Nov Featured Races You Need to Know About
Iconic Short-Distance Races (Summer & Fall)
Lunatic Spotlight: One Year, 100+ Races
Tested and Trusted Race Day Tips
Top Five Things You Can Do as a RaceRaves Member
And for more helpful articles, check out our blog!
Subscribe & Stay Connected
Find this article informative? Please share it, and let others know RaceRaves is the premier online resource to DISCOVER, REVIEW & TRACK all their races and to CONNECT with other runners! Plus, sign up for our newsletter to receive the best racing-related content and special offers every month!