Welcome to your RaceRaves guide to top upcoming races! Here we highlight a sampling of "best bets" for January 2022 as well as some personal favorites we think you'll enjoy.
NOTE: Scheduling remains fluid, and some January races have yet to open registration. Unless otherwise noted, the following list includes only events that are now taking registrations for an in-person race and which, based on current information, are likely to take place. As with life, however, there are no guarantees.
🏆 = Top Rated on RaceRaves (Overall rating of at least 4.7 across 10+ reviews)
---
January Marathons
Walt Disney World Marathon Weekend
Jan 6–9; Lake Buena Vista, FL
Marathon, half marathon (sold out), 10K (sold out), 5K (sold out)
Family-friendly weekend celebrates WDW's 50th anniversary
Charleston Marathon
Jan 15; Charleston, SC
Marathon, half marathon, 5K
Charming port city welcomes winter snowbirds
Houston Marathon
Jan 15–16; Houston, TX
Marathon, half marathon, 5K
Fast & flat BQ favorite deep in the heart of Texas
Louisiana Marathon 🏆
Jan 15–16; Baton Rouge, LA
Marathon, half marathon, quarter marathon, 5K
Southern hospitality & one of the best finish festivals in the biz
Carlsbad Marathon
Jan 16; Carlsbad, CA
Marathon, half marathon, 5K
Nothing says "winter" like ocean views & SoCal sunshine
Jekyll Island Marathon
Jan 16; Jekyll Island, GA
Marathon, half marathon, 10K
"Hyde" from the winter blues at this popular coastal retreat
Maui Oceanfront Marathon
Jan 16; Lahaina, HI
Double marathon, marathon, half marathon, 15K, 10K, 5K
Gorgeous oceanfront run with potential whale sightings
Red Rock Canyon Marathon
Jan 22; Las Vegas, NV
Marathon, half marathon, 5K
Hilly double loop showcases the magnificent Mojave Desert
Big Beach Marathon
Jan 29–30; Gulf Shores, AL
Marathon, half marathon, 7K
Festive beachside beauty on the Gulf of Mexico
Town of Celebration Marathon 🏆
Jan 30; Celebration, FL
Marathon, half marathon
Small-town gem 💎 a short drive from Walt Disney World
---
January Half Marathons
Deschutes River Half
Jan 1; Maupin, OR
Half marathon, 2 miler
Kick off the New Year at this scenic riverfront out & back
Shark Bite Half
Jan 15–16; New Smyrna Beach, FL
Half marathon, 5K
Expect a fin-tastic time in the Shark Bite Capital of the World
Key West Half
Jan 16; Key West, FL
Half marathon, 5K
Oceanfront tour of the southernmost city in the U.S.
3M Half
Jan 23; Austin, TX
Half marathon
Net downhill course + top-notch swag = a capital experience
Miracle Match Race Series 🏆
Jan 29–30; Waco, TX
Half marathon, half marathon relay, 10K, 5K, 1 miler
"The Toughest in TX" supports marrow & stem cell donation
---
January Ultra Marathons
Avalon Benefit 50 Miler / 50K Run
Jan 8; Avalon, CA
50 Miler, 50K
Run among the bison on stunning Catalina Island 🦬
Big Bend Ultra
Jan 16; Terlingua, TX
50 Miler, 50K, 30K, 20K, 10K
Dramatic desert vistas on the trails of Big Bend State Park
Mountain Mist 50K Trail Run
Jan 22; Huntsville, AL
50K
Mud, creek crossings & rugged, technical terrain
Arches Ultra
Jan 29; Moab, UT
50 Miler, 50K, half marathon, 9K
Sand & slickrock a stone's throw from Arches Natl Park
Florida Skydive Ultra Run
Jan 29; Clewiston, FL
100 miler, 100K, 50 miler, 50K, marathon, half marathon, 10K
Adrenaline aficionados, meet the fastest first two miles in racing
Looking for more in-person races that may actually happen? Check out our Featured Races for:
---
Looking for more running events? Search for races by state/city or month, and try our handy Find a Race tool to search for events by name, date range, distance, location, terrain & more. Then sign up for a free account to build your wish list and start coloring in your 50 States Map!
Author: Mike Sohaskey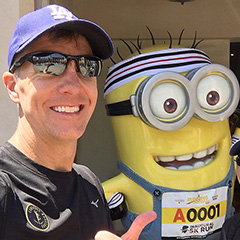 Mike Sohaskey is the co-founder of RaceRaves, the premier online reviews community for runners to share their race experiences and find their next challenge. Mike honed his creative and critical thinking skills as a research scientist, earning a Ph.D. in Cancer Biology from Stanford. He's also completed over 100 races — including 50+ marathons and ultras — in locations ranging from Antarctica to Zimbabwe.

Other RaceRaves articles you'll enjoy (trust us!)
Anniversary Races Worth Celebrating (2021–22)
Top Five Things You Can Do as a RaceRaves Member
Tested and Trusted Race Day Tips
Lunatic Spotlight: 50 States the Hard(er) Way
Toughest Road Marathons in North America
Unconventional Races that dare to be different
And for more helpful articles, check out our blog!
Subscribe & Stay Connected
Find this article informative? Please share it, and let others know RaceRaves is the premier online resource to DISCOVER, REVIEW & TRACK all their races and to CONNECT with other runners! Plus, sign up for our newsletter to receive the best racing-related content and special offers every month!