Welcome to your RaceRaves guide to top upcoming races! Here we highlight a sampling of December "best bets" as well as some personal favorites we think you'll enjoy.
NOTE: Scheduling remains fluid, and many December races (some of which moved from early 2021) have yet to open registration. Unless otherwise noted, the following list includes only events that are now taking registrations for an in-person race and which, based on current information, are likely to take place. As with life, however, there are no guarantees.
---
December Marathons
Millinocket Marathon
Dec 4; Millinocket, ME
Marathon, half marathon
Free event created to boost the region's struggling economy
St. Jude Memphis Marathon
Dec 4; Memphis, TN
Marathon, half marathon, 10K, 5K
Run for the courageous kids of St. Jude
Tucson Marathon
Dec 4; Tucson, AZ
50K, marathon, marathon relay, half marathon
Downhill desert favorite ideal for PRs & BQs
(Save $10 with code RACERAVES by Aug 18)
Dallas Marathon Festival
Dec 11–12; Dallas, TX
50K, marathon, marathon relay, half marathon, half marathon relay, 10K, 5K
Expect a Big D(eal) as Dallas celebrates its 50th year
Hoover Dam Marathon
Dec 11; Boulder City, NV
Marathon, marathon relay, half marathon, 10K, 5K
Hilly road/trail hybrid overlooks Lake Mead & Hoover Dam
Kiawah Island Marathon
Dec 11; Kiawah Island, SC
Marathon, half marathon, 5K
"Quaint little island race" boasts gators, golfers & grandeur
Mississippi Gulf Coast Marathon
Dec 11–12; Pass Christian, MS
Marathon, half marathon, 5K
Flat, beachside point-to-point with a stadium finish
Rocket City Marathon
Dec 11; Huntsville, AL
Marathon, marathon relay, half marathon
AL's best marathon gets creative with a comic-book themed event
Honolulu Marathon
Dec 12; Honolulu, HI
Marathon, 10K, 1 miler
Runners & walkers embrace the Aloha Spirit with no time limit
---
December Half Marathons
Fayetteville Half
Dec 4; Fayetteville, AR
Half marathon, 10K, 5K
Double-loop course highlighted by Univ. of Arkansas campus
OUC Orlando Half
Dec 4; Orlando, FL
Half marathon, 5K
Non-Disney downtown tour of The City Beautiful
Run Laughlin Half
Dec 4; Laughlin, NV
Half marathon, 12K, 5K
Scenic, net downhill run spans two states & two time zones
Wilmington Historic Half
Dec 4; Wilmington, NC
Half marathon, 5K
Three bridge crossings, top-notch swag & a riverwalk finish
La Jolla Half Marathon
Dec 11; Del Mar, CA
Half marathon, 5K
Welcome in winter with SoCal sunshine & coastal breezes
Napa to Sonoma Wine Country Half
Dec 11–12; Napa, CA
Half marathon, 5K
The nation's premier wine country race makes its Dec debut
Santa Hustle Race Series
Dec 11, 12 & 19; five locations in AZ, CA, OH, TN, TX
Half marathon, 5K
The jolliest race of the year delivers the yuletide cheer
Jeff Galloway 13.1 Race Weekend
Dec 18–19; Atlanta, GA
Half marathon, half marathon relay, 5K
Legendary run/walk coach hosts runners in Midtown ATL
---
December Ultra Marathons
Brazos Bend 100
Dec 4; Needville, TX
100 miler, 50 miler, marathon, half marathon
Watch for gator spectators on this fast, flat loop course
Crooked Creek Ultra Trail Race
Dec 4–5; Shepherdsville, KY
100 miler, 50 miler, marathon, half marathon
Inaugural challenge from the creators of the top-rated Falls 100
OTHTC High Desert 50K Ultra & 30K
Dec 5; Ridgecrest, CA
50K, 30K
Great first-time ultra on sandy trails in the Mojave Desert
The HUFF 50K Trail Run
Dec 18; Albion, IN
50K, 50K relay, 11 miler
Frosty-footed run thru the woods w/ hot soup at aid stations 😋
Across the Years
Dec 28–Jan 7; Phoenix, AZ
Last runner standing, 10 days, 6 days, 72 hr, 48 hr, 24 hr, 12 hr, 6 hr, 100 miler, marathon
Ring in the New Year at this iconic ultrarunning party
December Other Distances
Savannah Bridge Run
Dec 4; Savannah, GA
10K, 5K
Test your legs with 1, 2, or 3 trips over the Savannah River
Tiger 10K
Dec 5; Baton Rouge, LA
10K, 5K
Join the LSU community & finish on the 50 at Tiger Stadium
Santa Hustle Race Series
Dec 4–5; Chicago, Indianapolis & Milwaukee
5K only
Kick off the holidays in festive, family-friendly fashion
More December other distances…
Looking for more in-person races that may actually happen? Check out our Featured Races for:
---
Looking for more running events? Search for races by state/city or month, and try our handy Find a Race tool to search for events by name, date range, distance, location, terrain & more. Then sign up for a free account to build your wish list and start coloring in your 50 States Map!
Author: Mike Sohaskey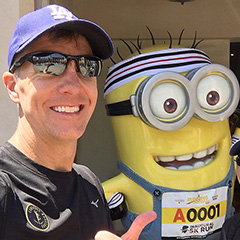 Mike Sohaskey is the co-founder of RaceRaves, the premier online reviews community for runners to share their race experiences and find their next challenge. Mike honed his creative and critical thinking skills as a research scientist, earning a Ph.D. in Cancer Biology from Stanford. He's also completed over 100 races — including 50+ marathons and ultras — in locations ranging from Antarctica to Zimbabwe.

Other RaceRaves articles you'll enjoy (trust us!)
Tested and Trusted Race Day Tips
Lunatic Spotlight: 50 States the Hard(er) Way
Toughest Road Marathons in North America
Running on all seven continents
Unconventional Races that dare to be different
And for more helpful articles, check out our blog!
Subscribe & Stay Connected
Find this article informative? Please share it, and let others know RaceRaves is the premier online resource to DISCOVER, REVIEW & TRACK all their races and to CONNECT with other runners! Plus, sign up for our newsletter to receive the best racing-related content and special offers every month!