With the past year bringing the events industry to a standstill, the return of racing season is a reason to rejoice. Adding to the optimism, a number of notable events celebrate milestone anniversaries in 2021–2022. For the novice runner seeking the perfect first-time marathon/half marathon or the seasoned veteran in search of motivation, the distinctive energy (and swag) of an anniversary celebration makes a memorable race weekend even better.
Here we spotlight ten popular races that celebrate their golden (50), silver (25), or platinum (20) anniversaries in the coming months. This being their anniversary campaign, many are tracking ahead of their usual registration numbers or even on pace to sell out, a situation expedited in some cases by smaller-than-usual field size limits. Fortunately, all of the events on this list offer virtual options that allow participants to join the celebration remotely. So party on!
Note: The TCS New York City Marathon, the world's largest, celebrates its 50th running on Nov 7; unfortunately, due to this year's dramatically reduced field size, only guaranteed entries were accepted and only charity (and virtual) entries remain.
---
Races Celebrating Golden (50th) Anniversaries
Space Coast Marathon
Cocoa, FL; Nov 28, 2021
Marathon, North Half Marathon, South Half Marathon
Inspired by its proximity to the Kennedy Space Center and now in its 50th year, Space Coast is poised to boldly go where no Florida marathon has gone before. The "breathtaking course," illuminated by the rising sun, runs entirely along the Indian River on dual out-and-back sections that serve as distinct courses for the event's two half marathons. Race swag features the "amazing" Big Bang Series of finisher medals (including this year's Space Shuttle Program medal) that celebrate our nation's history of manned space flight. And though you may be forgiven for expecting a space blanket at this of all finish lines, participants applaud the choice of a space-themed finisher towel that's perfect for more terrestrial endeavors. With its Florida sunshine, riverfront setting, and enthusiastic runners who hail it as an "overall perfect event," Space Coast's golden anniversary weekend has out-of-this-world potential.
Holualoa Tucson Marathon
Oracle, AZ; Dec 4, 2021
50K, marathon, marathon relay, half marathon
Come for the celebration, stay for the BQ! The Grand Canyon State's oldest marathon owes much of its popularity to its point-to-point downhill course, which together with the region's mild December temperatures produces a healthy percentage of personal bests and Boston Qualifying times. And new this year, the inaugural Oracle to Catalina 50K welcomes runners looking to step up to the ultramarathon distance on largely the same downhill course. BQ potential aside, the Sonoran Desert steals the show on race day with its magnificent start-line sunrise, specialized flora, and rugged Santa Catalina Mountains always visible on the horizon. What's more, Tucson's golden anniversary finisher medal depicts one of the desert's most storied residents, the iconic roadrunner. And for traveling runners, what better time than year 50 to cross Arizona off your 50 States bucket list?
BMW Dallas Marathon Festival
Dallas, TX; Dec 10–12, 2021
50K, marathon, marathon relay, half marathon, half marathon relay, 10K, 5K, 1 miler
Expect a Big D(eal) when Texas' longest-running marathon celebrates its 50th year. Starting and finishing at City Hall in the shadow of Reunion Tower, the urban course showcases some of the city's most vibrant neighborhoods including Lakewood, White Rock Lake, and the Deep Ellum entertainment district. With distances ranging from a Friday Night Lights Mile to a 50K ultramarathon along with free kids races, Dallas lives up to its promise as a family-friendly running festival. Plus, as an official qualifying race for the Abbott World Marathon Majors Wanda Age-Group World Rankings, competitive and recreational runners alike will find a reason to run Dallas. And even race weekend is bigger in Texas, as every participant in this year's 50th anniversary celebration is automatically entered to win a Special Edition 2021 BMW 4 Series Coupe courtesy of the title sponsor. Not a bad gift to take home for the holidays.
Chevron Houston Marathon
Houston, TX; Jan 15–16, 2022
Marathon, half marathon, 5K
For intrepid runners, Dallas and Houston celebrating 50 years just five weeks apart is the ultimate Texas two-step and a golden opportunity. It also promises to be a short-lived one; as of this writing, limited entries remain for both the marathon and half marathon in the state's largest city. Houston's perennial appeal lies in its world-class production, on-course Hoopla stations and temperate winter weather. Adding to the weekend's excitement, the fast, flat course regularly attracts an elite field primed to get the racing season off to a fast start, with both the men's (Ryan Hall, 2007) and women's (Molly Huddle, 2018) American half marathon records having been set on Houston roads. And for runners eager to maximize their anniversary bling, the 50 Miles for 50 Years Training Challenge will help keep your training on track and earn you a bonus medal while benefiting the Houston Marathon Foundation.
Yuengling Shamrock Marathon Weekend
Virginia Beach, VA; Mar 19–20, 2022
Marathon, half marathon, 8K
It takes more than the luck of the Irish to stay relevant for 50 years—just ask the team at the Yuengling Shamrock Marathon, a St. Patrick's Day tradition for half a century. With the oceanfront resort town of Virginia Beach as its centerpiece, the fast, flat course leads runners past charming coastal homes and through Fort Story Army Base and Camp Pendleton before finishing on the beach boardwalk alongside the Atlantic Ocean and just beyond a Titan-sized statue of King Neptune. For runners looking to super-size the celebration, the Dolphin Challenge (half marathon + 8K) and Whale Challenge (marathon + 8K) offer marine mammal medals for more miles. With "swag galore" (including a comfy finisher blanket), pitch-perfect production, and an energetic finish line celebration that's among the best in the biz, the Yuengling Shamrock Marathon stands poised to #ShamrockOn into the next 50 years.
Races Celebrating Silver (25th) Anniversaries
Surf City Marathon
Huntington Beach, CA; Sep 10–11, 2021
Marathon, half marathon, 5K, 1 miler
Bring your sunscreen and say "so long" to summer at California's Classic Oceanfront Marathon. Normally held on Super Bowl Sunday, public health considerations moved this year's silver anniversary celebration to September. Date change aside, Surf City is a feel-good race in a feel-good place at any time of the year, with a start and finish on Pacific Coast Highway near the Huntington Beach Pier, a largely flat course that boasts 19 miles along the Pacific Ocean, and timeless surfboard finisher medals that stand out in any collection. For friends and family who'd rather not step off the sand (and who can blame 'em?), the Cowabunga Beach Mile has got them covered. In fact, ocean envy need not be a concern for either runners or spectators, as both the pre-race Active Lifestyle Expo and post-race Finish Line Festival take place—you guessed it—on the beach.
Air Force Marathon
Wright-Patterson Air Force Base, OH; Sep 18, 2021
Marathon, marathon relay, half marathon, 10K, 5K
UPDATE (Aug 19): Due to increased COVID-19 transmission rates both locally and statewide, the in-person Air Force Marathon has transitioned to a virtual event.
Since 1997, Wright-Patterson AFB has welcomed service members and civilians alike for an annual celebration of marathon running and military might. Starting and finishing at the National Museum of the United States Air Force, the sparsely shaded course leads runners around the base and through the surrounding neighborhoods, including a short stretch on the campus of Wright State University. Finishers receive a 25th anniversary medal presented by an Air Force Senior Leader, while the Fly! Fight! Win! Challenge (comprising the Friday 5K, Saturday 10K, and Saturday marathon or half) ensures you'll go home as one of the weekend's most decorated runners. And spot-on for its silver anniversary edition, this year's event features as its guest speaker Olympic 5,000m silver (Rio, 2016) and bronze (Tokyo, 2020) medalist and U.S. Army veteran Paul Chelimo.
Races Celebrating Platinum (20th) Anniversaries
Golden Gate Half Marathon
San Francisco, CA; Nov 7, 2021
Half marathon, 5K
Its platinum anniversary notwithstanding, any reason is a good reason to run the world's most iconic bridge in the nation's most beautiful running city. And the fact that GGH is the only half marathon to cross the Golden Gate Bridge in 2021 makes its anniversary celebration that much sweeter. Starting along the waterfront in Aquatic Park, you'll cross over to Golden Gate National Recreation Area and back on the bridge's walkways while enjoying "San Francisco's best views" of Alcatraz, Fisherman's Wharf, and the soaring skyline of the city's Financial District. Stunning views like these don't come easy, and the climbs up to the bridge on each end will make you appreciate this "magical moment" all the more. After the race, keep the celebration going in the finish festival beer garden and treat yourself to some of the country's best chocolate at Ghirardelli Square, conveniently located alongside the finish line.
St. Jude Memphis Marathon
Memphis, TN; Dec 4, 2021
Marathon, half marathon, 10K, 5K
For 20 years, runners have flocked to the Birthplace of Rock and Roll to sing the praises of St. Jude and support its mission to prevent, treat, and cure childhood catastrophic diseases. This year's newly designed marathon course starts in the historic Beale Street Entertainment District and finishes at AutoZone Park, with a crosstown visit to sprawling Overton Park and the beautifully landscaped homes of Hein Park. But the hands-down highlight arrives in mile 2 with an emotional stretch through the St. Jude campus where patients, their families and onlookers gather to cheer. As St. Jude's largest one-day fundraiser of the year, runners can expect "top-notch organization" and "great crowd support" along with the obligatory Elvis impersonator or two. And add motivation to your miles by raising funds as a St. Jude Hero to earn a personal best feeling, no matter how fast or how far you run.
Life Time Miami Marathon
Miami, FL; Feb 5–6, 2022
Marathon, half marathon, 5K
For runners looking to escape the dead of winter, the streets of Miami come alive for the 20th anniversary of its "always awesome" event celebrating the people, culture and beauty of South Beach. And how better to commemorate the Magic City's own 125 years? The flat, sea-level course starts at FTX Arena (home of the NBA's Miami Heat) and immediately crosses the MacArthur Causeway into Miami Beach with sweeping views of Biscayne Bay, returning via the Venetian Causeway before heading south to finish at Bayfront Park. Along the way, you'll feel #MiamiFamous thanks to the South Florida climate and "international spirit," plus a generous 7-hour time limit that lets you soak it all in. So this winter ditch the scarves and don the shades, but don't delay—the platinum anniversary edition will be capped at 15,000 runners (down from the usual 22,000), so wait too long and you risk being left out in the cold.
---
Looking for more running events? Search for races by state/city or month, and try our handy Find a Race tool to search for events by name, date range, distance, location, terrain & more. Then sign up for a free account to build your wish list and start coloring in your 50 States Map!
Author: Mike Sohaskey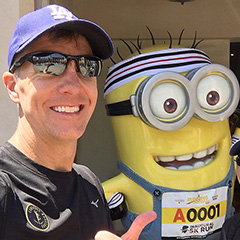 Mike Sohaskey is the co-founder of RaceRaves, the premier online reviews community for runners to share their race experiences and find their next challenge. Mike honed his creative and critical thinking skills as a research scientist, earning a Ph.D. in Cancer Biology from Stanford. He's also completed over 100 races — including 50+ marathons and ultras — in locations ranging from Antarctica to Zimbabwe.

Other RaceRaves articles you'll enjoy (trust us!):
Dec Featured Races that may actually happen
Top Five Things You Can Do as a RaceRaves Member
Tested and Trusted Race Day Tips
Lunatic Spotlight: 50 States the Hard(er) Way
Toughest Road Marathons in North America
Unconventional Races that dare to be different
And for more helpful articles, check out our blog!
Subscribe & Stay Connected
Find this article informative? Please share it, and let others know RaceRaves is the premier online resource to DISCOVER, REVIEW & TRACK all their races and to CONNECT with other runners! Plus, sign up for our newsletter to receive the best racing-related content and special offers every month!