Welcome to your RaceRaves guide to top upcoming races! Here we highlight a sampling of best bets and personal favorites to help you hit the ground running this spring.
Sign up now for a free RaceRaves account to add these events & thousands more to your Future Races.
NOTE: Unless otherwise noted, the following list includes only events that are now taking registrations for an in-person race.
🏆 = Top Rated (Overall rating of at least 4.7 across 10+ reviews)
---
April Marathons
REVEL Mt Charleston
Apr 1; Las Vegas, NV
Marathon, half marathon
Speedy desert downhill is a perennial BQ favorite
GO! St. Louis Marathon (above)
Apr 1–2; St. Louis, MO
Marathon, marathon relay, half marathon, 10K, 5K
Celebrate spring in the Gateway to the West
Coastal Delaware Running Festival
Apr 15–16; Rehoboth Beach, DE
Marathon, half marathon, 9K, 5K
Road/trail hybrid starts & finishes on the boardwalk
2Slow4Boston Marathon 🏆
Apr 16; Greer, SC
Marathon, half marathon
High-value, low-pressure event caters to slower runners
Foot Levelers Blue Ridge Marathon 🏆
Apr 22; Roanoke, VA
Double marathon, marathon, marathon relay, half marathon, 10K, 1 miler
"America's Toughest Road Marathon" is both beauty & beast
Salt Lake City Marathon
Apr 22; Salt Lake City, UT
Marathon, half marathon, 10K, 5K, bike tour
Rolling route through Utah's capital marks its 20th year
Maui Marathon 🏆
Apr 23; Lahaina, HI
Marathon, half marathon, 10K, 5K
Oceanfront course makes for prime whale watching 🐳
Eisenhower Marathon
Apr 29; Abilene, KS
Marathon, half marathon, 10K, 5K
Friendly, small-town race in Ike's final resting place
Eau Claire Marathon 🏆
Apr 29–30; Eau Claire, WI
Marathon, marathon relay, half marathon, 10K, 5K
Scenic Midwestern gem 💎 features 8 bridge crossings

Eugene Marathon 🏆
Apr 29–30; Eugene, OR
Marathon, half marathon, 5K
Tour of TrackTown USA finishes on iconic Hayward Field
Oklahoma City Memorial Marathon
Apr 29–30; Oklahoma City, OK
Marathon, marathon relay, half marathon, 5K
Emotional Run to Remember is a unifying celebration of life
👉 Or search for more April marathons
---
April Half Marathons
Savannah Women's Half 🏆
Apr 1; Savannah, GA
Half marathon, 5K
Energetic girls getaway in the Hostess City of the South
Rock the Parkway
Apr 8; Kansas City, MO
Half marathon, 5K
Scenic, philanthropic fan favorite is a KC masterpiece
Havasu Half
Apr 15; Lake Havasu City, AZ
Half marathon, 5K
Cross over & under the London Bridge on the Colorado River
Helderberg to Hudson Half
Apr 15; Albany, NY
Half marathon
Speedy downhill + few turns = PR potential
Race to Robie Creek
Apr 15; Boise, ID
Half marathon
What goes up must come down 2,000 ft at a time
(Registration opens Feb 20)
Hapalua Half
Apr 16; Honolulu, HI
Half marathon
Embrace the Aloha spirit free of time limits 🌺
The Split Half 🏆
Apr 16; Spokane, WA
Half marathon, 10K, 5K
Riverfront out and back showcases the best of Spokane
RussVegas Half 🏆
Apr 21–22; Russellville, AR
Half marathon, 10K, 5K
Roll the dice on the Arkansas River Valley's hidden gem
Southern Utah Half
Apr 22; Washington, UT
Half marathon
Point-to-point descent starts w/ sunrise over Zion Natl Park
Christie Clinic Illinois Race Weekend
Apr 27–29; Champaign, IL
Marathon relay, half marathon, 10K, 5K, 1 miler
Well-supported loop finishes in UIUC's Memorial Stadium
Kentucky Derby Festival miniMarathon
Apr 29; Louisville, KY
Marathon, marathon relay, half marathon
Kentucky's largest race day celebrates its 50th running
👉 Or search for more April half marathons
---
April Ultra Marathons
Lake Sonoma 50 Mile
Apr 7–8; Geyserville, CA
50 miler, marathon, half marathon
Festive weekend fosters community & competition
(Last-chance 50M registration opens Dec 5)
Lake McMurtry Trail Run
Apr 8; Stillwater, OK
100K, 50K, 25K, 12K, 5K
Enjoy miles of runnable single track at OK's oldest trail race
Ancient Lakes Trail Run
Apr 8–9; Quincy, WA
50 miler, 50K, 25K, 10K
Discover a desert oasis of lakes, waterfalls & wildflowers
Zion Ultras & Trail Half
Apr 15–16; Apple Valley, UT
100 miler, 100K, 50K, half marathon
Desert challenge boasts epic views of Zion's sandstone cliffs
Mad City Ultras
Apr 22; Madison, WI
50K, 50K relay (100K will return in 2024)
Paved urban loop will feed your need for speed
👉 Or search for more April ultra marathons
---
April Other Distances
Cooper River Bridge Run
Apr 1; Charleston, SC
10K
"Amazing" energy & "spectacular" views of Charleston
Credit Union Cherry Blossom Ten Mile Run
Apr 1–2; Washington, DC
10 miler, 5K
The "Runner's Rite of Spring" celebrates 50 years 🌸
Carlsbad 5000
Apr 2; Carlsbad, CA
20K (5K x 4), 5K
"The World's Fastest 5K" welcomes all ages & abilities
Crescent City Classic 10K
Apr 8; New Orleans, LA
10K
Big Easy original is a lively party from start to finish
Pat's Run
Apr 15; Tempe, AZ
4.2 miler
Patriotic fundraiser honors the legacy of Pat Tillman
(Registration opens soon)
Statesman Cap10K
Apr 16; Austin, TX
10K
Rocking & rolling urban loop front-loads the hills
👉 Or search for more April races of other distances
---
April International Races
Ibiza Marathon 🇪🇸
Apr 1; Ibiza, Spain
Marathon, 22K, 12K
Picturesque run on a hedonistic Mediterranean island
Berlin Half 🇩🇪
Apr 2; Berlin, Germany
Half marathon
Savor the sights, sounds & spirit of Berlin

Schneider Electric Paris Marathon 🇫🇷
Apr 2; Paris, France
Marathon
Eiffel Tower to the left of me, Louvre to the right, oh là là
Two Oceans Marathon 🇿🇦
Apr 15–16; Cape Town, South Africa
56K, half marathon
Breathtaking course is a Cape Town treasure
Great Limerick Run 🇮🇪
Apr 30; Limerick, Ireland
Marathon, marathon relay, half marathon, 6 miler
Vibrant community effort w/o the lottery angst of Dublin
👉 Or search for more April international races
Looking for more in-person races that may actually happen? Check out our Featured Races for:
---
Looking for more running events? Search for races by state/city or month, and try our handy Find a Race tool to search for events by name, date range, distance, location, terrain & more. Then sign up for a free account to build your wish list and start coloring in your 50 States Map!
Author: Mike Sohaskey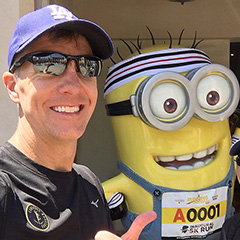 Mike Sohaskey is the co-founder of RaceRaves, the premier online reviews community for runners to share their race experiences and find their next challenge. Mike honed his creative and critical thinking skills as a research scientist, earning a Ph.D. in Cancer Biology from Stanford. He's also completed over 100 races — including 50+ marathons and ultras — in locations ranging from Antarctica to Zimbabwe.

Other RaceRaves articles you'll enjoy (trust us!)
Iconic Short-Distance Races (Spring)
Coach Denise: Breaking Through The Wall
Anniversary Races to Celebrate (2022-23)
Top Five Things You Can Do as a RaceRaves Member
Tested and Trusted Race Day Tips
And for more helpful articles, check out our blog!
Subscribe & Stay Connected
Find this article informative? Please share it, and let others know RaceRaves is the premier online resource to DISCOVER, REVIEW & TRACK all their races and to CONNECT with other runners! Plus, sign up for our newsletter to receive the best racing-related content and special offers every month!