Welcome to your RaceRaves guide to top upcoming races! Here we highlight a sampling of best bets and personal favorites to help you shrug off winter and welcome in spring.
Sign up now for a free RaceRaves account to add these events & thousands more to your Future Races.
NOTE: Unless otherwise noted, the following list includes only events that are now taking registrations for an in-person race.
🏆 = Top Rated (Overall rating of at least 4.7 across 10+ reviews)
---
March Marathons
Coast Guard Marathon 🏆
Mar 3–4; Elizabeth City, NC
Marathon, half marathon, 5K
Run with the Coasties on one of the nation's flattest courses
Little Rock Marathon
Mar 4–5; Little Rock, AR
Marathon, half marathon, 10K, 5K
Groovy weekend of peace, love & far-out finisher medals
Newport News One City Marathon
Mar 4–5; Newport News, VA
Marathon, half marathon, 5K
Coastal BQ favorite shows runners a good mari-time
Napa Valley Marathon
Mar 5; Calistoga, CA
Marathon, half marathon, 5K
Lovely, laid-back run along the iconic Silverado Trail
Sand Hollow Marathon
Mar 11; Hurricane, UT
Marathon, half marathon
Postcard-perfect scenery in stunning Southern Utah
Zydeco Marathon
Mar 11–12; Lafayette, LA
Marathon, half marathon, half marathon relay, 5K
Double loop in the beating heart of Cajun Country
Los Angeles Marathon (above)
Mar 18–19; Los Angeles, CA
Marathon, charity half marathon, 5K
America's entertainment capital rolls out the red carpet
Yuengling Shamrock Marathon
Mar 18–19; Virginia Beach, VA
Marathon, half marathon, 8K
Flat course, great swag & a beachfront after party
Bataan Memorial Death March
Mar 19; White Sands, NM
Marathon, 14 miler
High-desert road/trail hybrid honors WWII heroes 🇺🇸
B&A Trail Marathon
Mar 26; Severna Park, MD
Marathon, half marathon
Low-key, well-organized run on paved rails-to-trails path
(Registration opens Dec 3)
👉 Or search for more March marathons
---
March Half Marathons
Berry Half
Mar 4; Mount Berry, GA
Half marathon, 10K, 5K
Appalachian gem 💎 tours the world's largest college campus
Zion Half 🏆
Mar 4; Springdale, UT
Half marathon
Chase the sunrise past red rocks & soaring sandstone
305 Half
Mar 5; Miami Beach, FL
Half marathon, 5K
Seductive alternative to the sold-out Miami Half Marathon
NYC Half 🏆
Mar 19; New York City, NY
Half marathon
Supersized half from Brooklyn to Manhattan via Times Square
(Application window closes Nov 16)
Garden Spot Village Half
Mar 25; New Holland, PA
Half marathon, 10K
Relentlessly rolling route thru beautiful Amish farmlands
Liberty Half
Mar 25; Liberty, MO
Half marathon, 5K
Big hills, bigger crowd support & the biggest medals
Tuscaloosa Half
Mar 25; Tuscaloosa, AL
Half marathon, 5K
AL's largest college town puts its best foot forward
Great Bay Half
Mar 26; Newmarket, NH
Half marathon, 5K
Hilly route rewards with views of the Great Bay Estuary
Love Run Philadelphia
Mar 26; Philadelphia, PA
Half marathon, 7.6K
Feel the brotherly love at Philly's festive spring fling
San Diego Half
Mar 26; San Diego, CA
Half marathon, 5K
Spectacular urban loop finishes in the Gaslamp Quarter
👉 Or search for more March half marathons
---
March Ultra Marathons
Way Too Cool 50K
Mar 4; Cool, CA
50K
The nation's most popular trail 50K brings the beauty
Antelope Canyon Ultras
Mar 11; Page, AZ
100 miler, 50 miler, 55K, half marathon
Slickrock, sand & slot canyons on sacred Navajo land
(55K, half marathon sold out)
Rabid Raccoon 100
Mar 18–19; Hookstown, PA
100 miler, 100 mile relay, 100K, 20 miler
20-mile loops on single track w/ a lakefront finish
The Pistol Ultra Run
Mar 18–19; Alcoa, TN
100 miler, 100K, 50 miler, 50K, marathon, half marathon
Pull the trigger on this well-supported urban ultra
HAT Run 50K
Mar 25; Havre De Grace, MD
50K
Mixed-terrain trails explore Susquehanna State Park
(Registration opens Nov 25)
👉 Or search for more March ultra marathons
---
March International Races
Ultra Marathon Caballo Blanco 🇲🇽
Mar 5; Urique, Mexico
50 miler, marathon, half marathon
Year 20 of the iconic race immortalized in "Born To Run"
Palestine Marathon 🇵🇸
Mar 10; Bethlehem, Palestine
Marathon, half marathon, 10K, 5K
Celebrate freedom of movement in the Holy Land
Antarctica Marathon 🇦🇶
Mar 12; King George Island, Antarctica
Marathon, half marathon
Otherworldly experience on the coldest continent 🐧
(Sold out, waitlist available for 2023 & 2024)
Pursuit in Paradise Aitutaki Marathon 🇨🇰
Mar 21–23; Aitutaki, Cook Islands
Marathon, half marathon, 10K, 5K
Picturesque tropical getaway in the South Pacific
Around the Bay 30K Road Race 🇨🇦
Mar 26; Hamilton (Ontario), Canada
30K, 30K relay, 5K
Say hello to spring at North America's oldest road race
👉 Or search for more March international races
Looking for more in-person races that may actually happen? Check out our Featured Races for:
---
Looking for more running events? Search for races by state/city or month, and try our handy Find a Race tool to search for events by name, date range, distance, location, terrain & more. Then sign up for a free account to build your wish list and start coloring in your 50 States Map!
Author: Mike Sohaskey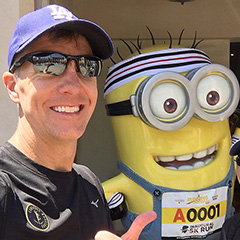 Mike Sohaskey is the co-founder of RaceRaves, the premier online reviews community for runners to share their race experiences and find their next challenge. Mike honed his creative and critical thinking skills as a research scientist, earning a Ph.D. in Cancer Biology from Stanford. He's also completed over 100 races — including 50+ marathons and ultras — in locations ranging from Antarctica to Zimbabwe.

Other RaceRaves articles you'll enjoy (trust us!)
Iconic Short-Distance Races (Spring)
Coach Denise: When YOUR BEST is ENOUGH
Anniversary Races to Celebrate (2022-23)
Top Five Things You Can Do as a RaceRaves Member
Tested and Trusted Race Day Tips
And for more helpful articles, check out our blog!
Subscribe & Stay Connected
Find this article informative? Please share it, and let others know RaceRaves is the premier online resource to DISCOVER, REVIEW & TRACK all their races and to CONNECT with other runners! Plus, sign up for our newsletter to receive the best racing-related content and special offers every month!