Welcome to our spring edition of iconic short-distance races worth traveling for! For runners and walkers seeking an unforgettable, family-friendly experience, here we profile ten popular destination events (10 miles or less) that deliver world-class production, energy, and camaraderie without the morning-after hobble of longer distances. (Planning beyond spring? Check out our summer & fall edition.) 
---
Bank of America Shamrock Shuffle 8K – Chicago, IL
(Mar; 8K, 2 mile walk, 1 miler)
If St. Patrick is your muse, then the Shamrock Shuffle is your cup of (green) tea. With a start and finish that should feel familiar to Chicago Marathon veterans, the city's celebration of spring treats its 20,000+ charges to soaring skyline views on a course that visits the River North neighborhood before circling back to the Loop for a meandering return to Grant Park. Given the early spring timing Mother Nature may or may not be in the mood to party; in any case, all participants score festive swag plus food and drink aplenty at the post-race party at Buckingham Fountain. And thanks to its unusual 8K distance, most first-time Shufflers will find a shiny new personal best at the end of its rainbow.
Blue Cross Broad Street Run – Philadelphia, PA
(Apr; 10 miler)
Now entering its 43rd year, this "classic Philly race" organized by Philadelphia Parks & Recreation is the nation's largest 10-miler with nearly 35,000 finishers in 2019. It may also be the fastest thanks to its net downhill, point-to-point course that starts in the city's Logan neighborhood and runs almost entirely along Broad Street with a midrace detour around City Hall. The final mile traces a loop around the South Philadelphia Sports Complex, home to most of the city's pro sports teams and a compelling reminder that Philly loves a winner—so come ready to take your best shot (walkers are discouraged) lest you disappoint the thousands of screaming, all-weather spectators who line the route from start to finish.
Carlsbad 5000 🏆– Carlsbad, CA
(Apr; 5K, All Day 20K)
Launched in 1986, "The World's Fastest 5K" quickly became an iconic event before recapturing the spotlight in recent years with the arrival of Olympic medalist and new co-owner Meb Keflezighi. Popular with first-timers and veteran runners alike, the Carlsbad 5000 owes its "Top Rated" status on RaceRaves to a savvy combination of great value, seamless production, and a gorgeous course alongside the Pacific Ocean. Above all, Carlsbad is a celebration of running, a mindset embodied by the All Day 20K which offers participants the chance to run the course four times. And no matter when you decide to call it a day, both Meb and your two free post-race beers will be waiting to welcome you back.
Cooper River Bridge Run – Charleston, SC
(Apr; 10K)
With the cool confidence that comes from almost half a century of experience, the Cooper River Bridge Run proudly proclaims itself "the best organized and best conducted 10K race in the world." At the same time, the event blithely advises participants to "Get Over It," a solid race-day strategy given that "it" is the 2.5-mile Arthur Ravenel Jr. Bridge spanning the Cooper River from Mount Pleasant to downtown Charleston. The "absolutely beautiful" route features "spectacular" views and "amazing" energy courtesy of 20+ live bands that help to distract from the steady incline. And be sure to reserve some energy of your own to browse the pre-race expo, a remarkable gathering of vendors that's "unlike any other."
Credit Union Cherry Blossom Ten Mile Run – Washington, DC
(Apr; 10 Miler, 5K)
Celebrating its 50th year in 2023, "The Runner's Rite of Spring" is DC's longest-running footrace and a perennially popular tour of the nation's capital. As the seat of American government, DC offers an urban backdrop like no other, and the ten-mile course takes advantage with a start and finish alongside the Washington Monument, sightings of both the Jefferson Memorial and Lincoln Memorial, and a crossing of the Potomac River culminating in a turnaround near Arlington National Cemetery. Race day coincides with the annual National Cherry Blossom Festival, so keep your fingers crossed for cooperative weather and a timely appearance by the event's namesake blooms, a 1912 gift from the city of Tokyo.
Crescent City Classic – New Orleans, LA
(Apr; 10K)
If you've ever gone to a party and seen a race break out, you may have been at the Crescent City Classic. A New Orleans original since 1979, the Classic has been applauded as "the originator of the party race" and "an Easter Weekend tradition that should never be missed." The point-to-point course leads runners, walkers, and Elvis impersonators alike from the Superdome to the French Quarter, passing Jackson Square (a National Historic Landmark) before traveling the length of Esplanade Avenue to finish in New Orleans City Park. There, the high-energy post-race party (aka RaceFest) rewards finishers with free beer (for 21 and over), live music, and local creole cuisine plus a Family Fun Zone for the kids.
Statesman Cap10K – Austin, TX
(Apr; 10K)
Since its inception in 1978, the Cap10K has blossomed into the largest 10K in Texas and a springtime spectacle welcoming more than 15,000 participants to the Live Music Capital of the World. Starting on the Congress Avenue Bridge (seasonal home to the largest urban bat colony in North America), runners pass the state capitol and follow a rocking and rolling loop of the city that finishes alongside Lady Bird Lake with stunning skyline views and an after-party that's "so big I didn't get to see it all!" Smart pacing is the key to success and particularly in the route's hilly first half, which includes the King & Queen of the Hill Challenge, a two-block stretch that awards the fastest climber the coveted polka-dot jersey.
Bay to Breakers – San Francisco, CA
(May; 12K, 15K)
Originally created to lift civic morale after the 1906 earthquake, Bay to Breakers has grown into the quintessential celebration of San Francisco. The 1986 event set a Guinness World Record for the largest-ever footrace in the United States with an estimated 110,000 participants, its iconic bandits included. The traditional 12K course crosses the city from east to west, starting in the Embarcadero district and traversing the Hayes Street Hill as well as Golden Gate Park before finishing at Ocean Beach. And while the race always attracts world-class elites, it owes its longevity and colorful reputation to the thousands of costumed revelers and free spirits who fill the streets in an irrepressible tribute to San Francisco.
Bloomsday – Spokane, WA
(May; 12K)
Formerly known as the Lilac Bloomsday Run, Bloomsday is the ultimate "feel-good type of run" and "a legendary event for its sheer scope and community impact." Celebrating its 47th running in 2023, this Pacific Northwest favorite hosts 35,000 runners, walkers, and "stroller-pushing families" on streets lined with cheering spectators and an eclectic lineup of entertainers. The hilly course offers sublime views of the Spokane River and culminates with an ascent of Doomsday Hill, where the Doomsday Hill Vulture welcomes weary participants with hard-earned high-fives. After the race, be sure to wear your finisher shirt as a proud testament to your accomplishment and a surefire way to earn kudos from the locals.
BOLDERBoulder – Boulder, CO
(May; 10K)
Named "America's All-Time Best 10K" by Runner's World, BOLDERBoulder is among the nation's largest Memorial Day celebrations. Boasting more than 100 wave starts for runners and walkers alike, the BB10K truly is a race for every pace. With the Flatirons as its dramatic backdrop, the mile-high course features "all sorts of wild and crazy shenanigans" along its 6.2-mile journey plus a stretch through Pearl Street Mall, the cultural hub of the city. But the hands-down highlight of the morning is a triumphant finish on the University of Colorado's boisterous Folsom Field where 50,000+ supporters cheer your arrival, followed by a moving tribute to the men and women who fought and sacrificed for our freedom.
Looking for more running events? Search for races by state/city or month, and try our handy Find a Race tool to search for events by name, date range, distance, location, terrain & more. Then sign up for a free account to build your wish list and start coloring in your 50 States Map!
---
Author: Mike Sohaskey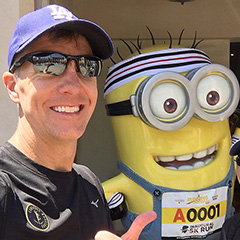 Mike Sohaskey is the co-founder of RaceRaves, the premier online reviews community for runners to share their race experiences and find their next challenge. Mike honed his creative and critical thinking skills as a research scientist, earning a Ph.D. in Cancer Biology from Stanford. He's also completed over 100 races — including 50+ marathons and ultras — in locations ranging from Antarctica to Zimbabwe.
Other RaceRaves articles you'll enjoy (trust us!):
February 2023 Featured Races
Coach Denise: When YOUR BEST is ENOUGH
Anniversary Races to Celebrate (2022-23)
Top Five Things You Can Do as a RaceRaves Member
Tested and Trusted Race Day Tips
And for more helpful articles, check out our blog!
Find this article informative? Please share it, and let others know RaceRaves is the premier online resource to DISCOVER, REVIEW & TRACK all their races and to CONNECT with other runners!