Welcome to your RaceRaves guide to top upcoming races! Here we highlight a sampling of best bets and personal favorites to help keep you motivated through the winter. 
Sign up now for a free RaceRaves account to add these events & thousands more to your Future Races.
NOTE: Unless otherwise noted, the following list includes only events that are now taking registrations for an in-person race.
🏆 = Top Rated (Overall rating of at least 4.7 across 10+ reviews)
---
February Marathons
Mesa Marathon
Feb 4; Mesa, AZ
Marathon, half marathon, 10K
Chase down a BQ or PR while working on your tan
Mississippi River Marathon
Feb 4; Greenville, MS
Marathon, double half marathon, half marathon, half marathon relay, 5K
Flat point-to-point crosses two states & one mighty river
Surf City Marathon
Feb 4–5; Huntington Beach, CA
Marathon, half marathon, 5K, 1 miler
California's oceanfront classic brings the beach vibes 🏄
Fort Lauderdale A1A Marathon
Feb 18–19; Ft. Lauderdale, FL
Marathon, half marathon, 6K, 5K
Where the coast is your host & the ocean is your finish line
Run Oak Island (BAM! Race Series)
Feb 18; Oak Island, NC
Marathon, half marathon, 5K, 1 miler
Picturesque beachfront run popular for its huge medals
Austin Marathon
Feb 19; Austin, TX
Marathon, half marathon, 5K
Hilly, high-energy celebration in the quirky state capital
Lost Dutchman Marathon
Feb 19; Apache Junction, AZ
Marathon, half marathon, 10K, 8K, 2 miler
Hidden gold & a golden sunrise over the mountains
Atlanta Marathon
Feb 25–26; Atlanta, GA
Marathon, half marathon, 5K
Rolling urban tour of Running City USA
The Cowtown 🏆
Feb 25–26; Fort Worth, TX
50K, marathon, marathon relay, half marathon, 10K, 5K
North Texas favorite will never "steer" you wrong
Ventura Marathon
Feb 26; Ventura, CA
Marathon, half marathon, 5K
Beach town boasts one of the nation's top BQ races
👉 Or search for more February marathons
---
February Half Marathons
Critz Tybee Run Fest
Feb 3–4; Tybee Island, GA
Half marathon, 10K, 5K, 2.8 miler, 1 miler
Run an unconventional marathon with 5 races in 2 days
Best Damn Race Safety Harbor 🏆
Feb 4–5; Safety Harbor, FL
Half marathon, 10K, 5K
Scenic waterfront party lives up to its name
Run Sedona Half (above)
Feb 4; Sedona, AZ
Half marathon, 10K, 5K
Breathtaking red rock oasis in the Arizona desert
Kaiser Permanente San Francisco Half
Feb 5; San Francisco, CA
Half marathon, 10K, 5K
Net downhill thru Golden Gate Park & along the oceanfront
Colonial Half
Feb 18; Williamsburg, VA
Half marathon, 5K
Showcase of Colonial Williamsburg celebrates its 44th year
Saguaro Half
Feb 18; Tucson, AZ
Half marathon
Road/trail hybrid with a Wild West feel
(Race going on hiatus after 2023)
Run the Line Half
Feb 19; Texarkana, TX
Half marathon, half marathon relay
Interstate course includes half a mile on the TX/AR border
Gasparilla Distance Classic
Feb 25–26; Tampa, FL
Half marathon, 15K, 8K, 5K
Pirate-themed weekend promises a swashbuckling good time
Greenville Half
Feb 25; Greenville, SC
Half marathon, 5K
Go for broke at "the fastest half marathon in the south"
War Eagle Run Fest
Feb 26; Auburn, AL
Half marathon, 5K
Rolling tour of the AU campus finishes on the field 🏈
👉 Or search for more February half marathons
---
February Ultra Marathons
Outlaw 100
Feb 11–12; Wilburton, OK
135 miler, 100 miler, 100 mile relay, 50 miler, marathon, half marathon, 5K
Technical singletrack thru Robbers Cave State Park
Black Canyon Ultras
Feb 18–19; Mayer, AZ
100K, 60K
Historic desert trail welcomes Western States qualifiers
Holiday Lake 50K
Feb 18; Appomattox, VA
50K, 25K, 10K
First-timer friendly loop navigates a lake & state forest
Evergreen Lord Hill Trail Run
Feb 25; Snohomish, WA
50K, 20 miler, 10 miler, 5K
Impeccably produced challenge will test your legs & lungs
(Registration opens Oct 31)
Red Dirt Ultra
Feb 25; Provencal, LA
100 miler, 100K, 50K
Multi-use trail thru piney woods with A+ aid stations
👉 Or search for more February ultra marathons
---
February International Races
Dead Sea Marathon Israel 🇮🇱
Feb 3; Ein Bokek, Israel
50K, marathon, half marathon, 10K, 5K
Run on the Dead Sea in the lowest point on Earth
Tarawera Ultramarathon 🇳🇿
Feb 11; Rotorua, New Zealand
100 miler, 102K, 50K, half marathon
Prestigious point-to-point wows with stunning scenery
eDreams Barcelona Half 🇪🇸
Feb 19; Barcelona, Spain
Half marathon
Urban tour of one of the world's most cosmopolitan cities
Kilimanjaro Marathon 🇹🇿
Feb 26; Moshi, Tanzania
Marathon, half marathon, 5K
Low-altitude run in the shadow of Africa's highest mountain
(Registration opens Oct 24)
Osaka Marathon 🇯🇵
Feb 26; Osaka, Japan
Marathon
Big-city race experience offers a solid alternative to Tokyo
(Overseas entries open soon)
👉 Or search for more February international races
Looking for more in-person races that may actually happen? Check out our Featured Races for:
---
Looking for more running events? Search for races by state/city or month, and try our handy Find a Race tool to search for events by name, date range, distance, location, terrain & more. Then sign up for a free account to build your wish list and start coloring in your 50 States Map!
Author: Mike Sohaskey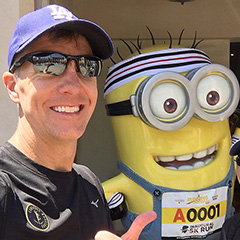 Mike Sohaskey is the co-founder of RaceRaves, the premier online reviews community for runners to share their race experiences and find their next challenge. Mike honed his creative and critical thinking skills as a research scientist, earning a Ph.D. in Cancer Biology from Stanford. He's also completed over 100 races — including 50+ marathons and ultras — in locations ranging from Antarctica to Zimbabwe.

Other RaceRaves articles you'll enjoy (trust us!)
Anniversary Races to Celebrate (2022-23)
Coach Denise: When YOUR BEST is ENOUGH
Lunatic Spotlight: One Year, 100+ Races
Top Five Things You Can Do as a RaceRaves Member
Tested and Trusted Race Day Tips
And for more helpful articles, check out our blog!
Subscribe & Stay Connected
Find this article informative? Please share it, and let others know RaceRaves is the premier online resource to DISCOVER, REVIEW & TRACK all their races and to CONNECT with other runners! Plus, sign up for our newsletter to receive the best racing-related content and special offers every month!