Welcome to your RaceRaves guide to top upcoming races! Here we highlight a sampling of best bets and personal favorites to get your summer off to a hot start.
Sign up now for a free RaceRaves account to add these events & thousands more to your Future Races.
NOTE: Unless otherwise noted, the following list includes only events that are now taking registrations for an in-person race.
🏆 = Top Rated (Overall rating of at least 4.7 across 10+ reviews)
---
June Marathons
Deadwood Mickelson Trail Marathon
Jun 3–4; Deadwood, SD
Marathon, marathon relay, half marathon, 5K
Black Hills beauty climbs & descends on a crushed gravel rail trail
Steamboat Marathon
Jun 4; Steamboat Springs, CO
Marathon, half marathon, 10K
Downhill destination race delivers a Rocky Mountain High
Hatfield McCoy Marathon 🏆
Jun 10; Williamson, KY
Marathon, Blackberry Mountain Half Marathon, River Road Half Marathon, 5K
Charming Appalachian favorite starts in KY & finishes in WV
Morgan Valley Marathon
Jun 10; Morgan, UT
Marathon, half marathon, 10K, 5K
Rolling double loop w/ mountain landscapes to "peak" your interest
Timberline Marathon
Jun 10–11; Rhododendron, OR
Marathon, half marathon
Pristine lakefront single track boasts sublime views of Mt Hood
Grandma's Marathon & Garry Bjorklund Half
Jun 16–17; Duluth, MN
Marathon, half marathon (SOLD OUT), 5K
Lake Superior showcase spoils its runners in all the right ways
Anchorage Mayor's Marathon
Jun 17; Anchorage, AK
Marathon, marathon relay, half marathon, half marathon relay, 5 miler
Expect stunning scenery with a chance of wildlife sightings
Charlevoix Marathon
Jun 17; Charlevoix, MI
Marathon, half marathon, 10K, 5K
Lovely out-and-back on the small-town shores of Lake Michigan
Run Super Series Super Marathon & Super Fast Half
Jun 17; Snoqualmie Pass, WA
Marathon, half marathon
Quad-friendly Boston Qualifier down the unpaved Iron Horse Trail
Missoula Marathon 🏆
Jun 24–25; Missoula, MT
Marathon, half marathon, 5K
Treasure State gem 💎 in dazzling Big Sky Country
👉 Or search for more June marathons
---
June Half Marathons
Grand Teton Half 🏆
Jun 2–3; Wilson, WY
Half marathon, 5K
"Unbelievably gorgeous" run with "magical views" of Grand Teton
Hospital Hill Run
Jun 3; Kansas City, MO
Half marathon, 10K, 5K
KC's longest-running road race celebrates its 50th year
Pisgah Farms & Furlongs Half Mare-athon
Jun 3; Versailles, KY
Half marathon, 10K
"Absolutely stunning" course passes four Thoroughbred farms
Bank of America Chicago 13.1
Jun 4; Chicago, IL
Half marathon
Second-year event explores the city's diverse & historic West Side
Shipyard Old Port Half
Jun 10; Portland, ME
Half marathon, 5K
Maine's best half is a festive ode to the state's largest city
Gorges Ithaca Half
Jun 17; Ithaca, NY
Half marathon
Go with the flow on this gentle downhill thru waterfall country
Rock Tahoe Half 🏆 (above)
Jun 17; Lake Tahoe, NV
Half marathon
Spectacular lake views and a post-race party that goes to 11 🔊
Glacier Half 🏆
Jun 24; Kiowa, MT
Half marathon
Breathtaking climb & payoff in the Crown Jewel of the Continent
Snoqualmie Valley Half
Jun 24; Carnation, WA
Half marathon, 10K
Peaceful, picturesque out-and-back thru forest & farmland
Timpanogos Half Marathon
Jun 24; Pine Hollow, UT
Half marathon, 10K, 5K
Run down a personal best in beautiful American Fork Canyon
👉 Or search for more June half marathons
---
June Ultra Marathons
Scout Mountain Ultras
Jun 2–3; Pocatello, ID
100 miler, 50 miler, 50K, 21 miler
Rugged mountain run in the Caribou-Targhee National Forest
Eagle Up Ultra 🏆
Jun 3; Canal Fulton, OH
24 hr, 100 miler, 100 mile relay, 100K, 50 miler, 50K
Test your limits on this fully supported, wooded 5-mile loop
Last Runner Standing Duluth
Jun 10; Duluth, MN
Last Runner Standing, 8.4 miler, 4.2 miler
Duluth's own family-friendly version of the unique race format
Denali 135 & Denali 100K
Jun 20; Cantwell, AK
135 miler, 100K
Remote bucket-list adventure on the unpaved Denali Hwy
Mt Evans Ascent
Jun 25; Idaho Springs, CO
29 miler (round trip), 14.5 miler (ascent only)
High-altitude gauntlet summits the highest paved road in North America
👉 Or search for more June ultra marathons
---
June Other Distances
Baltimore 10 Miler
Jun 3; Baltimore, MD
10 miler, 10 mile relay
Charm City's summer celebration features zoo-inspired medals
GO! St. Louis KT82 Trail Relay
Jun 3; Maryland Heights, MO
82 mile relay
One day, one team, 82 miles across Missouri wine country 🍇
Cornfield Cornfield
Jun 10; Papillion, NE
10K
"The most Nebraska race in Nebraska" elicits ear-to-ear smiles
(Registration opens Mar 3)
Garden of the Gods 10 Mile & 10K
Jun 11; Colorado Springs, CO
10 miler, 10K
Elevation sensation wows with dramatic red rock formations
(Registration opens Mar 1)
Mount Washington Road Race
Jun 17; Gorham, NH
7.6 miler
Grueling, iconic uphill run gains 4,650 ft from start to finish
(Lottery registration open Feb 13–27)
👉 Or search for more June races of other distances
---
June International Races
Icefjord Midnight Marathon 🇬🇱
Jun 3; Ilulissat, Greenland
Marathon, half marathon
Rocky, challenging trail run thru a UNESCO World Heritage Site
Brisbane Marathon Festival 🇦🇺
Jun 4; Brisbane (Queensland), Australia
Marathon, half marathon, 10K, 5K, 2K
Spirited two-loop circuit of Australia's third-largest city
Tórshavn Marathon 🇫🇴
Jun 4; Tórshavn, Faroe Islands
Marathon, half marathon, 10.5K, 5.5K
Small Scandinavian capital hosts a rolling, seaside out-and-back
Rio de Janeiro City Marathon 🇧🇷
Jun 10–11; Rio de Janeiro, Brazil
Marathon, half marathon, 10K, 5K
Tropical temps, world-famous beaches & Rio's trademark energy
Banff Marathon 🇨🇦
Jun 18; Banff (Alberta), Canada
Marathon, half marathon, 10K
Bask in the breathtaking beauty of the Canadian Rockies
👉 Or search for more June international races
Looking for more great races across the U.S. and around the world? Check out our Featured Races for:
---
Looking for more running events? Search for races by state/city or month, and try our handy Find a Race tool to search for events by name, date range, distance, location, terrain & more. Then sign up for a free account to build your wish list and start coloring in your 50 States Map!
Author: Mike Sohaskey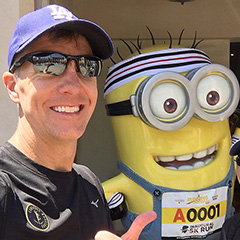 Mike Sohaskey is the co-founder of RaceRaves, the premier online reviews community for runners to share their race experiences and find their next challenge. Mike honed his creative and critical thinking skills as a research scientist, earning a Ph.D. in Cancer Biology from Stanford. He's also completed over 100 races — including 50+ marathons and ultras — in locations ranging from Antarctica to Zimbabwe.

Other RaceRaves articles you'll enjoy (trust us!)
Getting to Know the Abbott World Marathon Majors
Let's Talk Marathons: The AMR Trains Podcast
Coach Denise: Breaking Through The Wall
Iconic Short-Distance Races (Spring)
Top Five Things You Can Do as a RaceRaves Member
And for more helpful articles, check out our blog!
Subscribe & Stay Connected
Find this article informative? Please share it, and let others know RaceRaves is the premier online resource to DISCOVER, REVIEW & TRACK all their races and to CONNECT with other runners! Plus, sign up for our newsletter to receive the best racing-related content and special offers every month!