Welcome to your RaceRaves guide to top upcoming races! Here we highlight a sampling of best bets and personal favorites to ensure your spring racing schedule is on point.
Sign up now for a free RaceRaves account to add these events & thousands more to your Future Races.
NOTE: Unless otherwise noted, the following list includes only events that are now taking registrations for an in-person race.
🏆 = Top Rated (Overall rating of at least 4.7 across 10+ reviews)
---
May Marathons
Cincinnati Flying Pig Marathon 🏆
May 6–7; Cincinnati, OH
Marathon, marathon relay, half marathon, 10K, 5K, 1 miler
The pride of Cincinnati rolls out the pink carpet for year 25
OC Marathon Running Festival
May 6–7; Newport Beach, CA
Marathon, half marathon, 5K
Coastal tour of Orange County hits all the right notes
Pittsburgh Marathon
May 6–7; Pittsburgh, PA
Marathon, marathon relay, half marathon, 5K
Yinz will love the crowd support at this Steel City showcase
New River Marathon
May 13; Todd, NC
Marathon, half marathon, 5K
Pastoral beauty meets small-town charm in the Blue Ridge Mtns
Fargo Marathon 🏆
May 19–20; Fargo, ND
Marathon, half marathon, 10K, 5K
Midwestern favorite starts & finishes in the festive Fargodome
Ogden Marathon 🏆
May 20; Ogden, UT
Marathon, marathon relay, half marathon, 12K, 5K
Stunning downhill course + amazing support = BQ potential
Queen Bee Montana Marathon
May 21; Billings, MT
Marathon, half marathon, 10K, 5K
Low-key, net downhill run elevated by great community spirit
Windermere Marathon 🏆
May 21; Spokane, WA
Marathon, half marathon, 10K, 5K
Nicely shaded point-to-point along the sparkling Spokane River
Traverse City Track Club Bayshore Marathon
May 27; Traverse City, MI
Marathon, half marathon, 10K
Lovely out-and-back follows the shoreline of Grand Traverse Bay
Buffalo Marathon 🏆
May 27–28; Buffalo, NY
Marathon, half marathon, 5K
High-energy urban experience highlights the best of Buffalo
Coeur d'Alene Marathon 🏆
May 28; Coeur d'Alene, ID
Marathon, half marathon, 10K, 5K
Destination race centered around pristine Lake Coeur d'Alene
👉 Or search for more May marathons
---
May Half Marathons
OneAmerica 500 Festival Mini-Marathon (Indy Mini)
May 6; Indianapolis, IN
Half marathon, 5K
The "Greatest Spectacle in Running" features a lap on the Speedway
Frederick Running Festival
May 6–7; Frederick, MD
Half marathon, half marathon relay, 5K
Scenic suburban loop starts & finishes at the fairgrounds
Running with the Cows 🏆
May 13; Bucyrus, KS
Half marathon, 5K
The best half in Kansas boasts huge cow-moo-nity support 🐮
Santa Barbara Wine Country Half 🏆
May 13; Solvang, CA
Half marathon, half marathon relay
Gorgeous Mother's Day getaway with a top-notch finish festival
Viola Valley Half
May 13; Viola, TN
Half marathon, 5K
Tiny-town hidden gem 💎 showcases Tennessee's rural beauty
Harpers Ferry Half
May 20; Harpers Ferry, WV
Half marathon, 5K
Hilly & historic road/trail hybrid brings the Civil War era to life
La Jolla Half
May 20; La Jolla, CA
Half marathon, 5K
Quiet coastal course features breathtaking hills & ocean views
Run the Bluegrass
May 20; Lexington, KY
Half marathon, 7 miler, 3.6 miler
"America's Prettiest Half Marathon" rolls past Thoroughbred farms
San Juan Island Half 🏆
May 20; Friday Harbor, WA
Half marathon
Picturesque point-to-point where the sea meets the sky
Chicago Spring Half
May 21; Chicago, IL
Half marathon, 10K
Spirited celebration of spring includes post-race brunch buffet
Marine Corps Historic Half
May 21; Fredericksburg, VA
Half marathon, 5 miler
Start with a musket blast, finish with a medal from a Marine
👉 Or search for more May half marathons
---
May Ultra Marathons
Cocodona 250
May 1–5; Flagstaff, AZ
250 miler, 125 miler, 36 miler
For intrepid adventurers, the epic challenge of a lifetime
Strolling Jim
May 6; Wartrace, TN
40 miler, marathon, half marathon, 10K
Rolling TN classic where "no one leaves disappointed"
Bryce Canyon Ultras 🏆
May 20; Hatch, UT
50 Miler, 60K, 50K, 30K
Brutal-ful, high-altitude hike among the hoodoos
Jemez Mountain Trail Runs
May 20; Los Alamos, NM
50 miler, 50K, 15 miler
Rugged, formidable mountain ultra pulls no punches
Mind the Ducks 12h
May 20; Webster, NY
12 hr
Birds of a feather run together on a paved, one-mile park loop
👉 Or search for more May ultra marathons
---
May Other Distances
Bloomsday
May 7; Spokane, WA
12K
Spring spectacular showcases Spokane one hill at a time
Bay to Breakers
May 21; San Franciso, CA
15K, 12K
Iconic event is a colorful, costumed celebration of San Francisco
Soldier Field 10 Mile
May 27; Chicago, IL
10 miler, 10K
Patriotic tradition honors fallen soldiers & finishes on the field
Miles on the Mohawk
May 28; Schenectady, NY
10 miler
Savor spring at this speedy point-to-point along the Mohawk River
BOLDERBoulder
May 29; Boulder, CO
10K
High-altitude, high-energy Memorial Day tribute
👉 Or search for more May races of other distances
---
May International Races
Ultra Blue Island by Azores Trail Run 🇵🇹
May 5–7; Faial Island, Portugal
118K, 65K, marathon, 25K, 11K
Ocean vistas & dramatic landscapes on a volcanic island
BMO Vancouver Marathon 🇨🇦
May 7; Vancouver, Canada
Marathon, half marathon, 8K
Canada's largest marathon follows the world-famous Seawall
Prague Marathon 🇨🇿 🏆
May 7; Prague, Czech Republic
Marathon, marathon relay
Culture, castles & cobblestones in a cosmopolitan capital city
Santiago Marathon 🇨🇱
May 7; Santiago, Chile
Marathon, half marathon, 10K
Chile's biggest sporting event welcomes 30,000 runners
Göteborgsvarvet 🇸🇪
May 13; Gothenburg, Sweden
Half marathon
Soak up the sights, sounds & spectacle of the world's largest half
Bhutan Thunder Dragon Marathon 🇧🇹
May 28; Paro, Bhutan
Marathon, half marathon
Grueling trail race in a Buddhist Himalayan kingdom
👉 Or search for more May international races
Looking for more great races across the U.S. and around the world? Check out our Featured Races for:
---
Looking for more running events? Search for races by state/city or month, and try our handy Find a Race tool to search for events by name, date range, distance, location, terrain & more. Then sign up for a free account to build your wish list and start coloring in your 50 States Map!
Author: Mike Sohaskey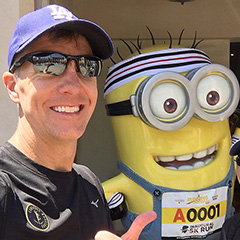 Mike Sohaskey is the co-founder of RaceRaves, the premier online reviews community for runners to share their race experiences and find their next challenge. Mike honed his creative and critical thinking skills as a research scientist, earning a Ph.D. in Cancer Biology from Stanford. He's also completed over 100 races — including 50+ marathons and ultras — in locations ranging from Antarctica to Zimbabwe.

Other RaceRaves articles you'll enjoy (trust us!)
2022: The Year in Racing
Let's Talk Marathons: The AMR Trains Podcast
Coach Denise: Breaking Through The Wall
Iconic Short-Distance Races (Spring)
Top Five Things You Can Do as a RaceRaves Member
And for more helpful articles, check out our blog!
Subscribe & Stay Connected
Find this article informative? Please share it, and let others know RaceRaves is the premier online resource to DISCOVER, REVIEW & TRACK all their races and to CONNECT with other runners! Plus, sign up for our newsletter to receive the best racing-related content and special offers every month!