For most Americans, the "presidential race" isn't measured in miles and a "running mate" isn't someone who shares your fitness goals. Nonetheless, a number of running events from 5K to 50 miles embrace our nation's history by featuring and celebrating its past leaders. As the country commemorates Presidents' Day, we spotlight ten races that showcase former U.S. presidents — or as we like to call 'em, PROTUS.
(Do you know which U.S. president was the founder of the modern-day Democratic Party? Read on for the answer!)
---
George Washington's Birthday Marathon and Relay – Beltsville, MD
(Feb; marathon, marathon relay)
There's no better way to kick off the presidential racing season than with this homage to our nation's first Commander-in-Chief. Held on the Sunday before Presidents' Day, the longest-running marathon in the Greater DC area comprises three gently rolling loops along the two-lane roads of the USDA Beltsville Agricultural Research Center. True to its venue, runners are treated to wide-open countryside and the unmistakable aroma of livestock manure, while the echos of gunfire from the nearby County Trap and Skeet Center offer a sharp reminder of civilization's proximity. George-themed swag and presidential birthday cake await all finishers, and we cannot tell a lie—this one's a certified Boston Qualifier!
Lincoln Presidential Half Marathon – Springfield, IL
(Apr; half marathon)
If you're looking to walk a mile (or 13.1) in The Great Emancipator's shoes, then look no further than Springfield's Lincoln Presidential Half. This scenic tour of Illinois' capital city starts and finishes at the Old State Capitol, where Lincoln delivered his "House Divided" speech in 1858. Along the way the course passes his law offices, the home where he lived for 17 years before being elected our 16th president, and the stately Lincoln Tomb in Oak Ridge Cemetery, site of his final resting place. Back at the Old State Capitol, Honest Abe and Mary Todd impersonators offer words of encouragement plus post-race photo opportunities. And where else can you see spectators appropriately dressed as pennies?
Run AJM Jackson (Andrew Jackson Marathon) – Jackson, TN
(Apr; marathon, half marathon)
Celebrating its 50th year in 2022, Tennessee's oldest marathon and the town in which it's held both bear the name of our nation's 7th president. The Run AJM Jackson course starts and finishes in the city's historic downtown district, within a stone's throw of popular local attractions like Rusty's TV and Movie Car Museum and the International Rock-A-Billy Hall of Fame. Half marathoners run one loop of the rolling course while full marathoners run two. And as the founder of the modern-day Democratic Party, Jackson himself likely would have appreciated the organizers' liberal offer to pay Boston Marathon entry fees for the first three male and female finishers who qualify for Boston at their race.
Chasing Jefferson Davis Marathon – Fitzgerald, GA
(Apr; marathon, half marathon)
Though never president of the United States, Jefferson Davis was the lone president of the short-lived Confederate States during the Civil War. As the race name suggests, this point-to-point course from Fitzgerald to Abbeville follows the route taken by Davis during his unsuccessful attempt to evade capture in May 1865. Starting with a cannon or musket blast, modern-day marathoners traverse three Georgia counties through farm land and pine woods on both paved and unpaved roads before finishing within feet of the actual capture site. And while Davis earned a charge of treason for his troubles, all CJD finishers receive a custom commemorative medal to celebrate their achievement.
Gettysburg Festival of Races – Gettysburg, PA
(Apr; marathon, half marathon, 5K)
Staged just down the road from where Abraham Lincoln delivered his Gettysburg Address, the Gettysburg Festival of Races delivers a memorable run through Civil War history. Starting and finishing in presidential fashion at the Eisenhower Hotel & Conference Center, the rolling and wooded figure 8 course features a brief sojourn across the Mason–Dixon line to the turnaround point in Maryland. And though federal policy now prohibits running events in the Gettysburg National Military Park, the route's closing miles run adjacent to the iconic battlefield and landmark sites like Little Round Top, Big Round Top, and Devil's Den before a triumphant retreat to the post-race beer garden.
George Washington Parkway Classic – Alexandria, VA
(Apr; 10 miler, 5K)
By George! If running a marathon in Washington's name seems too daunting a task, then the Parkway Classic may be just the solution. And April is the perfect time to enjoy lush spring foliage, sparkling views of the Potomac and Alexandria's red brick neighborhoods. Both the 10 mile and 5K courses run along the George Washington Memorial Parkway while the 10 mile route passes within a quarter's throw of another presidential landmark, the Woodrow Wilson Bridge. As an added bonus, the 10-miler begins on the steps of Washington's home at Mount Vernon. Photo opportunities with the man himself await all finishers, along with kids activities and the Port City Brewing Beer Garden for patriots 21 and over.
Eisenhower Marathon – Abilene, KS
(Apr; marathon, half marathon, 10K, 5K)
While words like "fun" and "low-key" aren't typically associated with a five-star general, the Eisenhower Marathon fits the bill. This flat, two-loop Boston Qualifier follows the historic Chisholm Trail used by cattlemen in the 1800s, allowing runners plenty of elbow room and fresh air. The race starts at the Dwight D. Eisenhower Library and Museum, the site of our 34th president's boyhood home and final resting place. Best of all, the event benefits up to two dozen nonprofits that support local low-income families. Add to that cheerful volunteers, well-stocked aid stations and unique presidential swag, and it's easy to see why Eisenhower Marathon finishers proudly proclaim, "I like Ike!"
Marine Corps Marathon – Arlington, VA
(Oct; 50K, marathon, 10K)
"The People's Marathon" is a rousing tour of our nation's capital and a patriotic tribute to the men and women who serve this country. Starting between the Pentagon and Arlington National Cemetery, the course showcases 240+ years of American history including such presidential landmarks as the Kennedy Center, Theodore Roosevelt Bridge, Lincoln Memorial, Jefferson Memorial, FDR Memorial and Washington Monument. Most powerful is the wear blue Mile, a living memorial to the fallen heroes of the U.S. Military. In an increasingly social media-centric world where the word "inspiring" threatens to lose its meaning, no race is more inspiring than the Marine Corps Marathon.
JFK 50 Mile – Boonsboro, MD
(Nov; 50 miler)
Founded when JFK himself was in the White House and now in its 60th year, the JFK 50 Mile is the oldest ultramarathon and largest 50-mile race in the U.S. The point-to-point horseshoe course starts with 11 of its first 15 miles on the Appalachian Trail, before connecting with the unpaved C&O Canal Towpath for the next 26 miles. Along the way it passes such landmarks as the original Washington Monument in Boonsboro, the B&O Railroad and Harpers Ferry National Historical Park. The weekend kicks off with a pasta dinner/social honoring JFK 50 Mile "Legends", an event open to race participants and their guests. To (mis)quote our 35th president, "Ask not what your cartilage can do for you…"
Jacob Wells 3 Bridges Marathon – Little Rock, AR
(Dec; marathon)
A low-key, high-value marathon created for runners by runners, Jacob Wells 3B26 takes its name from its late founder and emotional inspiration. Nonetheless, you'd need to navigate Little Rock blindfolded (which we don't recommend) to avoid any reference to the nation's 42nd president, William J. Clinton. Arkansas' favorite son is synonymous with its capital city, as evidenced in mile 10 of the 3B26 course which crosses the Arkansas River via the Clinton Presidential Park Bridge en route to an immediate turnaround in front of the William J. Clinton Presidential Library and Museum. And politics aside, a spacious heated tent at the start and finish line is a stroke of genius that gets every runner's vote.
(Updated Feb 17, 2022; originally published Feb 23, 2017)
Looking for more running events? Search for races by state/city or month, and try our handy Find a Race tool to search for events by name, date range, distance, location, terrain & more. Then sign up for a free account to build your wish list and start coloring in your 50 States Map!
---
Author: Mike Sohaskey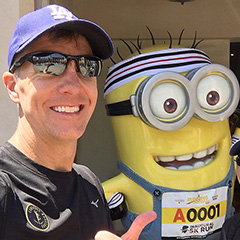 Mike Sohaskey is the co-founder of RaceRaves, the premier online reviews community for runners to share their race experiences and find their next challenge. Mike honed his creative and critical thinking skills as a research scientist, earning a Ph.D. in Cancer Biology from Stanford. He's also completed over 100 races — including 50+ marathons and ultras — in locations ranging from Antarctica to Zimbabwe.

Other RaceRaves articles you'll enjoy (trust us!)
June Featured Races you need to know about
Lunatic Spotlight: One Year, 100+ Races
Top Five Things You Can Do as a RaceRaves Member
Tested and Trusted Race Day Tips
Getting to Know the Abbott World Marathon Majors
And for more helpful articles, check out our blog!
Find this article informative? Please share it, and let others know RaceRaves is the premier online resource to DISCOVER, REVIEW & TRACK all their races and to CONNECT with other runners!