With Halloween lurking around the corner, now's a spook-tacular time to spotlight running events inspired by cryptozoology, the study of monsters, myths & legends. For believers and skeptics alike, here are 12 (because 13 would be… unlucky) races where a sudden rustle in the bushes, a shadowy figure in the distance, or an unidentified light in the sky may or may not be just a figment of your imagination. 😱
If you've run any of these events, we hope you'll post your review on RaceRaves.
(Thanks to RaceRaves member & author Mark Trollinger for the inspiration!)
---
Boston Marathon – Boston, MA
(Apr; marathon)
Arguably the most celebrated and featured creature in running is the unicorn that adorns the finisher medal of the world's oldest annual marathon. As the beloved symbol of the Boston Athletic Association since its inception in 1887, "Spike" graces each and every Boston Marathon medal with its signature horn, bearded chin and flowing mane. A mythical beast that is forever pursued but never caught, the unicorn is seemingly the perfect icon for the thousands of athletes who each year invest blood, sweat and tears in the oft-elusive attempt to qualify for the most prestigious marathon in the sport. In fact, Boston owes its mystique in part to its unique age- and gender-adjusted qualifying standards, a distinction that earns each of its runners a reputation as the best of the best or, some might say, as a unicorn among horses.
Bhutan Thunder Dragon Marathon – Paro, Bhutan
(May; marathon, half marathon)
Nestled between Tibet and India on the eastern side of the Himalayas, Bhutan (officially Druk Yul, or "Land of the Thunder Dragon") is a Buddhist nation of lush valleys and dramatic landscapes. Derived from Bhutanese mythology, the Druk or "Thunder Dragon" is the national symbol and is featured on the flag holding jewels to represent wealth. Bhutan adheres to a strict "high value, low volume" tourism policy, meaning visitors may only enter (and exit) the country through a licensed Bhutanese tour operator and must pay a daily fee during their stay. But the real challenge lies in the marathon itself, which traverses rugged and mountainous terrain at an average elevation of 7,700 ft. In the end, "The country and people were the highlight of the trip," raves 2019 finisher Jeff Rohleder. "Finishing the marathon was just icing on the cake."
Chupacabra Trail Race – Huntsville, AL
(Aug; half marathon, 10K)
First reported in Puerto Rico in 1995 and subsequently across the Americas, the chupacabra (Spanish for "goat sucker") allegedly behaves as a vampire, attacking livestock to drain the animals of blood. So it may or may not be intentional that its namesake race, staged in Monte Sano State Park in Northeast Alabama, makes use of the park's extensive trail system while avoiding the inconveniently named Goat Trail. The hilly, challenging courses feature wooded mountain scenery punctuated by the occasional water crossing. And though the terrain may at times feel better suited to mountain goats, something here seems to have scared them all away. For fans of modern mythology, Chupacabra is the fourth and final race in the Wild Thangs Trail Series that includes the Big Foot 10K & 5K, Jackalope 8M & 4M, and Skunk Ape 10M & 5M.
ET Full Moon Midnight Marathon – Rachel, NV
(Aug; 51K, marathon, half marathon, 10K, 5K)
Each August, on a dark desert highway under a full moon, runners gather for an out-of-this-world race unlike any other. Because the highway is no ordinary road, and the venue is no ordinary place. The ET Full Moon Midnight Marathon runs along the Extraterrestrial Highway through Area 51, a highly classified US Air Force facility and long-time mecca for UFO aficionados. Starting in tiny Rachel, the closest "town" to Area 51, the point-to-point course leads runners—many adorned in blinking & flashing lights—to a high point of 5,600 ft before descending to the finish line at the Little A'Le'Inn, a Rachel landmark where souvenirs and a postrace breakfast buffet await. Similarly, ufologist runners should keep an eye on the skies above the Martian Invasion of Races in Dearborn, MI and the Area 13.1 & Terrestrial 5K in—appropriately enough—Roswell, GA.
Mogollon Monster 100 – Pine, AZ
(Sep; 100 miler, 105K, 42K)
Known also as the Arizona Bigfoot, the Mogollon Monster is the Grand Canyon State's hometown Sasquatch. Reports of a hulking, long-haired biped with large, red eyes claim the creature emits a pungent odor of "dead fish, a skunk with bad body odor, decaying peat moss and the musk of a snapping turtle." And while a deep-woods encounter with such a beast may well sound undesirable, MOG100 veterans know the real monster here is the race itself. Mogollon is among the more demanding 100-milers in the nation, as the point-to-point course covers rugged, steep terrain at 5,000–8,000 ft while battling intense sun, dramatic temperature changes, and potentially extreme weather. The payoff for a monstrous effort, though, is the route's diverse ecosystems ranging from high Sonoran Desert to the largest contiguous Ponderosa Pine forest in the world.
Mothman 5K – Point Pleasant, WV
(Sep; 5K)
In the span of three days in November 1966, several eyewitnesses in the small town of Point Pleasant, WV reported seeing a massive gray humanoid with a ten-foot wingspan and glowing red eyes that moved quickly from tree to tree. Thus was the legend of the Mothman born. Curiously, Mothman sightings have been limited to Point Pleasant which, despite the creature's reputation as a harbinger of doom, fully embraces its Mothman mystique with an annual Mothman Festival (which opens with a 5K run along the Ohio River), the World's Only Mothman Museum, and a 12-foot-tall chrome Mothman Statue complete with a Mothcam that livestreams the statue 24/7. And if that's not enough paranormal activity for one town, across the street from the museum sits the historic—and purportedly haunted—Lowe Hotel.
Yeti 100 Mile Endurance Run – Whitetop, VA
(Sep; 100 miler)
Named for the Bigfoot-esque Abominable Snowman purported to inhabit the Eastern Himalayas, the Yeti Trail Runners host a series of trail races in the more temperate climes of Georgia, Virginia and Washington. Chief among these is the Yeti 100 Mile Endurance Run, which unlike its beastly inspiration is recognized as one of the more runner-friendly courses in the US. For anyone chasing their first 100-mile or sub-24-hour finish, the Yeti 100—and its recently launched sister event in the Pacific Northwest—welcome all comers with scenic rails-to-trails courses on smooth, crushed limestone. Owing to its popularity, Yeti 100 entry is currently by lottery only. In any case, by training well and running smartly, runners can ensure themselves at least one sighting of the event's mythical mascot—on their shiny new finisher buckle.
Loch Ness Marathon & Festival of Running – Inverness, Scotland
(Oct; marathon, 10K, 5K)
Among mythological beasts, none has captured the collective imagination and endeared itself to an adoring public quite like the Loch Ness Monster. So it should come as no surprise that "Nessie" herself would become the star attraction of an annual running festival held in her backyard. Now entering its 20th year, the point-to-point marathon course starts in a moorland setting and parallels Loch Ness for 10+ miles before finishing in the city of Inverness alongside a giant inflatable version of its serpentine heroine. Along the way, runners can expect plenty of verdant landscapes and rolling countryside replete with stunning Highland scenery. And though the event organizers have yet to confirm a race-day Nessie sighting, that doesn't mean she isn't there; as the race website candidly admits on its FAQ page, "Will I see Nessie? Maybe aye, maybe nae."
Zombie Half Marathon – Anchorage, AK
(Oct; half marathon)
Despite their less-than-exemplary running form, the mythological undead are reanimated darlings not only of the entertainment industry but of the running community as well, with zombie-themed runs popping up across the US in recent years. One of the most enduring is the fall Zombie Half hosted by the Anchorage Running Club, producers of summer's Anchorage RunFest. Starting at Goose Lake near the University of Alaska Anchorage, the point-to-point course leads its costumed hordes around Westchester Lagoon before following the popular Tony Knowles Trail along the shoreline of Knik Arm and Cook Inlet. Together with the last vestiges of fall's fiery colors, runners enjoy drop-(un)dead gorgeous views of the surrounding mountains as well as potential wildlife sightings, including moose—which, for the record, are not intimidated by zombies.
Monster Mash Marathon – Dover, DE
(Oct; marathon, half marathon)
Though lacking the widespread notoriety and name recognition of others on this list, Miles the Monster cuts an impressive figure as the 46-foot-tall mascot of the Dover International Speedway, aka the "Monster Mile." He also serves as an imposing centerpiece for the Halloween-themed Monster Mash Marathon, towering as he does just beyond the finish line with glowing red eyes and captive race car clenched in his right hand à la King Kong. Starting with a mile on the track, the flat, certified loop course showcases Delaware's capital city before finishing at the Speedway in Miles' monolithic shadow. All finishers receive a distance-specific medal depicting the race's own Frankenstein-like mascot plus the satisfaction of supporting a good cause, as race proceeds benefit the everyday giants of the Wounded Warrior Project.
Chimera 100 – San Juan Capistrano, CA
(Nov; 100 miler, 100K)
"Moderation Has Its Place. It Ain't Here!" reads the banner at the start/finish line of the Chimera 100, an event named for one of the most fantastical creatures in Greek mythology—a fire-breathing monster with a lion's head and body, a goat's head protruding from its back, and a serpent's tail. True to its ferocious namesake, many a challenger has fallen prey to the course's dusty, rocky terrain and technical single-track, which boasts 22,000+ ft of elevation gain along with sweeping views of Catalina Island across the ocean. After wildfire damage in 2018 and a pandemic-induced hiatus in 2020 and 2021, it's unclear what future editions of the race will look like. What's clear, though, is that ultrarunners will continue to test themselves against "The Beast" in a bid to follow in the footsteps of Bellerophon, the Greek hero who ultimately slayed the Chimera.
Loup Garou Trail Run – Ville Platte, LA
(Dec; 100 miler, 60 miler, 40 miler, 20 miler)
According to Cajun legend, the Loup Garou (pronounced loo'-gə-roo') is a werewolf-like creature having a wolf's head and a man's body, a transformation caused by a curse lasting 101 days. The loup garou prowls the forests and swamps of Southern Louisiana, which also happens to be the venue for the eponymous trail run held on the rolling trails of Chicot State Park, a wildlife reserve just north of Ville Platte. The 20-mile loop course incorporates long bridge crossings through cypress swamps, hardwood forests and piney woods with no scare-city of beautiful scenery. Given its early December race date, runners can expect challenging wet and muddy conditions; at the same time, Race Director Edie and her supportive volunteers go the extra mile, bringing Cajun hospitality (plus post-race gumbo and beer) to ensure their runners' success.
---
Looking for more running events? Search for races by state/city or month, and try our handy Find a Race tool to search for events by name, date range, distance, location, terrain & more. Then sign up for a free account to build your wish list and start coloring in your 50 States Map!
Author: Mike Sohaskey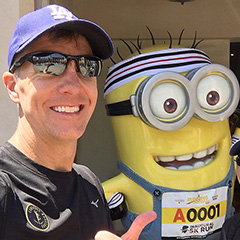 Mike Sohaskey is the co-founder of RaceRaves, the premier online reviews community for runners to share their race experiences and find their next challenge. Mike honed his creative and critical thinking skills as a research scientist, earning a Ph.D. in Cancer Biology from Stanford. He's also completed over 100 races — including 50+ marathons and ultras — in locations ranging from Antarctica to Zimbabwe.

Other RaceRaves articles you'll enjoy (trust us!):
Feb Featured Races you need to know about
Anniversary Races Worth Celebrating (2021-22)
Top Five Things You Can Do as a RaceRaves Member
Tested & Trusted Race Day Tips
Toughest Road Marathons in North America
And for more helpful articles, check out our blog!
Subscribe & Stay Connected
Find this article informative? Please share it, and let others know RaceRaves is the premier online resource to DISCOVER, REVIEW & TRACK all their races and to CONNECT with other runners! Plus, sign up for our newsletter to receive the best racing-related content and special offers every month!