After last year's sudden and unprecedented stoppage, the racing industry warily re-emerged from its forced hiatus in 2021. Hopes rose and records fell among elite and recreational runners alike, fueled by a yearning for pre-pandemic normalcy, motivated by the Tokyo Summer Olympics, and abetted by the inexorable impact of the shoe-technology revolution. Here we relive highlights from a memorable year that was sometimes controversial, often inspiring, and always compelling.
Still speedy after all these years: In January, two-time Olympic medalist Nick Willis of New Zealand got the year off to a fast start quite literally when he ran a mile in less than four minutes for the 19th year in a row, eclipsing the previous mark of 18 consecutive years set by fellow countryman John Walker from 1973–1990.
Walmsley's World: Already the (unofficial) 50-mile world record holder, Jim Walmsley continued his dominance on the roads and trails, missing the 100K world record by just 12 seconds while capturing the American record in 6:09:26 (5:57/mile for 62.1 miles) at January's HOKA's Project Carbon X 2. Five months later, in temperatures that exceeded 100°F he dominated the field to win his third consecutive Western States 100 Mile Endurance Run.
High on endocannabinoids: Bucking conventional wisdom, a new study from the Human Behavior Laboratory at the University Medical Center Hamburg-Eppendorf in Germany corroborated previous evidence in mice that endocannabinoids, not endorphins, are responsible for the transient feeling of euphoria known as a runner's high.
Des-tined for the record books: Inspired by pandemic-induced cancellations, two-time Olympian and 2018 Boston Marathon champ Desiree Linden bested the 50K world mark in her first attempt at the distance on a self-created course near Eugene, Oregon, clocking 2:59:54 for an average pace of 5:47/mile.
Move over, Energizer Bunny: Former smoker Aleksandr "Sania" Sorokin of Lithuania cruised to the 100-mile (11:14:56) and 12-hour (105.825 miles, or 170.309 km) world records at April's Centurion Running Track 100 Mile in England. Remarkably, the 39-year-old then repeated the feat for the 24-hour world record (309.400 kilometers, or 192.252 miles) at August's UltraPark Weekend 24 Hour event in Poland.
The dark side of ultrarunning: In what CNN characterized as "a wake-up call for China's booming marathon industry," 21 of 172 competitors died from hypothermia when extreme weather forced suspension of a 100K trail race in the Yellow River Stone Forest in Gansu, China. In the aftermath of the sport's worst-ever tragedy, China's General Administration of Sport announced an indefinite suspension of some "high-risk" sporting events including ultramarathons. Less than five months later, search and rescue teams were called to assist 87 runners after participants battled heavy snowfall and near white-out conditions—fortunately with no fatalities—at the mountainous DC Peaks 50 Mile Race in Utah.
YOU tell her to move: Race organizers at June's Anchorage Mayor's Marathon in Alaska were forced to reroute the marathon course temporarily after a black bear made herself comfortable in the middle of the trail while her cubs played in the trees nearby.
Good golly, Ms. Molly! Molly Seidel (above) had a breakout year while stoking excitement for the future of U.S. distance running. Seidel became just the third American woman ever to medal in the marathon at the Summer Olympics, winning bronze in steamy Sapporo before breaking the American course record in 2:24:42 at the 50th New York City Marathon in November. And apparently the NYC course record wasn't the only thing she broke, as she later revealed she'd run the race while battling the pain of two cracked ribs.
Peak performance: In yet another master class of ultrarunning, Courtney Dauwalter dominated the prestigious Ultra-Trail du Mont-Blanc (172 km) for the second consecutive time, smashing the women's course record and finishing 7thoverall in a time of 22:30:54 while high-fiving fans in the home stretch leading to the finish line.
Photo finish for the ages: In a dramatic ending to the men's 100m T64 final at the Tokyo Paralympic Games, the top four finishers were separated by just 0.03 seconds. Felix Streng of Germany crossed the line first in a time of 10.76 seconds, edging out Sherman Guity Guity of Costa Rica who finished in 10.78s. Johannes Floors of Germany and Jonnie Peacock of the UK (10.79s) were awarded a third-place tie and shared the bronze medal.
Cain sues former coach and Nike: Alleging emotional abuse during her time with the now-disbanded Nike Oregon Project, professional distance runner Mary Cain filed a $20 million lawsuit against her former coach Alberto Salazar and their mutual employer, Nike. Salazar, who last week was ruled permanently ineligible by the U.S. Center for SafeSport, has denied the allegations.
Going loopy FTW: Cincinnati native and two-time Badwater Ultramarathon winner Harvey Lewis raised the bar on human endurance with his win at Big's Backyard Ultra, completing 354.16 miles in 85 hours to set a new world mark for the backyard ultra format.
Half the marathon, twice the records: Already the world's best in the 5,000m and 10,000m, 23-year-old Letesenbet Gidey of Ethiopia added the half marathon to her world record collection, winning the Valencia Half in 1:04:02 to shatter the previous mark (set in April) by 70 seconds. Four weeks later, Jacob Kiplimo of Uganda shaved one second off the overall world record at the Lisbon Half Marathon in a time of 57:31, a fleet-footed pace of 4:23/mile.
Roaring out of retirement: With all six World Marathon Majors packed into a span of six weeks for the first (and hopefully last) time, Shalane Flanagan seized the opportunity to turn pandemic lemons into historic lemonade. Coming off reconstructive surgery on both knees, the four-time Olympian and 2017 New York City Marathon champ completed each of the six prestigious events (including a virtual substitute for the cancelled Tokyo Marathon) in less than three hours. And in a fitting conclusion, she saved her best for last as she finished NYC in a time of 2:33:32, good for 11th place.
Bicoastal brilliance: At November's pandemic-adjusted Los Angeles Marathon, Jocelyn Rivas— a "Dreamer" born in El Salvador with a broken back, broken neck & two broken feet—became the youngest person ever to complete 100 marathons at age 24 years, 292 days. Hours later on the opposite coast, beloved ultrarunner Tommy Rivers Puzey (aka "Rivs") finished the 50th NYC Marathon in 9:18:57 one year after a near-death battle with a rare & aggressive form of cancer that saw him spend weeks in a medically induced coma.
Good enough is finally good enough: For the first time since 2013, Boston Marathon hopefuls breathed a collective sigh of relief when the Boston Athletic Association announced that all qualified applicants had been accepted into next April's 126th Boston Marathon.
Running away from the pack: In a year of standout performances, no one stood out more than Athing Mu (above). The New Jersey native began the year as a freshman at Texas A&M University before turning pro and signing with Nike in June, winning gold medals in the 800m (the first for a United States athlete in 53 years) and the 4x400m relay at the Tokyo Summer Olympics, and closing out the summer by lowering her own American 800m record to 1:55.04 at the Prefontaine Classic. She then capped the year by winning The Bowerman as the nation's top collegiate track & field athlete. And she doesn't turn 20 until June.
👉 Thanks for reading and for all your support of RaceRaves in 2021. Here's to a happy, healthy 2022 filled with gratifying miles and personal bests in everything you do!
---
Looking for more running events? Search for races by state/city or month, and try our handy Find a Race tool to search for events by name, date range, distance, location, terrain & more. Then sign up for a free account to build your wish list and start coloring in your 50 States Map!
Author: Mike Sohaskey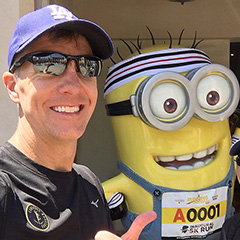 Mike Sohaskey is the co-founder of RaceRaves, the premier online reviews community for runners to share their race experiences and find their next challenge. Mike honed his creative and critical thinking skills as a research scientist, earning a Ph.D. in Cancer Biology from Stanford. He's also completed over 100 races — including 50+ marathons and ultras — in locations ranging from Antarctica to Zimbabwe.

Other RaceRaves articles you'll enjoy (trust us!)
April Featured Races you need to know about
Races Inspired by Monsters, Myths & Legends
Top Five Things You Can Do as a RaceRaves Member
Tested and Trusted Race Day Tips
Toughest Road Marathons in North America
And for more helpful articles, check out our blog!
Subscribe & Stay Connected
Find this article informative? Please share it, and let others know RaceRaves is the premier online resource to DISCOVER, REVIEW & TRACK all their races and to CONNECT with other runners! Plus, sign up for our newsletter to receive the best racing-related content and special offers every month!