Welcome to your RaceRaves guide to top upcoming races! Here we highlight a sampling of best bets & personal favorites to help you stay motivated through the dog days of summer.
Sign up now for a free RaceRaves account to add these events & thousands more to your Future Races.
NOTE: Unless otherwise noted, the following list includes only events that are now taking registrations for an in-person race.
🏆 = Top Rated (Overall rating of at least 4.7 across 10+ reviews)
---
July & August Marathons
Mad Marathon
Jul 9; Waitsfield, VT
Marathon, marathon relay, half marathon, half marathon relay, 10K, 5K
If hills pay the bills, the Green Mountains will put you in the black
Waugoshance Trail Marathon
Jul 15; Mackinaw City, MI
50K, marathon, half marathon
Forested single track a stone's throw from Lake Michigan
San Francisco Marathon
Jul 22–23; San Francisco, CA
Double marathon, marathon, 1st half marathon, 2nd half marathon, 10K, 5K, 1K
Sightseeing circuit of one of the nation's most picturesque cities
Aspen Backcountry Marathon & Heavy Half
Aug 5; Aspen, CO
Marathon, half marathon
Earn a Rocky Mountain runner's high among the aspens
(Registration not yet open)
Beaver Canyon Marathon
Aug 5; Beaver City, UT
Marathon, half marathon, 10K
High above sea level, small-town gem drops 4,000 ft in 21 miles
ET Full Moon Midnight Marathon
Aug 6; Rachel, NV
51K, marathon, half marathon, 10K, 5K
Keep an eye on the sky at this nighttime run through UFO country
Tunnel Vision Marathon
Aug 13; Snoqualmie Pass, WA
Marathon, half marathon
Downhill BQ favorite starts with 2+ miles in an old railroad tunnel
Anchorage Runfest (Humpy's Marathon & Skinny Raven Half)
Aug 19–20; Anchorage, AK
49K, marathon, marathon relay, half marathon, 5K, 1 miler
Urban Alaska charms with coastal beauty & four-legged locals
Run with the Horses Marathon
Aug 19; Green River, WY
Marathon, half marathon, 10K
High-altitude road–trail hybrid where wild horses roam free
Santa Rosa Marathon (above)
Aug 26–27; Santa Rosa, CA
Marathon, half marathon, 10K, 5K
Flat & festive summer finale in Sonoma County wine country🍷
New England Green River Marathon
Aug 27; Marlboro, VT
Marathon
Rustic riverside run starts in VT and finishes in MA
👉 Or search for more July & August marathons
---
July & August Half Marathons
Meijer Festival of Races (Chateau Grand Traverse Half Marathon)
Jul 8; Traverse City, MI
Half marathon, 15K, 10K, 5K
50th anniversary celebration in the Cherry Capital of the World
Spearfish Canyon Half
Jul 8; Spearfish, SD
Half marathon, 5K
"Downhill all the way" on the Spearfish Canyon Scenic Byway
Star Valley Half
Jul 8; Thayne, WY
Half marathon
Friendly, small-town family affair near Grand Teton Natl Park
Mount Rainier Half
Jul 14–15; Ashford, WA
Half marathon, 5K
Over the river(s) and thru the woods in the shadow of Mt Rainier
Bryce Canyon Half
Jul 15; Bryce Canyon, UT
Half marathon, 5K
Speedy downhill road race in spectacular surroundings
Napa to Sonoma Wine Country Half
Jul 15–16; Napa, CA
Half marathon, 5K
The original wine country half lives up to "grape" expectations 🍇
Rocky Mountain Half 🏆
Jul 28–29; Estes Park, CO
Half marathon, 5K
"Challenging altitude course" boasts "stunning scenery" & "epic views"
Bridge of the Gods Half 🏆
Aug 6; Cascade Locks, OR
Half marathon, 10K
Heavenly vistas make this a "bucket list race" for mere mortals
Asheville Half
Aug 26; Asheville, NC
Half marathon, 10K
Vibrant, bohemian destination in the Blue Ridge Mountains
Walt Stack DSE Double Dipsea 🏆
Aug 26; Stinson Beach, CA
13.7 miler
"Sadistically designed" out-and-back on the iconic Dipsea Trail
(Registration opens May 26)
Iron Horse Half (above) 🏆
Aug 27; North Bend, WA
Half marathon
Downhill rails-to-trails route is a PR waiting to happen
👉 Or search for more July & August half marathons
---
July & August Ultra Marathons
Leadville Silver Rush 50 Run
Jul 8; Leadville, CO
50 miler, 15 miler
Extreme altitude challenge serves up "a true test of your limits"
Maah Daah Hey Trail Run 🏆
Jul 29; Medora, ND
106 miler, 81 miler, 56 miler, marathon, half marathon, 10K, 5K
Experience the rugged & relentless beauty of the ND Badlands
Marquette Trail 50
Aug 18–19; Marquette, MI
50 miler, 50K, 5K, 1 miler
Sublime climbs rewarded with unrivaled views of Lake Superior
Backcountry Rise
Aug 19–20; Toutle, WA
50 miler, 50K, 20 miler
Explore remote landscapes shaped by the 1980 Mt St. Helens eruption
A Race for the Ages (ARFTA)
Aug 31–Sep 2; Manchester, TN
# of hrs = your age
Quirky competition where the older you are, the longer you run
👉 Or search for more July & August ultra marathons
---
July & August Other Distances
AJC Peachtree Road Race
Jul 4; Atlanta, GA
10K
Kick off July 4th festivities at the world's largest 10K 🇺🇸
Boilermaker Road Race 🏆
Jul 9; Utica, NY
15K, 5K
Community-minded celebration dials up the spirit & support
Beach to Beacon 10K Road Race
Aug 5; Cape Elizabeth, ME
10K
Brainchild of Joan Benoit Samuelson marks its 25th year
(General Registration opens Apr 20)
Shawshank Hustle
Aug 12; Mansfield, OH
4.6 miler
Inspired tribute starts & finishes at Shawshank State Prison
Falmouth Road Race
Aug 20; Falmouth, MA
7 miler
Cape Cod's iconic coastal course enters its 6th decade
(Lottery registration opens in May)
👉 Or search for more July & August races of other distances
---
July & August International Races
Zermatt Marathon🇨🇭
Jul 1; Zermatt, Switzerland
45.5K, marathon, marathon relay, half marathon
Uphill alpine adventure ends at the highest finish line in Europe
Gold Coast Marathon 🇦🇺
Jul 1–2; Southport, Australia
Marathon, half marathon, 10K, 5K
Flat seaside run showcases world-class surfing beaches
Victoria Falls Marathon 🇿🇼
Jul 2; Victoria Falls, Zimbabwe
Marathon, half marathon, half marathon relay, 7K
Wild elephants 🐘 & one of the 7 Natural Wonders of the World
Reykjavik Marathon 🇮🇸
Aug 19; Reykjavik, Iceland
Marathon, half marathon, 10K, 3K
Tour of Iceland's captivating capital coincides w/ Reykjavik Culture Night
Mexico City Marathon 🇲🇽
Aug 27; Mexico City, Mexico
Marathon
Latin America's largest marathon earns the World Athletics Elite Label
👉 Or search for more July & August international races
Looking for more great races across the U.S. and around the world? Check out our Featured Races for:
---
Looking for more running events? Search for races by state/city or month, and try our handy Find a Race tool to search for events by name, date range, distance, location, terrain & more. Then sign up for a free account to build your wish list and start coloring in your 50 States Map!
Author: Mike Sohaskey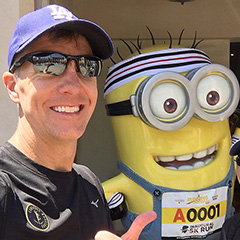 Mike Sohaskey is the co-founder of RaceRaves, the premier online reviews community for runners to share their race experiences and find their next challenge. Mike honed his creative and critical thinking skills as a research scientist, earning a Ph.D. in Cancer Biology from Stanford. He's also completed over 100 races — including 50+ marathons and ultras — in locations ranging from Antarctica to Zimbabwe.

Other RaceRaves articles you'll enjoy (trust us!)
The Best Race Distance?
Getting to Know the Abbott World Marathon Majors
Let's Talk Marathons: The AMR Trains Podcast
Iconic Short-Distance Races (Spring)
Top Five Things You Can Do as a RaceRaves Member
And for more helpful articles, check out our blog!
Subscribe & Stay Connected
Find this article informative? Please share it, and let others know RaceRaves is the premier online resource to DISCOVER, REVIEW & TRACK all their races and to CONNECT with other runners! Plus, sign up for our newsletter to receive the best racing-related content and special offers every month!