Buoyed by the welcome return of the "old" normal, race day in 2022 showcased the power and resilience of the human spirit as no other endeavor can. Elite and recreational competitors alike delivered incredible performances as records fell, the GOAT did it again, and one American captured the national spotlight with an improbable year for the ages. Here we revisit the most memorable moments from a remarkable year in racing that gave us all plenty to rave about.
Houston, we have liftoff: The year got off to a historically fast start in Houston, where Keira D'Amato broke Deena Kastor's 16-year-old American marathon record with a winning time of 2:19:12, while Sara Hall joined husband Ryan as the nation's top half marathoner in a time of 1:07:15. Amazingly, both records would fall—and to the same athlete, no less—within the year.
Who needs to feel their toes? Temperatures and records fell in Yakutia, Siberia, where the Pole of Cold Marathon set the record for coldest marathon ever at –53°C / –63°F. (Post-race temperatures dropped to –60°C.) 🥶
Mind-boggling "mile"stone: Defying age and inertia at age 38, two-time Olympic medalist Nick Willis of New Zealand became the first person to run a sub-four-minute mile for 20 consecutive years with a time of 3:59.71 at the Millrose Games in New York City.
Lifting up the Down syndrome community: RaceRaves member Daniel Chaplin notched seven new states, bringing his year-end total to 41 in his quest to raise awareness as the first person with Down syndrome to complete a half marathon in all 50 states. Meanwhile, Kayleigh Williamson was chosen by Adidas to participate in the 2023 Boston Marathon after she became the first person with Down syndrome to complete the Austin Marathon in February.
Total ellipse of the heart: Camille Herron cruised to a new 100-mile world record (12:41:11) at the Jackpot Ultra Running USATF Championship in February, only to learn in November that her record would not count due to a controversial course error. Not to be deterred, Herron finished the year by besting her own American records for 50 miles, 100 km and 100 miles at the Desert Solstice Track Invitational.
Still it eats its young: In what has become an almost annual tradition, all 38 starters tapped out at The Barkley Marathons, leaving the notorious event with no finishers for the fifth consecutive year and the 23rd time in its 36-year history. One lost and weary competitor was escorted back to camp after seeking help from a trash can he'd mistaken for a person.
Unbroken: With her husband staying behind to defend against Russian invaders, and despite not training for a month after fleeing her homeland with her 11-year-old daughter, Ukrainian refugee Valentyna Veretska won the women's division and placed third overall at the Jerusalem Marathon. 🇺🇦
Flying Pig hogs the spotlight: For the third time in five years, Cincinnati's hometown race brought home the bacon in the RaceRaves March Lunacy tournament, produced in parallel with the NCAA March Madness tournament. The Pig, which celebrates its 25th anniversary in 2023, outlasted 63 contenders—including two tenacious National Parks challengers in the Final Four—to take home the title of "America's Favorite Half Marathon."
Record collector: Break out the superlatives for Bowerman Track Club athlete Grant Fisher, who achieved a fleet-footed trifecta by setting American records in the 5,000m (12:53.73) in February, the 10,000m (26:33.84) in March, and the 3,000m (7:28.48) in August, before lowering his own 5,000m mark to 12:46.96 in September.
Ultra dominant: Aleksandr "Sania" Sorokin of Lithuania picked up where he left off in 2021 as the former smoker set a new 100-km world record (6:05:41) at the Centurion Running Track 100 Mile in April, then shattered his own 24-hour world record with 198.599 miles (319.614 km) at the IAU 24-Hour European Championships in September.
One year to rule them all: In a year of standout performances, the brightest spotlight shone on Emily Sisson. Running in the USATF Half Marathon Championships in May, Sisson set a new American half marathon record in a winning time of 1:07:11, eclipsing Sara Hall's mark set four months earlier. And she wasn't done—three days shy of her 31st birthday and running only her second career marathon, Sisson finished second at the Chicago Marathon in a time of 2:18:29, smashing Keira D'Amato's American record by 43 seconds and becoming the first American woman to run a sub-2:19 marathon. It was, in Sisson's own words, an "amazing" day. 🇺🇸
Noble revelations: In a BBC documentary released in July, four-time Olympic gold medalist and 2018 Chicago Marathon champion Sir Mo Farah reveals that his real name is Hussein Abdi Kahin and that as a child, he was trafficked to the UK from Djibouti and forced into domestic servitude.
Chasing immortality: Clearly running to break two hours, Eliud Kipchoge came up short but still shaved 30 seconds off his own world record, winning the Berlin Marathon in a time of 2:01:09. "This pace was too hot," he admitted after the race, in which his pacers led him through the first half in a jaw-dropping 59:51. The victory capped another undefeated year for the 38-year-old Kenyan, who also won the Tokyo Marathon in March with a course record time of 2:02:40. Next up: Kipchoge's Boston debut, as the GOAT looks to become the first to win all six World Marathon Majors.
World's best training run: "Pretty encouraging for a training effort" was how CJ Albertson described his world record 50K performance at October's Ruth Anderson Memorial Run in San Francisco. As part of his preparation leading up to the Valencia Marathon, Albertson clocked 31.1 miles around Lake Merced in a time of 2:38:43 to reclaim from South Africa's Stephen Mokoka (2:40:13) the mark he'd first set in November 2020.
Dazzling debuts: In Spain, the famously fast Valencia Marathon again produced historic results as Kelvin Kiptum of Kenya (2:01:53) and Letesenbet Gidey of Ethiopia (2:16:49) posted the fastest finish times ever for a man and woman, respectively, in their marathon debut. Bolstered by a fastest-ever second-half split time of 60:15, Kiptum became the third-fastest marathoner in history behind only Eliud Kipchoge of Kenya and Kenenisa Bekele of Ethiopia.
Finding the fountain of youth: Putting an emphatic exclamation mark on the year in racing, retired ophthalmologist Mathea Allansmith became the oldest woman to complete 26.2 miles when she crossed the finish line at the Honolulu Marathon in 11 hours, 19 minutes, 49 seconds. Basking in the afterglow of her new world record, the 92-year-old Kauai resident enthused, "I love being out here with this group of people. It's electric!" Congrats Mathea, we couldn't agree more. 💙🧡
👉 Thanks for reading and for all your support of RaceRaves in 2022. Here's to a happy, healthy 2023 filled with gratifying miles and personal bests in everything you do!
---
Looking for more running events? Search for races by state/city or month, and try our handy Find a Race tool to search for events by name, date range, distance, location, terrain & more. Then sign up for a free account to build your wish list and start coloring in your 50 States Map!
Author: Mike Sohaskey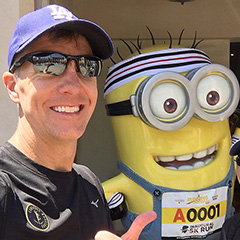 Mike Sohaskey is the co-founder of RaceRaves, the premier online reviews community for runners to share their race experiences and find their next challenge. Mike honed his creative and critical thinking skills as a research scientist, earning a Ph.D. in Cancer Biology from Stanford. He's also completed over 100 races — including 50+ marathons and ultras — in locations ranging from Antarctica to Zimbabwe.

Other RaceRaves articles you'll enjoy (trust us!)
April 2023 Featured Races
Let's Talk Marathons: The AMR Trains Podcast
Coach Denise: Breaking Through The Wall
Iconic Short-Distance Races (Spring)
Top Five Things You Can Do as a RaceRaves Member
And for more helpful articles, check out our blog!
Subscribe & Stay Connected
Find this article informative? Please share it, and let others know RaceRaves is the premier online resource to DISCOVER, REVIEW & TRACK all their races and to CONNECT with other runners! Plus, sign up for our newsletter to receive the best racing-related content and special offers every month!