With road racing on hold and the red carpet yanked out from under the summer movie season, there's no better time to escape to the small screen and catch up on the best running documentaries from some of the sport's leading filmmakers.
Whether you're looking for motivation to kick start your training, camaraderie to help tackle the treadmill, or a compelling reason to chill—check that, recover—on your sofa, this diverse collection of films spotlights iconic events, moments and personalities from across the sport of running while celebrating the indomitable power of the human spirit.
Grab your popcorn, pull up a couch, and prepare to be inspired!
12 Documentary Films Every Runner Should See
The Barkley Marathons: The Race That Eats Its Young
"You can't really tell how much you can do until you try to do something that's more." Call him a visionary or call him a sadist, but Gary Cantrell (aka Lazarus Lake) is unrivaled when it comes to crafting challenges that test the limits of human endurance. The Race That Eats Its Young intersperses Laz's charismatic narration with first-hand footage from the amazing 2012 edition of The Barkley Marathons, a 100+ mile trail race in Tennessee that boasts only 15 finishers in its 34-year history. And though witnessing the raw emotion of the Barkley feels almost voyeuristic at times, we're all invited guests at this sufferfest… and doesn't misery love company? (2014, 89 min)
---
Boston: The Documentary
What the Boston Marathon is to running, Boston is to running documentaries. Directed by Spirit of the Marathon veteran Jon Dunham and narrated by Matt Damon, this big-budget production focuses on the aftermath of the tragic 2013 bombings culminating in the "Boston Strong" comeback of 2014. From its humble beginnings as the nation's first marathon to the Rosie Ruiz scandal in 1980 to Meb's emotional victory in 2014, archival footage and eyewitness accounts bring to life the athletes, personalities, and moments that shaped America's most iconic foot race. A rousing tale of triumph over tragedy that transcends the sport, Boston is as good as it gets. (2017, 114 min)
---
Breaking2
Breaking2 chronicles the Nike-sponsored attempt by three world-class runners—Eliud Kipchoge of Kenya, Lelisa Desisa of Ethiopia, and Zersenay Tadese of Eritrea—to capture marathoning's holy grail by running 26.2 miles in less than two hours. Along the way, the film explores the limits of human potential while introducing each athlete on a personal and professional level. And while Kipchoge's insistence that "No human is limited" may seem unrelatable coming from the marathon world record holder, the emotional drama and lasting impact of this moonshot moment is undeniable—even for those who already know the outcome ahead of time. (2017, 55 min)
---
Desert Runners
If you're looking to convince your non-runner friends to lace up and join you, Desert Runners isn't the place to start. The film follows an international lineup of weekend warriors as they try to complete a series of four ultramarathons—each 250 km (155 miles) over six days—across some of the world's most unforgiving landscapes. Watching ordinary people undertake extraordinary challenges (and suffer extraordinary blisters) is equal parts fascinating and infuriating, and particularly under such extreme conditions in which every decision, lucid or otherwise, can be a matter of life or death. As the ultrarunning mantra goes, miserable is memorable. (2013, 99 min)
---
Leadman: The Dave Mackey Story
15 Hours with Amelia Boone
From filmmaker Billy Yang come two short but powerful profiles in courage that show what it means to have the heart of a champion. Leadman introduces us to Dave Mackey, a formerly elite ultrarunner who in 2015 suffered a gruesome training injury leading to the amputation of his left leg below the knee, as he attempts an epic comeback at the 2018 Leadville Trail 100 Run. (2019, 24 min)
Similarly, though with only tacit references to her various injuries, 15 Hours with Amelia Boone superimposes the four-time obstacle racing world champion's own introspective narration on first-hand footage of her triumphant return to ultrarunning at the 2018 Sean O'Brien 100K. (2018, 9 min)
---
Runner
Runner follows the triumphant journey of Guor Mading Maker from Sudanese refugee to Olympic marathoner. Having lost 28 family members—including eight of his nine siblings—to the Sudanese Civil War, Mading Maker spent much of his youth running for his own life in war-torn Sudan before escaping to the United States, where he would become a world-class runner and outspoken opponent of Sudanese oppression. Animated flashbacks smartly depict Mading Maker's childhood struggles as one of the Lost Boys of Sudan, while his on-camera reunion with his parents after 20 years is the film's most powerful scene and its emotional centerpiece. (2019, 88 min)
---
Skid Row Marathon
Rock bottom, running, and redemption are central themes in this uplifting story of the Midnight Mission Running Club, based in the Skid Row neighborhood of Los Angeles. Founded in 2012 by Judge Craig Mitchell, the club empowers members of the Skid Row homeless community to overcome substance abuse and achieve positive life goals. Through the words and actions of the club's eclectic membership and "The Judge" himself, the film succeeds by deftly illustrating the importance of second chances and by highlighting all that individuals can accomplish when there's someone who's willing to believe in them. (2017, 85 min)
---
Spirit of the Marathon
Director Jon Dunham's 2007 classic is a love letter to racing's most revered distance. Featuring interviews with many of the sport's luminaries, SotM tracks six diverse runners—including American record holder Deena Kastor—as they train for and ultimately compete in the 2005 Chicago Marathon. If you've never felt the urge to run 26.2 miles, the film may well inspire a change of heart; at the same time, Dunham expertly captures the magic that keeps so many first-timers coming back. As Windy City native and four-time Chicago finisher Dan Solera admits, "I watched Spirit of the Marathon twice before my first Chicago [Marathon]." (2007, 104 min)
---
Spirit of the Marathon II
Featuring a similar sensibility and sleeker production than the original, SotM II goes international as Director Jon Dunham and crew travel to Italy for the 2012 Rome Marathon. Building on the success of its critically acclaimed predecessor, Dunham's sequel follows seven runners (five amateurs, two professionals) in the lead-up to race day, their stories sprinkled with historical insights from a familiar lineup of running experts and VIPs. With an emotional intimacy that lifts the narrative, SotM II confidently breaks new ground while never losing its appreciation for the sublime power of the marathon and the myriad, often deeply personal reasons we run. (2013, 115 min)
---
The Stand: How One Gesture Shook the World
No one could foresee the enduring impact Americans Tommie Smith and John Carlos would have when, on October 16, 1968, the 200m gold and bronze medalists stood atop the Olympic podium in Mexico City, heads bowed and a single black-gloved fist raised to the sky. More than half a century later, The Stand tells the story of that fateful decision and its consequences through archival footage and exclusive interviews with Smith, Carlos, and their Olympic teammates, among others. Bold and unapologetic, the film tackles issues of civil rights, personal freedoms, and human dignity that remain as timely as ever in America's ongoing struggle for racial justice. (2020, 70 min)
---
Unbreakable: The Western States 100
This immersive narrative follows four of the world's top mountain runners as they compete at the 2011 Western States 100-Mile Endurance Run. Intimate profiles of each of the four competitors are punctuated by WSER founder Gordy Ainsleigh's harrowing account of the race's origins and of how he himself nearly died in his first attempt at the distance. The film boasts some of the finest running footage in the genre, and ultrarunners and non-ultrarunners alike will appreciate the sheer pleasure of Kilian Jornet's sure-footed technique. For an inside look at the world's oldest and most prestigious 100-mile foot race, Unbreakable is unbeatable. (2012, 106 min)
And for diehard enthusiasts who can't get enough of Western States, Billy Yang's Life in a Day offers a compelling if less immersive account of the 2016 event from the perspective of four elite women competitors, including eventual winner Kaci Lickteig. (2017, 62 min)
Got a favorite running documentary you'd recommend to our RaceRaves audience? Drop it in the comments below, and sign up for our newsletter to receive the best racing-related content and special offers every month! 👏
---
Author: Mike Sohaskey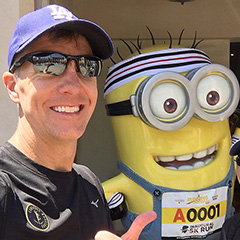 Mike Sohaskey is the co-founder of RaceRaves, the premier online reviews community for runners to share their race experiences and find their next challenge. Mike honed his creative and critical thinking skills as a research scientist, earning a Ph.D. in Cancer Biology from Stanford. He's also completed over 100 races — including 50+ marathons and ultras — in locations ranging from Antarctica to Zimbabwe.

Other RaceRaves articles you'll enjoy (trust us!):
Quick 6: Race Trivia Series
So Your Race Has Been Canceled. Now What?
Runners Choice: Best Half Marathons in the U.S.
Runners Choice: Best Marathons in the U.S.
Best Bets for Boston Marathon Qualifying Races
Introducing your (smart) 50 States Map
Unconventional Races that dare to be different
And for more helpful articles, check out our blog!
Find this article informative? Please share it, and let others know RaceRaves is the premier online resource to DISCOVER, REVIEW & TRACK all their races and to CONNECT with other runners!