As a RaceRaves member, My Staging Area is your profile page and personal race HQ! Here you'll track your racing history — including Past Races, Future Races and Personal Bests — as well as all your reviews (My Raves) in one convenient location.
My Staging Area is accessible for signed-in members by clicking/tapping your first name (on desktop), avatar (on mobile) or username on any screen. Build your profile by adding achievements, running clubs & affiliations, a link to your personal website (blog, social media, etc), and a profile photo — unless you like being a faceless avatar. 🤦‍♀️
Ditch the spreadsheet! My Staging Area is the easiest way to organize ALL your races, past & future — those you've already run, those you plan to run (i.e. already registered) and those you want to run (i.e. your wish list for the future). Simply click/tap the orange "ADD A RACE" button and follow the cues to add race name, date and distance. (Or you can add a race from any individual race page.)
Plus, My Staging Area is your hub for staying connected with other RaceRaves members.
Helpful Hints for My Staging Area:
Track Personal Bests:  Enter your finish time when you add a race, and your personal bests will display automatically in your Personal ­Bests table (you can always choose to hide these). This is true for distance races (e.g. 5K, half marathon) and timed races (e.g. 6 hr, 12 hr).
Visualize your travels:  Your "smart" 50 States Map automatically colors in each US state based on your Past Races table, i.e. the distance run in that state. It's the best online tool for runners to track their travels and a handy companion for 50 Staters!
Why track future races?

To keep friends in the know: your followers will receive an email notification two days before each of your Future Races.
For busy athletes with good intentions, we'll send you a friendly reminder to post your review after each race.
And Future Races move automatically into your Past Races table on race day!
(BTW, for you early planners — add a Future Race with only a year as the date, and the exact race date will update automatically in your Future Races table once it's published on the site.
NOTE: For Past Races on your Staging Area page, you can easily add a finish time without having to add a review by clicking the ADD NOW link in the "Result" column. 🙌
Not finding a specific race? See Tips & Tricks: Finding Races for all the deets on how to find races past, present and future. Or feel free to send us the event details via our Submit a Race form and we'll add it to the site, usually within 24 hours.
---
Author: Mike Sohaskey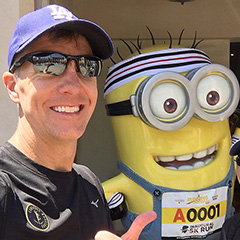 Mike Sohaskey is the co-founder of RaceRaves, the premier online reviews community for runners to share their race experiences and find their next challenge. Mike honed his creative and critical thinking skills as a research scientist, earning a Ph.D. in Cancer Biology from Stanford. He's also completed over 100 races — including 50+ marathons and ultras — in locations ranging from Antarctica to Zimbabwe.
More RaceRaves Tips & Tricks:
Finding Races
Individual Race Pages
Reviewing a Race
Your (Smart) 50 States Map
It's All About Community
Find this article informative? Please share it, and let others know RaceRaves is the premier online resource to DISCOVER, REVIEW & TRACK all their races and to CONNECT with other runners!