IRVINE, CA – Taco Bell, in partnership with two leaders in the sports nutrition industry, today announced its new lineup of healthier options aimed at runners & endurance athletes, who along with college students and gastro-masochists make up the company's most coveted demographic.
The announcement of its new "CarboLoad" menu follows Taco Bell's previous unveiling of a lower-calorie Fresco menu, a vegetarian menu certified by the American Vegetarian Association, and a HealthFree menu endorsed by the American Lard Lovers Association.
Riffing off traditional favorites, the new menu will highlight high-carbohydrate, low-protein options such as the 5-Layer GUrrito (above), which features three flavors of GU Energy Gels—like the special-edition Zesty GUacamole flavor—plus two layers of GU Energy Chews to "enhance texture & mouthfeel." Ideal for plant-based diets, the 5-Layer GUrrito will be priced at $3.29 with a Roctane upgrade available for an additional $0.79.
Not enough fast-burning fuel for your tank? For a limited time, just say "GU for it" to add a side of cheesy NaChews BellGrande, the perfect salty-sweet accompaniment to help the "rungry" athlete train their stomach for the trials of race day.
And the company has big plans to expand its runner-friendly lineup in the near future.
"Building on the success of our Doritos Locos Tacos and Quesalupa offerings, we're excited to introduce a series of 'CLIF-alupa' Tacos featuring popular CLIF Bar flavors," said Taco Bell spokesperson April Scherz. "Our Savory Sierra Trail Mix Taco and Cool Mint Chocolate Taco will give your taste buds 26.2 reasons to celebrate. And any ultrarunner battling low blood sugar or sleep deprivation will appreciate our caffeinated Caramel Macchiato Taco Supreme, part of our 'All-Night Aid Station' menu based on CLIF's invigorating Coffee Collection."
Scherz continued: "As an originator of the 'I can't get to real food right now, so I'll eat this instead' concept nearly 60 years ago, Taco Bell is thrilled to partner with well-respected innovators in the space to create affordable, semi-nutritious options that cater specifically to the runner's palate."
To complement its new CarboLoad menu, the fast-food chain will offer another race-day favorite in its soda fountains: inconsistently prepared Gatorade, with the exact formulation and flavor varying by location.
(Questions? Please don't write or tweet at our friends at Taco Bell, GU Energy Labs or Clif Bar & Company, but do sign up for our newsletter to receive the best racing-related content and special offers!)
---
Looking for more running events? Search for races by state/city or month, and try our handy Find a Race tool to search for events by name, date range, distance, location, terrain & more. Then sign up for a free account to build your wish list and start coloring in your 50 States Map!
Author: Mike Sohaskey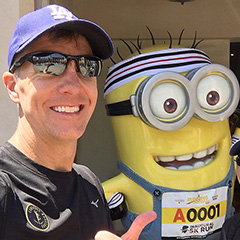 Mike Sohaskey is the co-founder of RaceRaves, the premier online reviews community for runners to share their race experiences and find their next challenge. Mike honed his creative and critical thinking skills as a research scientist, earning a Ph.D. in Cancer Biology from Stanford. He's also completed over 100 races — including 50+ marathons and ultras — in locations ranging from Antarctica to Zimbabwe.

Other RaceRaves articles you'll enjoy (trust us!):
July Featured Races that may actually happen
Toughest Road Marathons in North America
Best Racing Cities in the U.S.
Running on all seven continents
Unconventional Races that dare to be different
Must-See Running Documentary Movies
And for more helpful articles, check out our blog!