Another year of Boston Marathon registration is (literally) in the books — congrats to all who made the cut! Whether you're in or out for 2018, it's already time to look ahead and forward to 2019. And we're taking the first step with the second installment in our "Best Bets for a Boston Qualifier" series. Here we profile 15 wicked fast BQ options for the fall and winter months, October to March. (Races that include a shorter distance(s) are indicated by a *.)
If you missed our first installment or are looking for a spring/summer Boston Qualifier, check out "Best Bets for a Boston Qualifer (Apr–Sept)."
And if you've run one or more of these races, post your review to help other runners and give the race organizers a well-deserved shout-out!
---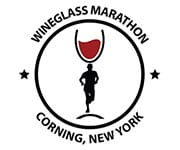 Wineglass Marathon* – Bath, NY (Oct)
(marathon, half marathon, 5K)
Course profiles: flat with gentle rolling
Number of 2016 finishers: 1,922

Staged in the spectacular Finger Lakes region in the heart of East Coast wine country, Wineglass is one of the nation's most popular destination marathons. It also happens to be an excellent Boston Qualifier. The flat point-to-point course from Bath to Corning drops ~200 feet as it winds along quiet country roads awash in an explosion of fall colors. Here the locals — both the two-legged and four-legged variety, including goats and horses — turn out to greet and support the runners. RaceRaves member and 2014 finisher @Lorelei calls the handcrafted glass finisher medal "just way too cool for words" and adds that "the post-race food was fantastic." Additional finisher rewards include a gender-specific tech tee and small bottle of sparkling wine with wineglass, plus gift certificates compliments of the local businesses so you can shop 'til your drop — which after 26.2 speedy miles and a celebratory glass (or two) of wine, may not take long.
General registration sells out several months in advance.
Mohawk Hudson River Marathon* – Schenectady, NY (Oct)
(marathon, half marathon)
Course profile: rolling; net downhill for first 14 miles, 175 ft drop in miles 15–18, flat to the finish
Number of 2016 finishers: 1,113

The Mohawk Hudson River Marathon is a small-town race with a big-city appreciation for the key details that runners appreciate. The gently rolling course parallels the Mohawk and Hudson Rivers en route from Schenectady to Albany, with relatively few turns and a downhill section that provides momentum early in the second half. Along the way, on-course signs call out upcoming aid stations to help runners plan their nutritional intake. Cool fall temperatures, vibrant foliage and pleasant distractions like the Thaddeus Kosciusko Bridge—aka the Twin Bridges—put runners in the right frame of mind to dig deep and put their best foot forward. And this formula is clearly a success, as 27% of the field qualified for Boston in 2016. With the calming waters of two rivers to keep you company, the Mohawk Hudson River Marathon is the ideal venue to go with the flow and chase your BQ dreams.
Steamtown Marathon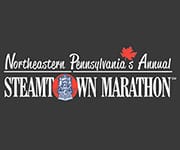 * – Forest City, PA (Oct)
(marathon, wheelchair marathon)
Course profile: rolling for first 3 miles, gradual descent of 900 ft in miles 4–23, rolling to the finish
Number of 2016 finishers: 1,729

With a name that recalls Scranton's once-prominent role in the railroad industry, it's fitting that 21% of Steamtown finishers punched their ticket to Boston in 2016. The point-to-point course traverses more than a dozen communities in NE Pennsylvania, dropping 933 feet from its start in Forest City to its finish in Scranton at the Lackawanna County Courthouse Square, under the watchful eye of the historic Electric City sign. Despite the net downhill, a potentially wicked surprise awaits unsuspecting runners in the form of rolling hills in the last three miles. As @ShellyL frames it: "None of the hills would make you blink an eye if it were a training day. However, they come at the end of the race, when your legs can be tired. Respect them, plan for them and run hills on fatigued legs during your training." Luckily the low-key, easily navigated expo will keep your legs fresh for race day. When it comes to getting its runners to Boston, there's no "Lackawanna" in Steamtown.
Baystate Marathon* – Lowell, MA (Oct)
(marathon, half marathon)
Course profile: mostly flat with gentle rolling throughout
Number of 2016 finishers: 1,329

If being treated to the Northeast's changing autumn colors on a course celebrated for its Boston Qualifying potential sounds appealing, then Massachusetts' other marathon is for you. Starting and finishing at the Tsongas Center at UMass Lowell, Baystate's two-loop course along the Merrimack River is optimized for speed: mostly flat (the bridges over the river being the only "hills") but with enough variation to avoid overworking specific muscle groups. Throw in crisp fall temperatures and you have a recipe for BQ success, as the 23% of finishers who qualified in 2016 can attest. And thanks to title sponsor Ashworth Awards, you can trust the finisher medal will look good hanging around your neck and on your wall. From its silky smooth organization to its "beautiful course scenery" to the "amazing" volunteers who "answer all the questions you could possibly have", Baystate is a proven winnah.
Ventura Marathon* – Ventura, CA (Oct)
(marathon, half marathon, 5K)
Course profile: gentle rolling for first 6 miles, gradual descent of ~1,000 ft in miles 7–24 then one last bump to the finish
Number of 2016 finishers: 689

Now part of the Lexus LaceUp Series, Ventura returns this year with an all-new downhill course that offers Southern California runners a strong autumn BQ option. Reminiscent of May's speedy Mountains 2 Beach Marathon, the new point-to-point course starts with two rolling loops in Ojai before dropping down the paved Ojai Valley/Ventura River Trail to finish near the Ventura Pier, steps from the Pacific Ocean and the ultimate foot soak. With a net descent of nearly 1,000 feet and pace groups smartly organized to account for tightening BQ standards (e.g. 3:07, 3:12, 3:22 rather than 3:10, 3:15, 3:25), Ventura is focused on getting you from beach to Boston. At the same time the race doesn't skimp on the swag, which includes a waffle breakfast, free race photos and a two-day beach party held in conjunction with the marathon. With a fast new course and popular Race Director Josh Spiker still at the helm, Ventura is poised to become SoCal's BQ fall favorite.
Indianapolis Monumental Marathon* – Indianapolis, IN (Nov)
(marathon, half marathon, 5K)
Course profile: flat to rolling with one short uphill in mile 16
Number of 2016 finishers: 4,176

The hashtag says it all: #BeMonumental. Celebrating its 10th anniversary in 2017, the Hoosier State's largest marathon continues to grow in popularity among novice and seasoned runners alike, having sold out with increasingly larger fields in each of the past five years. As such its percentage of Boston qualifiers may not be as gaudy as some other races, but don't be fooled—this is a fast, BQ-friendly course. And new wave starts this year should only improve its BQ potential. Starting and finishing at the State Capitol, the race is a 26.2-mile urban tour of Indianapolis with more than 20 aid stations and experienced pace teams ranging from sub-three hours to 6½ hours, the course time limit. Factor in Central Indiana's normally brisk (i.e. optimal) early November weather, and Indy Monumental may very well answer the question of "Hoosier favorite Boston Qualifier?"
Hamilton Marathon Road2Hope* – Hamilton, Ontario, Canada (Nov)
(marathon, half marathon, 10K, 5K)
Course profile: rolling for first 14 miles, 380 ft descent in miles 15–17, flat to the finish
Number of 2016 finishers: 778

For Canadian runners looking to qualify for North America's most prestigious marathon, the Hamilton Marathon Road2Hope is an autumn best bet, with 28.5% of finishers earning their Boston stripes in 2016. The diverse course starts with a rolling first half through scenic Ontario countryside, before joining the Red Hill Valley Pkwy and dropping nearly 400 feet over the next two miles. The unpaved Red Dirt Trail provides a brief reprieve for the legs in mile 19, after which a flat waterfront out-and-back along Lake Ontario leads to the finish line celebration in Confederate Beach Park. Being north of the border, the only potential downside to Road2Hope is its unpredictable November weather—and with that in mind, the ArcelorMittal Dofasco Centre adjacent to the start line provides a heated indoor gathering spot before the race. Searching for a speedy Canadian marathon? The Road2Hope is paved with Boston qualifiers.
Anthem Richmond Marathon
* – Richmond, VA (Nov)
(marathon, half marathon, 8K)
Course profile: rolling with a downhill finish
Number of 2016 finishers: 4,062

Boston hopefuls will be thrilled to learn that "America's Friendliest Marathon" is also one of its fastest. Richmond's rolling course blends scenery with history, passing through diverse neighborhoods and along the James River in the full flush of fall. And while the fast course with its downhill finish is a perennial BQ favorite, the ultimate compliment may be that Richmond "feels like a much larger event than it really is" (@RunnerMeg) thanks to enthusiastic volunteers and outstanding community support, not to mention several Party Zones and frequent live music. "I have never seen so many locals come out to cheer on a race," agrees @portlandrunner. And personalized bib numbers mean many of those cheers will be directed at you by name. A custom fleece blanket awaits all finishers, along with a "special gift" for those who realize their BQ potential. If you're looking for a fall Boston Qualifier that goes the extra mile and has fun doing it, look no further than Richmond.
REVEL Mt Lemmon* – Mt Lemmon, AZ (Nov)
(marathon, half marathon)
Course profile: rolling in first 4 miles, then severe descent of nearly 5,500 ft to the finish
Number of 2016 finishers: N/A

From the folks who redefined "fast" comes the newest member of the REVEL family. REVEL Mt Lemmon follows in the footsteps of the defunct Mt Lemmon Marathon (2010–2013), which with its 6,000 feet of elevation gain earned a reputation as one of the world's toughest marathons. Four years later, what went up must come down as another fast and beautiful REVEL experience. Starting in the Coronado National Forest at 8,000 feet, your journey to Boston Qualifier takes you down the General Hitchcock Scenic Byway past stands of conifers, through aspens and maples bedecked in bright fall colors and along sheer rock walls before finishing in the desert foothills of Tucson. Along the way, sunrise over Willow Canyon helps distract from the pounding in your quads. And as with all REVEL events, your entry fee includes welcome perks such as free race photos and personalized videos, plus a gender-specific race tee and generous transfer/withdrawal/deferral policy.
California International Marathon (CIM)* – Folsom, CA (Dec)
(marathon, marathon relay)
Course profile: net downhill of 340 ft with gentle rolling throughout
Number of 2016 finishers: 6,176

If you're looking for a low-key Boston Qualifier that checks all the boxes, CIM may just be your new BRF. Billed by the organizers as the "Fastest Course in the West," the net downhill route through the Sacramento suburbs is PR- and BQ-friendly while offering just enough variety (i.e. hills) in the first half to keep the legs guessing. And early December weather in Northern California tends toward ideal. From its readily navigated expo to its cowbell-toting spectators to its celebratory BQ Bell at the finish, CIM is a first-class marathon that doesn't sacrifice its relaxed, small-town vibe. And though the race typically sells out by September, a limited number of late entries (with no fundraising!) benefit local charities like the American River Parkway Foundation, the UC Davis Children's Hospital and SRA Kids. All of which prompts three-time CIM finisher and 2016 Boston Qualifer @Angela to conclude that "CIM is the only marathon anyone in the western US really needs. 🙂 "
General registration sells out by Sept.

Rocket City Marathon – Huntsville, AL (Dec)
(marathon)
Course profile: flat with gentle rolling
Number of 2016 finishers: 1,034

Nicknamed "Rocket City" for its affiliation with the aerospace industry, Huntsville is a stellar venue from which to launch your personal BQ mission. The winding course provides a scenic tour of the city's historical neighborhoods as well as the Botanical Gardens and the US Space and Rocket Center, where runners pass directly under the Space Shuttle Orbiter Pathfinder. Impeccable course markings and exceptional support ensure your focus remains on running, as does the fact the race is a marathon only (no shorter distances), so marathoners have the course all to themselves. Every detail from start to finish is smartly choreographed with the runners in mind, as appreciative 50 Stater @RunnerMeg points out: "The start/finish at the Von Braun Center was awesome. [H]aving a place to stay warm was a great perk!" So if you're eyeing one last run at Boston before the ho-ho-holidays, Rocket City may just give you the boost(er) you need to get over the BQ hump.
Chevron Houston Marathon*
– Houston, TX (Jan)
(marathon, half marathon, 5K)
Course profile: flat with the occasional urban overpass/underpass
Number of 2017 finishers: 7,134

Deep in the heart of Texas, the nation's fourth largest city hosts one of the country's most popular winter marathons. Now in its 46th year, the Houston Marathon is "fantastic from start to finish," says 2017 finisher @dsbland. The point-to-point urban course boasts a flat, fast profile interrupted only by the occasional overpass or underpass, and highlighted by a peaceful, tree-lined mile 9 that borders Rice University. Houston rolls out the red carpet for its runners with efficient start corrals, on-course "Hoopla" stations that feature marching bands, belly dancers and Elvis impersonators, and one of the best post-race breakfasts in the business. Winter temperatures tend to be mild, though keep in mind Texas humidity can still be an issue, even in January. And given that race weekend generates over $50 million in spending impact annually for the Houston economy, your BQ pursuit provides much-needed financial support for recovery efforts in the wake of Hurricane Harvey.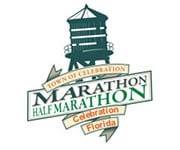 Town of Celebration Marathon* – Celebration, FL (Jan)
(marathon, half marathon)
Course profile: the flattest course on this list
Number of 2017 finishers: 430

What better place to plan your next BQ than one of the nation's foremost planned communities? Named one of "America's prettiest neighborhoods" by Forbes, Celebration is a Disney-developed community located a stone's throw from the Magic Kingdom. "It's Norman Rockwell in the gator swamps, and the houses are beautiful!" says Mark Sedenquest, founder of RoadTripAmerica.com. As are your chances for a Boston Qualifier on its marathon course, which ranks as the flattest on this list and seems designed specifically to get you to the after party as fast as possible. With street names like Celebration Ave, Celebration Blvd and Celebration Place, the two-loop course gives its runners plenty to smile about, as will the post-race food and massages. And because it's Central Florida, you can count on mild winter weather. Like eating chocolate in Hershey, we like the karma of chasing BQ glory in a town called Celebration.
Mesa–Phoenix Marathon* – Mesa, AZ (Feb)
(marathon, half marathon, wheelchair half marathon, 10K)
Course profile: gradual descent of 900 ft with one uphill in miles 5–6
Number of 2017 finishers: 2,005

For an early season Boston Qualifier or an easy excuse to escape the dead of winter, Mesa-Phoenix is tough to beat. The point-to-point course starts below the whitewashed Phoenix sign on Usery Mountain and descends gradually (with one uphill jag in mile 6) through low desert terrain where saguaro cacti, cholla and brittlebush are ubiquitous spectators. With its net elevation loss of 900 feet, Mesa-Phoenix is kinder on the quads than some of the steeper downhill marathons. Nonetheless, the organizers go the extra mile to take care of their finishers with post-race massages, cool towels and soak tubs plus assorted snacks. Don't underestimate the dry desert air, and do wear a visor to protect against the winter sun—you can replace it with the free visor all Boston Qualifiers receive at the finish to celebrate their accomplishment. All races have sold out in each of the past five years, so you'll want to register early to avoid being left out in the cold.
All races have sold out in advance each of the past five years.
Snickers Marathon* – Albany, GA (Mar)
(marathon, wheelchair marathon, half marathon)
Course profile: flat with gentle rolling
Number of 2017 finishers: 517

With its chocolate-coated title sponsor, flat fast course and mild winter weather, the Snickers Marathon may just make your sweetest BQ dreams come true, as it did for 27% of finishers in 2017. Striving to be the "Best Small Town Race in America," the marathon leads its runners on a scenic tour of Albany with its all-American formula of tree-lined residential neighborhoods, grittier commercial/industrial areas and two college campuses. From the start near Ray Charles Plaza to the festive finish in Riverfront Park, ample on-course support and entertainment together with experienced pace teams ensure runners have everything they need every step of the way. And after the race, celebrate in Southern style with free admission to the annual Mardi Gras Street Festival, included with your race entry. Hungry for that elusive BQ? The Snickers Marathon satisfies.
Fun fact: The Snickers bar was marketed under the name "Marathon" in the UK and Ireland until July 1990—imagine running the "Marathon Marathon"!
Looking for more running events? Check out our smart race finder to search for events around the world by name, date, location, distance, terrain & more. Then sign up for a free account to build your wish list!
Ready to train for your Boston Qualifier? Revolutionize your training with the professional coaches at Runners Connect — they'll help you run smarter and faster. Tell 'em RaceRaves sent you!
---
Find this article informative or entertaining? Please share it, and let others know RaceRaves is the premier online resource to DISCOVER, REVIEW & TRACK all their races and to CONNECT with other runners!
Other RaceRaves articles you'll enjoy (trust us!):
Best Bets for a Boston Qualifier (Apr–Sept)
Toughest Road Marathons in North America
Unconventional Races that dare to be different
10 Presidential Races of the U.S. (PROTUS)
Getting to know the Abbott World Marathon Majors
5 Half Marathon Series worth a full look
And for more helpful articles, check out our blog!