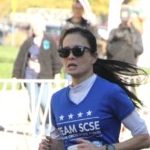 Running club(s):

Badgerland Striders

Rave race:

Race that's calling my name:

Big Sur International Marathon

I run because:

I started running at the young age of 42. I was a horrible runner and I absolutely hated running. Less than 3 years later I ran my first full marathon. I don't hate running anymore. 🙂
Organize, track & review your races and personal bests here.
50 States Map
(Marathon or Ultra) + Half
| Race | Distance | Location | Date | Result |
| --- | --- | --- | --- | --- |
| Door County Fall 50 | 50 Mile Relay | Ellison Bay, WI | Oct 21, 2023 | 7:49:20 |
| Indianapolis Monumental Marathon | Marathon | Indianapolis, IN | Nov 6, 2021 | 3:50:34 |
| Pettit Indoor Marathon & Half Marathon | Marathon Relay | Milwaukee, WI | Jan 30, 2016 | 3:25:48 |
| Salina Crossroads Marathon | Half Marathon | Salina, KS | Nov 4, 2023 | 1:52:07 |
| Lakefront Discovery Run | 15K | Milwaukee, WI | Oct 29, 2016 | 1:25:52 |
| SummitFest | 10K | Oconomowoc, WI | Jul 19, 2015 | 53:32 |
| Last Call 5K, 10K and Half Marathon | 5K | Waukesha, WI | Dec 6, 2015 | 24:53 |
| Race | Distance | Location | Date | Result | My Raves | My Performance |
| --- | --- | --- | --- | --- | --- | --- |
| Salina Crossroads Marathon | Half Marathon | Salina, KS | Nov 4, 2023 | 1:52:07 | | |
| Door County Fall 50 | 50 Mile Relay | Ellison Bay, WI | Oct 21, 2023 | 7:49:20 | | |
| Badger Trail Races | 50 Miler | Belleville, WI | Jul 30, 2023 | 11:07:40 | | |
| Big Sur International Marathon | Marathon | Big Sur, CA | Apr 30, 2023 | 4:42:17 | | |
| Boston Marathon | Marathon | Hopkinton, MA | Apr 17, 2023 | 4:05:23 | | |
| Indianapolis Monumental Marathon | Marathon | Indianapolis, IN | Nov 6, 2021 | 3:50:34 | | |
| Gopher to Badger Half Marathon | Half Marathon | Stillwater, MN | Aug 10, 2019 | 1:55:56 | | |
| Glass City Marathon | Half Marathon | Toledo, OH | Apr 28, 2019 | 1:53:52 | | |
| Madison Marathon & Half Marathon | Half Marathon | Madison, WI | Nov 11, 2018 | 1:58:14 | | |
| Fox Cities Marathon & Half Marathon | Half Marathon | Menasha, WI | Sep 24, 2017 | 2:09:55 | | |
| Dances With Dirt Devil's Lake | Half Marathon | Merrimac, WI | Jul 8, 2017 | 2:23:45 | | |
| Run Madtown | Half Marathon | Madison, WI | May 28, 2017 | 1:56:48 | | |
| Trailbreaker Marathon & Half Marathon | Half Marathon | Waukesha, WI | Apr 1, 2017 | 2:01:18 | | |
| Lakefront Discovery Run | 15K | Milwaukee, WI | Oct 29, 2016 | 1:25:52 | | |
| Milwaukee Lakefront Marathon | Marathon | Milwaukee, WI | Oct 2, 2016 | 4:16:56 | | |
| The North Face Endurance Challenge – Wisconsin | Half Marathon | Eagle, WI | Sep 18, 2016 | 2:15:40 | | |
| The Super Run Milwaukee | 5K | Greendale, WI | Aug 14, 2016 | | | |
| HFM Maritime Marathon | Half Marathon | Manitowoc, WI | Jun 12, 2016 | 1:56:32 | | |
| Race for Women's Wellness Half Marathon and 5K | Half Marathon | Coral Springs, FL | Mar 26, 2016 | 2:04:22 | | |
| Pettit Indoor Marathon & Half Marathon | Marathon Relay | Milwaukee, WI | Jan 30, 2016 | 3:25:48 | | |
| Run Into the New Year | 5K | Franklin, WI | Dec 31, 2015 | 25:56 | | |
| Last Call 5K, 10K and Half Marathon | 5K | Waukesha, WI | Dec 6, 2015 | 24:53 | | |
| Grand Rapids Marathon & Half Marathon | Marathon | Grand Rapids, MI | Oct 18, 2015 | 4:25:33 | | |
| Fox Valley Marathon | Half Marathon | St Charles, IL | Sep 20, 2015 | 1:59:45 | | |
| SummitFest | 10K | Oconomowoc, WI | Jul 19, 2015 | 53:32 | | |
| Run Like a Mother – Milwaukee | 5K | Milwaukee, WI | May 10, 2015 | 27:11 | | |
| Bank of America Chicago Marathon | Marathon | Chicago, IL | Oct 12, 2014 | 4:40:29 | | |
| Madison Mini Half Marathon & 5K | Half Marathon | Madison, WI | Aug 16, 2014 | 2:04:56 | | |
| Summerfest Rock 'n Sole Half Marathon | Half Marathon | Milwaukee, WI | Jun 14, 2014 | 2:06:57 | | |
| Block Melanoma 5K | 5K | Franklin, WI | May 18, 2014 | 26:07 | | |
| Sweet Home Milwaukee 5K | 5K | Milwaukee, WI | Apr 27, 2014 | 26:30 | | |