If you're looking for a race, you're in the right place! RaceRaves covers the entire spectrum of running events across the country and around the world, on paved roads and unpaved trails, and with distances from one mile to 100+ miles.
Much more than a static race calendar or directory, RaceRaves features several easy and convenient ways to find running events, each accessible from the main nav on any page:
Use our Race Calendar (above, left) to search for marathons and half marathons by month.
Search for Races by State (above, center) using our interactive US map.
Our Find a Race tool (above, right) enables a highly customizable, attribute-based search by race name/keyword, distance, course terrain, date or location (continent, country, state, city, and even zip code).
Helpful Hints for finding races:
Our sitewide search bar (available at the top of any page) uses the keyword(s) you enter to find races. Choices that appear in the autocomplete drop-down are based on an exact match with the race name, but since this can get tricky (e.g. is it "San Diego Rock 'n Roll Half" or "Rock 'n' Roll San Diego 1/2"), type in a keyword and press enter to display search results for that keyword (exact and approximate) from the past year forward, upcoming events included.
Canceled races: In response to all the event cancellations caused by the COVID-19 pandemic, we've added an "Exclude Canceled Races" checkbox to our Find a Race tool so you can filter out canceled races from search results and focus on in-person events that are still on the schedule.
International races:  Looking for international races? Simply click/tap on the REGION drop-down on our Find a Race tool, then select a continent to view all races on that continent, or select individual countries to narrow your search. Further refine your search by distance, terrain and/or date. 🌎
Sort by ratings:  For most search results, use the drop-down menu to sort by Highest Rating and elevate the best-reviewed events to the top.
Looking for inspiration? Our best-in-class blog is a treasure trove of information on popular race topics, including:
Runners Choice: Best Marathons in the U.S.
Runners Choice: Best Half Marathons in the U.S.
Best Bets for Boston Marathon Qualifying Races
Racing on all Seven Continents
Still not finding a specific race? Send us the event details via our Submit a Race form and we'll add it to the site, usually within 24 hours.
---
Author: Mike Sohaskey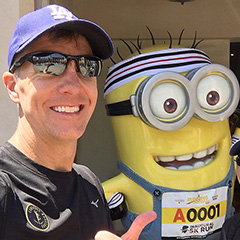 Mike Sohaskey is the co-founder of RaceRaves, the premier online reviews community for runners to share their race experiences and find their next challenge. Mike honed his creative and critical thinking skills as a research scientist, earning a Ph.D. in Cancer Biology from Stanford. He's also completed over 100 races — including 50+ marathons and ultras — in locations ranging from Antarctica to Zimbabwe.
More RaceRaves Tips & Tricks:
Individual Race Pages
Reviewing a Race
My Staging Area profile
Your (Smart) 50 States Map
It's All About Community
Find this article informative? Please share it, and let others know RaceRaves is the premier online resource to DISCOVER, REVIEW & TRACK all their races and to CONNECT with other runners!