Each event listed on RaceRaves features a dedicated race page that details key information about that event, including:
Date
Location
Finisher ratings based on shoes (1=lowest, 5=highest), with an Overall Rating and four separate subratings:

Difficulty
Scenery
Production
Swag

Number of reviews
Race distances offered
Terrain/Type (road/paved, trail/unpaved, triathlon, OCR, synthetic, duathlon, swimrun)
Description from event website
5-year historical local weather for race day
Links to the official event website and registration provider
Share buttons (email, Facebook and Twitter)
In addition to "Just the facts, ma'am," race pages often feature ratings and reviews from previous finishers, each of whom has their own Staging Area profile page. Reviews provide color commentary to let you learn from your fellow runners' experiences and assess whether the event is a good fit for you.
Many race pages also feature photos, videos, race reports (e.g. blog posts) and related articles; after all, information is power!
Helpful Hints for individual race pages:
Add races to your profile:  Find a race that catches your fancy? Use the "ADD TO MY RACES" button and easily add it to your Staging Area profile to track a "wish list" of future races. Or if you've already run it, add it to your past races (and even write a review).
Sort reviews by distance:  For many events, RaceRaves features reviews for multiple distances. Using the handy drop-down menu at the top of the reviews feed on each race page, you can see reviews exclusive to your distance of interest and quickly find the most relevant reviews.
Book your ideal accommodation:  Traveling to a race? Let us help! Available on all race pages, Stay22's location-based interactive map makes it easy and convenient for runners & spectators on any budget to compare prices of hotels & vacation rentals near the race venue and reserve lodging. And because we're a member of the Stay22 affiliate program, every booking made supports our mission here at RaceRaves. Win-win!
Not finding a specific race? See Tips & Tricks: Finding Races for the lowdown on how to find races past, present and future. Or feel free to send us the event details via our Submit a Race form and we'll add it to the site, usually within 24 hours.
---
Author: Mike Sohaskey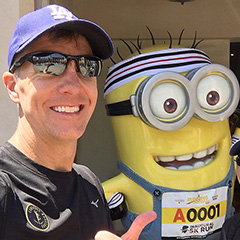 Mike Sohaskey is the co-founder of RaceRaves, the premier online reviews community for runners to share their race experiences and find their next challenge. Mike honed his creative and critical thinking skills as a research scientist, earning a Ph.D. in Cancer Biology from Stanford. He's also completed over 100 races — including 50+ marathons and ultras — in locations ranging from Antarctica to Zimbabwe.
More RaceRaves Tips & Tricks:
Finding Races
Reviewing a Race
My Staging Area Profile
Your (Smart) 50 States Map
It's All About Community
Find this article informative? Please share it, and let others know RaceRaves is the premier online resource to DISCOVER, REVIEW & TRACK all their races and to CONNECT with other runners!